Travel Report Sabi Sands Game Reserve (South Africa)
The 65,000-hectare Sabi Sands Reserve is a testament to the vision of local landowners in the 1950s. It borders the world-renowned Kruger National Park without fences, creating a vast wilderness teeming with wildlife.
The legacy of these founding families, now the third and fourth generations to manage the area, is reflected in the successful conservation of South Africa's greatest density of big game. A unique feature of Sabi Sands is the 50-kilometer unfenced boundary with Kruger National Park, which allows for harmonious coexistence where wildlife can roam freely. The dynamic landscape is enriched by the Sabi and Sand Rivers that make their way through the reserve, adding to the rich biodiversity of this exceptional habitat.
Which lodges do we recommend in Sabi Sands Game Reserve ?
We have done several trips to Sabi Sands and have visited all the lodges listed. We recommend no more than 2 lodges per visit in one area and these should also be further apart so that you cover different driving areas. So e.g. one lodge in the south and one in the north during one visit. This can then be perfectly combined with other areas like Timbavati or Balule.
We only recommend lodges that we have visited ourselves. In the Sabi Sands these are the following, which we describe in detail below:
Nkorho
Inyati
Ulusaba
Protea Hotel by Marriott Kruger Park (nicht im Sabi Sands, aber direkt ausserhalb und am Eingang zum Krüger Nationalpark
Where is the Sabi Sands Game Reserve located in South Africa?
The journey usually takes place by plane from Johannesburg. By airplane it is the airport of Skukuza approx. 50min flight time). This can also be approached directly from Cape Town (approx. 2.5h flight time).
Alternatively you can take the car from Johannesburg and then it is 5-6h driving time,
The airport is cute little and the luggage is still delivered by hand.
Sample itinerary for 14 days on safari with various Private Game Reserves at Kruger Park.
The lodges that we present you in the following for the Sabi Sands and Timbavati you can then simply exchange in the proposal, as well as the number of nights vary:
1 night in Unembeza Hoedspruit
3 nights at Kings Camp (Northern Timbavati)
3 nights at Makanyi Lodge (Southern Timbavati)
2 nights at Nkorho Lodge (northern Sabi Sands)
4 nights at Inyati Game lodge (southern Sabi Sands)
1 night Protea by Marriott Kruger Easgate
What to remember when traveling to Kruger Park South Africa:
Local currencies: South Africa = ZAR (South African Rand), but even here USD are gladly taken in the lodges. On the other hand, credit card payments work everywhere without problems.
Vaccinations: Coming from Germany, no vaccinations are required except COVID-19 – not even yellow fever. However, the standard vaccinations are recommended, so follow suggestions from the Foreign Office. Malaria prophylaxis is valid for the Kruger Park South Africa, i.e. here everyone must weigh for itself whether or not.
Helpful: A small pocket knife and a strong flashlight with spare batteries are often very useful. The cell phone flashlight does it in a pinch, but often does not shine far enough.
Clothing: In the lodges in Africa you can usually have your clothes washed for free or for a small extra charge. I.e. you can save a lot of luggage. In any case, choose muted colors and preferably functional clothing, as it can be very cool in the morning and warm to hot during the day.
What photo equipment should you take with you?
The least you should have with you is a smartphone with a good camera. Even if you don't believe it, for many animal encounters the photo but especially the video qualities are more than sufficient,
For the ambitious photographer this will not be enough. So at least a DSLR or one of the newer mirrorless cameras it should be then.
You can see our camera choice at the end of the article but basically you should have at least a telephoto lens and a wide-angle with you and who can afford it, gladly also Lichtstark.
For example, the Nikon 200-400 VR II is the lens of our choice. It's a real heavyweight (over 3kg) and you carry a lot around with it. Walking around all day with it, no chance. But in the safari van, it's a different story. Fast focus, super sharp, great contrast and built like a tank.
Before the trip think about which animals you want to focus on and choose the lenses accordingly
Ich würde das Nikon 200-400 f/4 auch Königin der Dämmerung nennen. Vor allem früh am Morgen oder in der Abenddämmerung, welches auf Safaris meist genau die Zeiten der Tierbeobachtung sind. Hier spielt das Nikon 200-400 VR II mit seiner Blende f4 ganz klar seine wahre Stärke aus. Durch die monströse Frontlinse kommt soviel Licht, dass der AF immer trifft, selbst, wenn man das Gefühl hat, es wäre schon dunkel. ISO muss selten höher als 3200.
Bei vielen Lodges kann man diese Objektive auch ausleihen und das kostet nicht viel (mit Vorbestellung vor Ankunft bei Africa Photographic Services).
Für die meisten Private Game Reserves (z.B. auch Timbavati, Balule,, Madikwe oder Marataba) reichen 400mm aus, da in diesen "Offroad" gefahren werden darf und man sehr nah an alle Tiere rankommt. Aus diesem Grund sollte man sich vor der Safari gut überlegen in was für einem Gebiet man unterwegs sein wird und seine Objektive sorgfältig planen.
How do game drives work in the different safari lodges?
The safari days basically all run according to the same pattern. 05:30am wake up, 06:00am the first game drive, with breakfast coffee. Here, the cocoa Amarula coffee should be mentioned as a highlight. Then at 09:30am breakfast, 13:00 noon, 15:30 high tea and at 16:00 departure for the evening game drive. Times vary slightly depending on the lodge.
Return then around 19:00hrs (depending on what you have just discovered) and then straight to the bar for the exchange of the day with the other guests. At good lodges, the menu is presented by the "chef" personally, including wine recommendation (at Makanyi a highlight) and after dinner it usually goes directly to bed.
The time between the game drives you have for yourself, you can do sports, sleep, relax or whatever. As a photographer, of course, you also use the time to take pictures around the lodge, because there is also a "wildlife" here.
Our Lodges in Sabi Sands Private Game Reserve:
Protea Hotel by Marriott am Krüger Park Eastgate
Kruger Gate Hotel is located directly at the Paul Kruger Gate to the Kruger National Park on the banks of the Sabie River. The accommodation offers a restaurant, free private parking, an outdoor pool and a bar. Each of the rooms at the hotel offers air conditioning, free Wi-Fi and a private bathroom. For rooms, be sure to book in the new wing. these are excellent.
The food is excellent and breakfast and dinner are included in the price. It is served in the boma in the evening and in the dining room or outside during the day.
Kruger Gate Hotel offers a range of safaris in the Kruger National Park, traveling in an open safari vehicle.
The nearest airport is Skukuza Airport, 11 km from the hotel. The accommodation offers an airport transfer service for a fee.
Overall, we would recommend this hotel for the first or last day of a safari trip to relax and unwind or for the "budget traveler".
Inyati Safari Lodge in Sabi Sands Private Game Reserve
From Kruger Gate you drive just under an hour. The cell phone GPS is helpful, because the signpost coming from Kruger Gate is not visible.
Inyati is a very traditional and beautifully situated lodge, directly on a river that still has water even in winter.
We stay in the family chalet no 3. Actually we don't need the 2 extra beds, but the room size is great and the location is better than all other rooms, because you don't have to be accompanied to the room in the evening.
On arrival we have lunch, high tea is at 3pm and 3:30pm we leave for the evening game drive. Our driver is named Omega and our tracker is Joel. Both are super nice and well known beyond Inyati.
Dinner is in good weather in the boma, which is large and cozy. Everything is nicely decorated and the food is excellent.
At 5:30 in the morning is wake up and from 6 o'clock there is coffee and small snacks. At 06:30 we leave for the morning game drive.
Inyati shares the Game Territory with 7 other lodges, including Dulini, Lepard Hills, Ulusaba and Savanna. On the spot, e.g. when a leopard is sighted, a maximum of 3 vehicles are allowed. If, as in our case, a "photographer group" has booked, this group always gets priority. All others then take turns.
We have not experienced this so far. Also, the photographer's vehicle is always in the best spot for photos and we have to regularly urge Omega – our driver – to position our vehicle better.
Animal sightings Inyati Safari Lodge in Sabi Sands and Kruger Park South Africa
Our conclusion for Inyati:
The lodge is very well maintained, but no longer quite modern. However, it gives you the feeling of being in Africa from the first moment. The staff is more than courteous and always trying, even if we miss the cherished little things like the wet eucalyptus towels after each game drive. The food is excellent and is served buffet style in the mornings and evenings. Lunch is usually omitted as breakfast is brunch and a snack is served at 3pm before the game drive.
Nkorho Safari Lodge in the northern Sabi Sands Private Game Reserve
Nkorho Bush Lodge borders directly on the Kruger National Park and is located in the northern part of Sabi Sands, which is reached through a different entrance gate than the southern part. The approach from Hoedspruit (shortest way) is a bit adventurous as the roads are not in good condition. As soon as you reach the reserve, this changes.
Nkorho Bush Lodge is situated overlooking the African plains with an outdoor pool. The lodge offers stylish thatched chalets and a traditional boma.
The lodge has 6 chalets, a family chalet and a honeymoon suite. All 6 chalets have a seating area, a refrigerator and tea and coffee facilities. Each accommodation has a private bathroom with a bath or shower and free toiletries. Auc air conditioning is available.
The safari cars are usually occupied by a maximum of 6 guests, but can also be occupied by up to 9 people, although this is rare.
Besides very good food, the lodge also has a first class wine cellar. Unlike many other lodges, drinks are not included in the price and are charged at the end except for still water. The lodge is 4 star level but is really recommended. Our guide Matt was top notch. The game viewing in northern Sabi Sand is very good, but does not come close to the south.
Ulusaba Safari Lodge (Virgin Group) in the southern Sabi Sands Private Game Reserve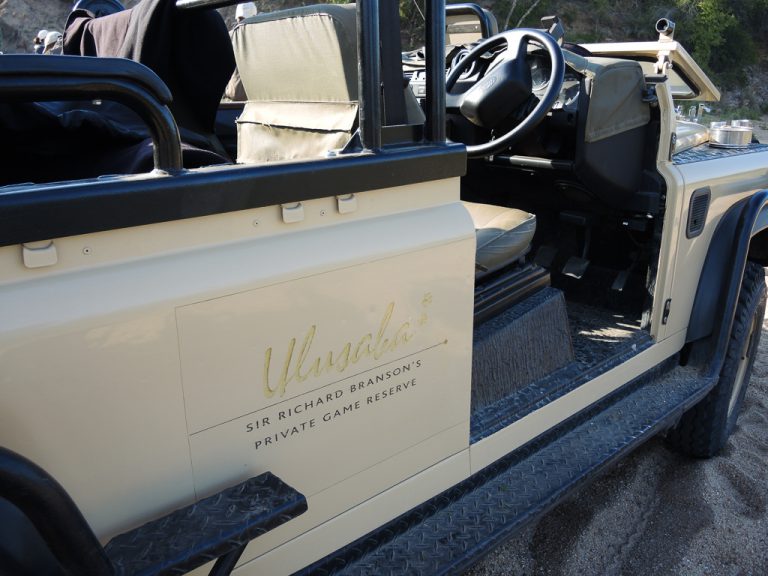 Ulusaba is an absolute dream where everything is just right. This lodge is one of our top 5 lodges in Africa!
Sir Richard Branson's Ulusaba Safari Lodge sits under a canopy of ancient trees on the edge of a dry riverbed in the Sabi Sand Private Game Reserve. Rooms include a Treehouse Suite overlooking a nearby dam, while others have private plunge pools.
All 11 spacious Bush Suites overlook the spectacular surrounding landscape and wildlife passing by on their way to the nearby waterhole. Facilities at the lodge include swimming pool, wine cellar, spa and fitness with panoramic views and a bush observatory perfect for stargazing.
Apart from the excellent safari drives, with top trained rangers, the safari lodge offers a very comfortable viewing platform right at the waterhole, making for spectacular game viewing.
The food is on top class level and you will be surprised every day anew by the "boss" announcing dinner.
The safari vehicles are occupied by a maximum of 6 guests, perfect for the ultimate safari experience.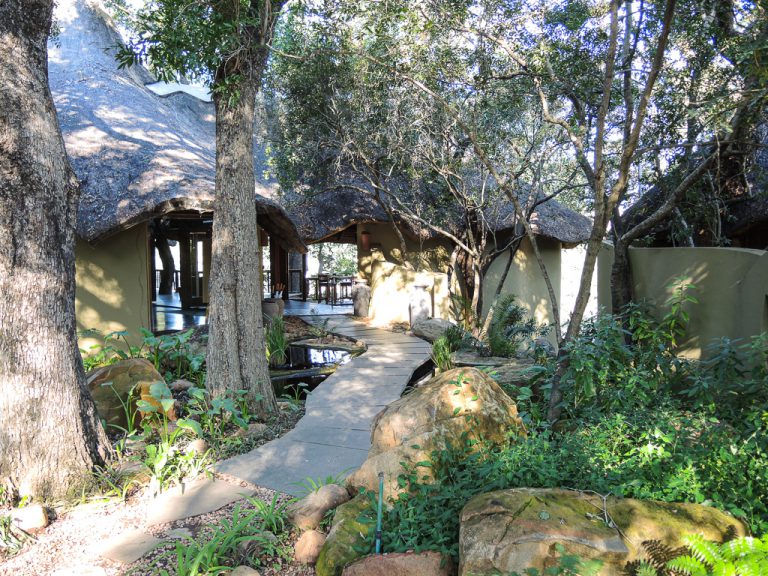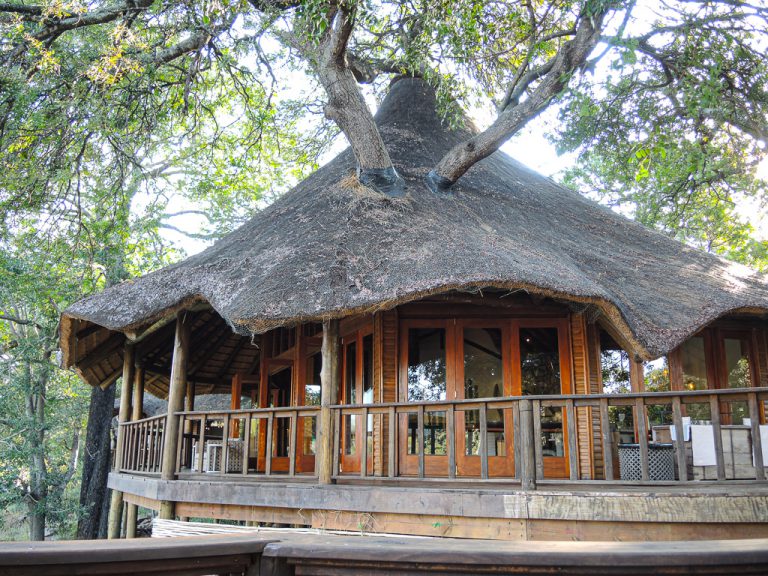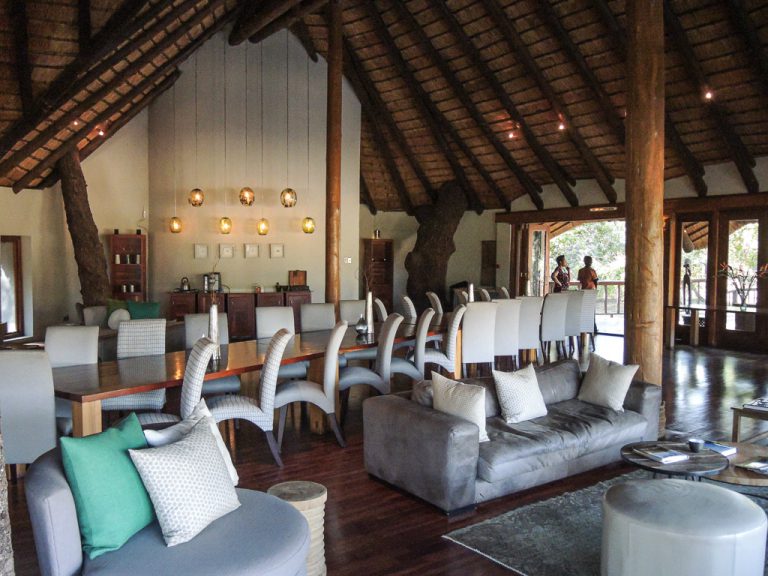 We always rely on a travel agency AST, when it comes to South Africa, Botswana or Namibia.
The travel agency has a local employee (the enchanting Mrs. Csar), who knows most of the lodges and is always on hand to help and advise. Some things you may ask before booking: how big is the game area belonging to the lodge, do they use a tracker and a ranger per vehicle, which is the maximum number of guests per vehicle.
Some Lodges are special for photographers
You can also check, whether a lodge has specialized in photographers (Makanyi, for example is, because every ranger at the same time is a photographer – at least as a hobby and you can borrow equipment, you could even photography classes).
Also you do not have to constantly explain the guide why the light is better from the "back". Also important, although not easy to find out is the wildlife density and whether private vehicles are allowed to drive in the area, which is usually not the case in the Private Game Reserves, which is why these are "quieter" but also significantly more expensive.
If it is your first safari
Good lodges are not cheap, but it makes a huge difference, if you have 4-6 people or 10 people sitting in the car.
Great lodges are organized in a way that there are never more than 2 vehicles per sighting on site, leaving enough space for the animals and time for guests to observe. In addition, the guides are top trained.
You never have the feeling that you are being processed. To our experiences one should stay max. 4 nights in a lodge, since you have discovered the area after 3 days.
Of course something new can happen on day 4 and 5 too, it's wildlife, but for yourself it's just more exciting to discover new things elsewhere and usually most of the other guests are there for a maximum of 3 nights too, so the lodges have adjusted their programs accordingly.
Order calendar from our photo trip?
What photo equipment for South Africa?
The photo equipment we took to South Africa is listed below. In addition, you have the possibility to order your photo equipment directly via our Photo-Store and to request further technical details. There you can also find a lot of extras.
Cameras:
Z7ii (Nikon)
D850 (Nikon) mit Batteriegriff
Iphone
Lenses:
200-400mm f/4 (Nikon)
24-70 f/2.8 (Tamron)
70-200mm f/4 (Nikon)
FTZii Adapter