Travel Report Palm Springs
Renaissance Hotel Palm Springs,, top location, only a few minutes walk to downtown. Belongs to the Marriott Group and offers all the amenities of a 5 star hotel. Very nice pool area (heated) and a really great breakfast, which is included in the price for status customers of Marriott from Platinum. Large parking lot (for a fee) right in front of the hotel. It is best to book a room with a pool view on the mountain side on the upper floor. The rooms are large and spacious.
The Westin Rancho Mirage Golf Resort and Spa. Great hotel for golfers and families. Good restaurant and a really nice pool area. But unfortunately not centrally located at all and you can't do anything on foot from there. You always need the car or cab. As the name says, it is also in Rancho Mirage, so not directly in Palm Springs.
OTHER HOTELS:
Courtyard Palm Springs. Located practically next to the Renaissance (about 300m ) and is further away from the shopping street. Small pool. Should only be considered when the Renaissance is fully booked.
Hilton Palm Springs. Also very good location between Renaissance and shopping street and also a nice pool area. A typical Hilton, you can't go wrong.
Thai Smile. One of the best Thai restaurants we have been to so far – outside of Thailand. Reservations are not possible and at peak times the lines in front of the restaurant are unfortunately often long. This may also be due to the fact that stars like Pierce Brosnan eat here and one or the other may hope to meet them here.
Lulu California Bistro. Very hip restaurant right on South canyon Drive, the main shopping street. Food is a little bit of everything. Definitely try it out.
Kaiser Grill Palm Springs. Excellent food, especially steaks. Great location but unfortunately very high prices.
PF Chang's Rancho Mirage. Chinese chain with excellent food and great ambiance as well as fair prices. The 20min drive from Palm Springs is worth it.
Where exactly is Palm Springs located?
Palm Springs is located about 2 hours southeast of Los Angeles and is very easy to reach by car. It can also be integrated well into a round trip.
What to remember when traveling to Palm Springs:
Local currency: US dollar. If possible, take small USD bills with you for tips. Money can be withdrawn without problems at any ATM. Otherwise, credit card payments work everywhere without problems.
Vaccinations: Coming from Germany no vaccinations are required. However, the standard vaccinations are recommended, see suggestions from the Foreign Office.
Luggage: The photo equipment should definitely be taken on board, therefore pay attention to cabin luggage dimensions (!) Otherwise any kind of suitcase or bag will do.
Clothing: California is quite similar to the German climate, although it is always a few degrees warmer than in Germany and at least on the coast the thermometer rarely falls below 12 degrees Celsius. In the evening and in winter it can be fresh and windy, you should be prepared for that.
Visa: As a German citizen you do not need a visa, but the ESTA, which should be applied for at least 72 hours before departure (!).
Driver's license: Normally, the German driver's license is sufficient in the USA. If you want to be on the safe side, it is recommended that you also have an international driver's license.
Credit cards:
In America you pay almost everything with a credit card and who wants to rent a car needs one anyway.
Do I need a rental car? Can I drive myself?
The answer is clear: YES. Even though you can easily explore the main shopping street of Palm Springs on foot, you need a car for everything else. The distances are simply too great and cab or Uber no real alternative.
The rental car should be booked from Germany and fully insured, without deductible, then you do not have to worry on the spot.
We almost always book with Check24. The price-performance ratio is hard to beat. When comparing ALWAYS pay attention to the booked category (the ACRISS code)!
Translated with www.DeepL.com/Translator (free version)
Living Desert Zoo and Gardens
Yes, there is a zoo in Palm Springs and it is even quite outstanding and equipped with a not inconsiderable variety of species. For 8USD extra (per person) on the entrance fee, you can even feed giraffes. Compared to Nairobi (Kenya), where you can also do that, a really cheap offer. But there are also cheetahs, striped hyenas and of course the rattlesnakes typical for the country.
For many years we tried to get to the top of Palm Springs by the Aerial Tram Way. Most of the time it was closed because of weather and even now it took several attempts. But it is worth it. You should get there early. The tramway opens at 8am and if you're not there by 7am, expect long lines. And why? Well, Palm Springs is in the desert, but in the winter you can definitely sled and hike in the snow on the mountain. Important. Dress warmly because it can be very windy up there in the winter!
A little tip for the gondola ride. It doesn't matter where you stand, the floor rotates 360 degrees during the ride so everyone can see everything.
A highlight for hikers and nature lovers. It is a park and that also costs admission. At high times the car queues are long. But it's worth it if you want to hike a little or a lot or photograph hummingbirds, for example. The journey alone is an adventure.
Because of its location, Palm Springs is ideal for large and small windmills, and there are so many of them now that even guided tours of the parks are offered. You can see them from far away when you drive towards Palm Springs.
Yes, also in Palm Springs there is the Walk on Fame, with the stars of the stars on the ground and many famous names can be found here. One of the last "stars" went to Lisa Vanderpump, one of the participants of "The Real Housewives of Beverly Hills" and multimillionaire, thanks to several restaurants in Los Angeles and Las Vegas.
If you walk through Palm Springs, you will find many interesting places and works of art, such as the oversized Marylin Monroe. it's definitely worth it
Elvis also had a house in Palm Springs, but for his wedding night he rented a special architect's house. Today it is privately owned, but like many other homes of stars and starlets, you can visit the house from the outside, and there are also maps of the stars' homes (just like LA used to have), so you can drive around them yourself. Another highlight is the house of Gary Grant, who lived in Palm Springs for a long time. Unfortunately, you can't visit it.
Right on the edge, near the airport, is the Palm Sprins Air Museum. For many years we ignored it. A mistake. It is worth the visit if you are interested in old and newer aircraft models and the variety of aircraft is incredible. A visit should be scheduled with 2-3 hours.
Highlights in the Palm Springs area
About a 45-minute drive from Palm Springs is the Salton Sea.
This was created as an artificial body of water by an accident in which a dam on the Colorado River broke in 1905 and the river discharged almost all of its water into the Salton depression for two years. Because of the irregular inflow of water, the size of the lake fluctuates. However, due to heavy evaporation, the water level decreases over the years. Evaporation has also significantly increased the salinity of the water, as well as the content of fertilizers that enter the lake due to the cultivation of the surrounding irrigated fields. Since they can no longer flow away from there, there is a progressive destruction of the ecosystem. In the past, almost a million visitors came to the lake every year. Resort towns sprang up, but today they are largely abandoned, and it is these ghost towns that make a visit so appealing. One should stay away from the lake itself (i.e. the water) because of the harmful algae.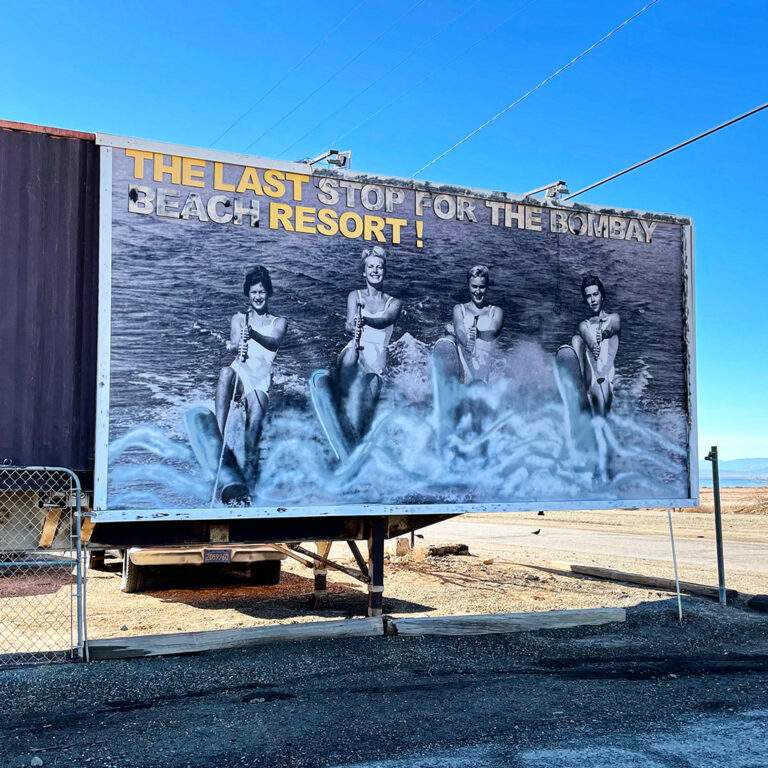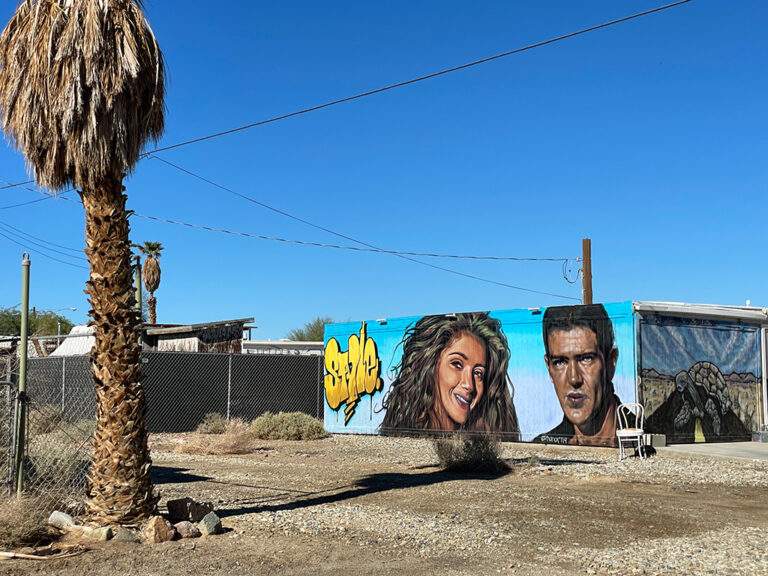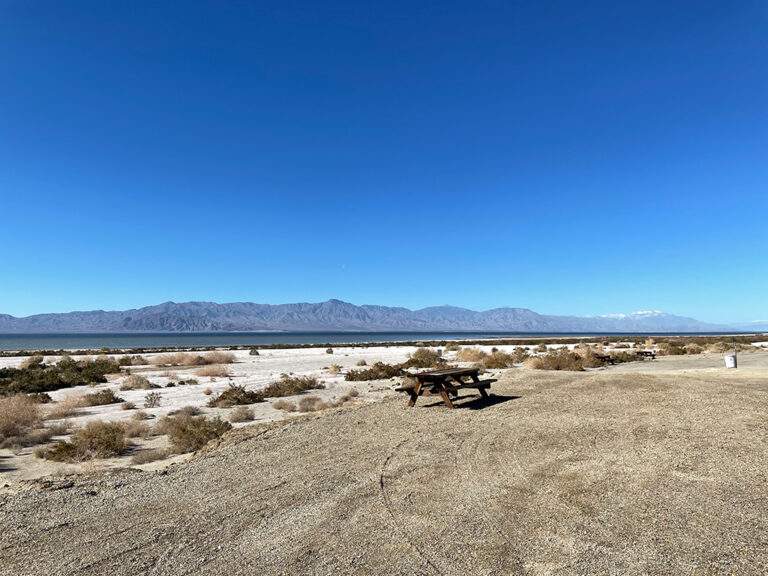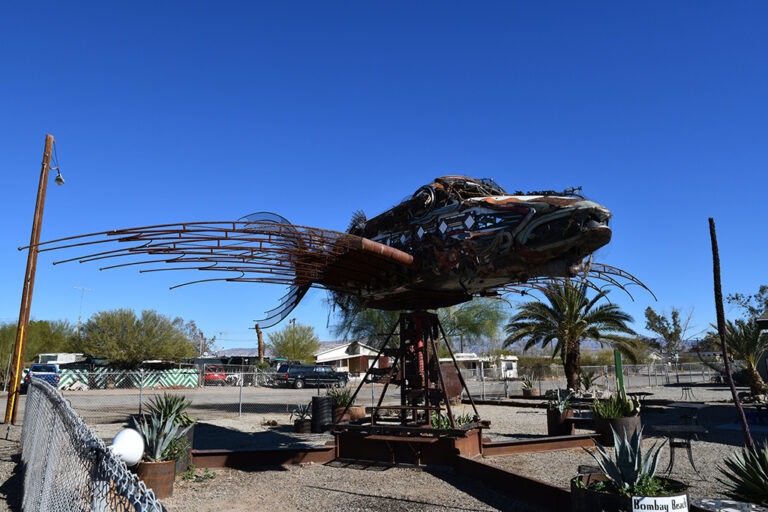 The Salton Sea is easy to "circle" by car and from there you can reach Anza Borrego State Park with the village of Borrego Springs in about 45 minutes. Here you will find a collection of oversized sculptures made of metal, which are just standing around in the desert and are quite fascinating. It's definitely worth a visit. Getting there is also spectacular, as Anza Borrego State Park attracts adventurers on motorcycles, sidecars and buggies who "race" through the not-so-hazardous desert.
Cabot's Pueblo Museum is an American historic house museum in Desert Hot Springs, California, built by Cabot Yerxa, an early pioneer in the Colorado Desert. It is a large Hopi Revival-style pueblo containing artwork, artifacts of Native American and Alaskan culture, and memorabilia of early settler life in the desert. The museum may also be referred to as Cabot's Old Indian Pueblo Museum, Cabot's Trading Post or Yerxa's Discovery. It is about a 15-minute drive from Palm Springs.
Joshua Tree National Park
We have already visited many national parks in the USA and in our opinion Joshua Tree National Park is one of the least attractive of all. The landscape is pure wasteland and there is little to see except rattlesnakes or coyotes. The poisonous cacti are nice to look at, but in our opinion a visit just for the park is not worth it.
You can drive through the park on your way from Palm Springs to Las Vegas or vice versa. It takes a little longer than on the highway, but you still take a few impressions with you.
A good hour's drive from Palm Springs is Twentynine Palms. It's a rather sleepy little place with a few fast food restaurants and some interesting graffiti. But they have now put up letters "The End of the World" in the middle of the desert, similar to the Hollywood Sign in Los Angeles, which makes a great photo motif.
A good 100 miles from Palm Springs is Amboy, where you can visit Roy's Motel & Cafe and a gas station. Honestly, there's not much here except a big sign route 66 on the road and an abandoned motel. Still, it's an interesting spot in the middle of nowhere that attracts busloads of tourites as a photo spot. Best to visit on the way to or from Las Vegas.
An outlet center visit should not be missing on any trip to the USA and Palm Springs has one of the biggest and best, where pretty much every known brand is represented. Cabazon Outlet Center, about 25min by car from Palm Springs.
We were there for the first time in the beginning of 2000. At that time still an insider tip, where even my father had fun shopping. Today, however, busloads of people go there, especially Asians, and it's usually crowded. Nevertheless, the visit is still an experience and definitely something for every taste.
Suggested tour for a 20 day round trip, including Palm Springs, Yosemite and other national parks
Our 20 day round trip starts and ends in Los Angeles and goes first north to the Yosemite National Parl and then on the other side of the mountains to Las Vegas, before it goes via Palm Springs back again. We have chosen the following stages:
Palm Springs offers much more than you might think at first glance. Above all, it is the antithesis to the hustle and bustle of cities like Los Angeles or Las Vegas. Palm Springs is rather a place of rest and relaxation, which was made famous in the 60s of the last century by the many Hollywood stars who lived or at least had houses here. Even today you can feel this flair and also that the people here are wealthy. You see almost no homeless people and feel safe in the city at all times. The small chic restaurants are inviting and friendly. So it's no wonder that Palm Springs keeps growing and more and more people come there.
Order calendars from our photo tours?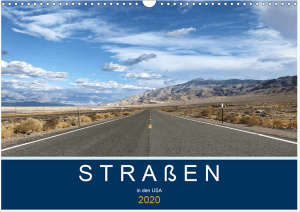 starting at 18,90€, Sizes A2-A5
What photography equipment should you bring for Palm Springs?
The photo equipment we took to Palm Springs listed below. In addition, you have the possibility to order the used photo equipment directly via our Photo-Shop and to request further technical details. There you can also find a lot of extras.
Lenses:
Nikon 70-200mm f/4
Tamron 24-70mm f/2.8 G2
Rucksack / Trolley:
Lowepro Flipside 400 AW II