Travel report Vietnam - Ho Chi Minh City: Highlights and tips for a 2 days photo trip
Is a Ho Chi Minh City (Vietnam) visit worthwhile for 2 days? What are the highlights to discover?
Our Travel Report Vietnam summarizes the latest highlights and "must sees" for you to have an unforgettable short trip to Ho Chi Minh City trip.
We chose the Le Meridien Saigon from the Marriott Group.as our hotel.
What you should definitely think about when traveling in Vietnam
Local currency: The currency in Vietnam is the Vietnamese Dong (VND). One euro is approximately 25,000 VN dong (as of March 2023), but of course the conversion rate changes daily. So it happens that a hotel room quickly costs a few million in local currency. Similar to the lira in Italy in the past. Credit cards are accepted almost everywhere and so you can get along without cash, unless you want to give tips, for which you need cash. But you can get that at the ATMs without any problems.
Vaccinations: Coming from Germany, no vaccinations are required. However, the standard vaccinations are recommended, see suggestions from the Foreign Office. Additionally COVID-19 vaccination card.
Drone flying in Vietnam, is it allowed ?
According to the CAAV (Civil Aviation Authority of Vietnam), it is allowed to fly with a drone.
You are not allowed to fly over people and also you should pay attention to the following: Do NOT fly
higher than 100 meters.
out of sight.
over sensitive objects (police, military, …).
inside the no-fly zones of airports etc.
in nature reserves or national parks, especially if it is prohibited by sign.
To legally fly a drone in Vietnam, the following applies:
A permit must be obtained from the Ministry of Defense. The relevant application form is attached to Decree 79/2011 / ND-CP.
At least 14 days before the trip you should send it. But Vietnam is Vietnam, so even earlier can only help
Send the application to:

E-mail: info@mod.gov.vn
Fax: +84 (0)69 533105
Postal: 1 Nguyen Tri Phuong street, Ba Dinh district, Ha Noi
Detailed travel report Vietnam - Ho Chi Minh City - important questions:
Is the traffic in Ho Chi Minh City as adventurous as they say?
Yes, it is.
The city hardly sleeps and the streets are always crowded, especially with scooters. You hardly see bicycles and even if cars have increased, the dominant means of transport are scooters, on which ride alone or up to 4 people, whole families with children.
The scooter riders exert their own fascination. It is incredible that hardly any accidents happen here. The rule seems to be that the person behind has to pay attention, because no one does shoulder glance or the like here.
Highlights Vietnam - Ho Chi Minh City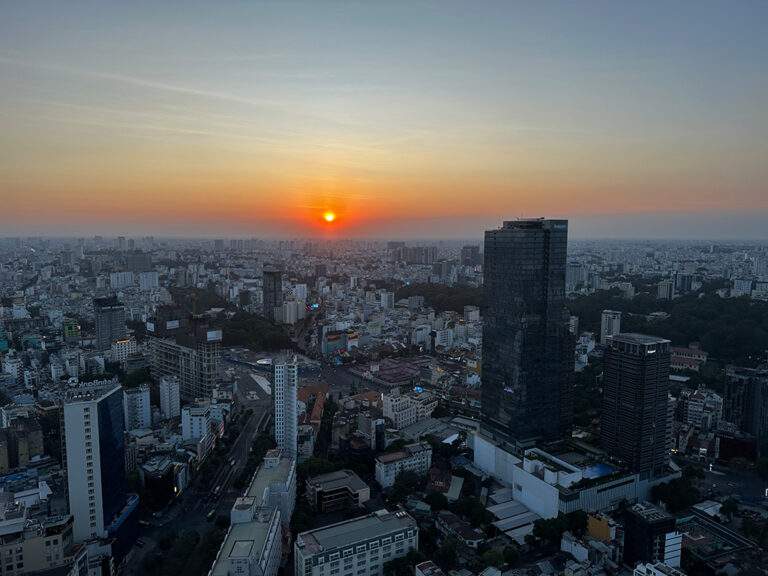 From Germany, there are both direct flights (eg with Vietnam Airlines) or with change in Bangkok, eg with Lufthansa or Swiss.
Our first visit to Vietnam, we are this time only 2 days there and limit ourselves to Ho Chi Minh City, formerly Saigon, as it is still called by many Vietnamese.
Even if you wouldn't know that this country is socialist / communist, you get it immediately at the airport at the latest. The uniforms, the colors, everything feels like the former GDR, only with clearly muggy air as soon as the cockpit door opens (muggy 35 degrees Celsius).
The entry runs relatively unproblematic and has a similar charm, as the entry into the USA, only with even less smiling customs officers.
Ho Chi Minh airport is medium sized and comparable to some African airports, like Dar es Salaam or Nairobi. No comparison to airports like Bangkok or Singapore.
At the airport our driver is waiting and although the hotel is not really far from the airport, it takes a good 1.5h to get to the hotel, also thanks to the masses of scooter riders.
The hotel with the best view in Ho Chi Minh City
For us, the Le Meridien Saigon, located directly on the river, so that you can watch beautiful sunrises and look very far, if you get a room on the upper floors, is the best choice. In any case, book a room on the river side.
Located at 2 Paris Commune Street, District 1, the Central Post Office is one of the oldest buildings in Ho Chi Minh City. The Central Post Office was built between 1886 and 1891 according to the design of Villedieu, a famous French architect.
The Reunification Palace, 1955 to 1975 Independence Palace, is a landmark in Ho Chi Minh City. It was built on the site of the former Norodom Palace. Conceived by architect Ngo Viet Thu, it represented the residence and workplace of the President of South Vietnam during the Vietnam War. The palace was the place where the end of the Vietnam War was sealed. This happened after the fall of Saigon (now Ho Chi Minh City) on April 30, 1975, when a Viet Cong tank broke through the gates.
Former CIA Headquarter Saigon
22 Gia Long Street (Vietnamese: số 22 đường Gia Long, [jaː lawŋ] yah-lom), now 22 Lý Tự Trọng Street (số 22 đường Lý Tự Trọng), is a residential building in Ho Chi Minh City (also known as Saigon), the largest city in Vietnam. In 1975, photojournalist Hubert van Es, working for UPI, took a legendary photograph of U.S. government employees evacuating the city by helicopter during the Fall of Saigon, the last major battle of the Vietnam War. The evacuation was code-named "Operation Frequent Wind."
The City Hall of Ho Chih Minh City, better known as Saigon, in southern Vietnam is located at the end of Nguyen Hue Street. A magnificent building in colonial style, built by the French from 1901 to 1908 and accordingly bears the name "Hôtel de Ville".
Bitexco Financial Tower is a skyscraper with a height of 265.5 meters and was the tallest building in Vietnam when it was completed in 2010. Within Ho Chi Minh, the tower still occupies second place today, behind Landmark 81, which opened in 2018 and is clearly visible from everywhere. The first four floors house a free-access shopping mall and a movie theater. On the first floor are the elevators for the Skydeck.
The Saigon Skydeck observation deck (49th floor) is accessible daily 9:30 to 21:30 for an entrance fee of 200,000 VND (about €7.20). Access to the café (50th floor), restaurant (51st floor) and bar (52nd floor) is partially free. The platform on the 52nd floor serves as a helipad and is not accessible.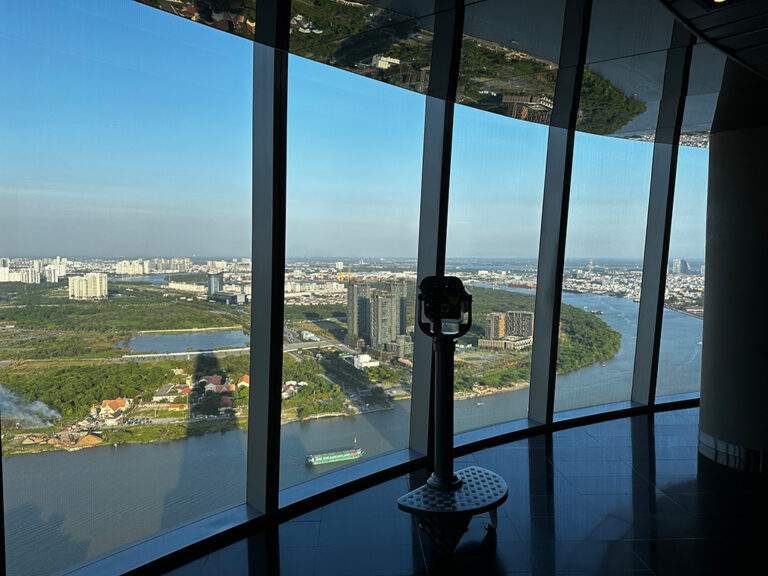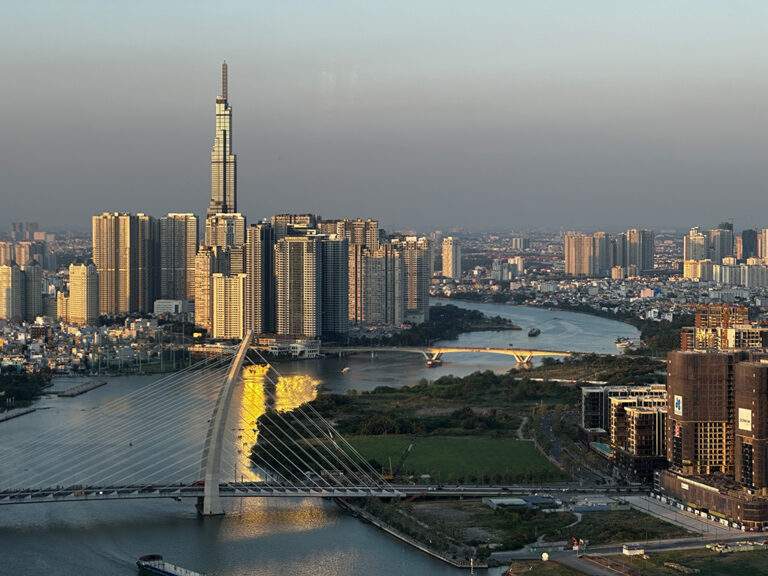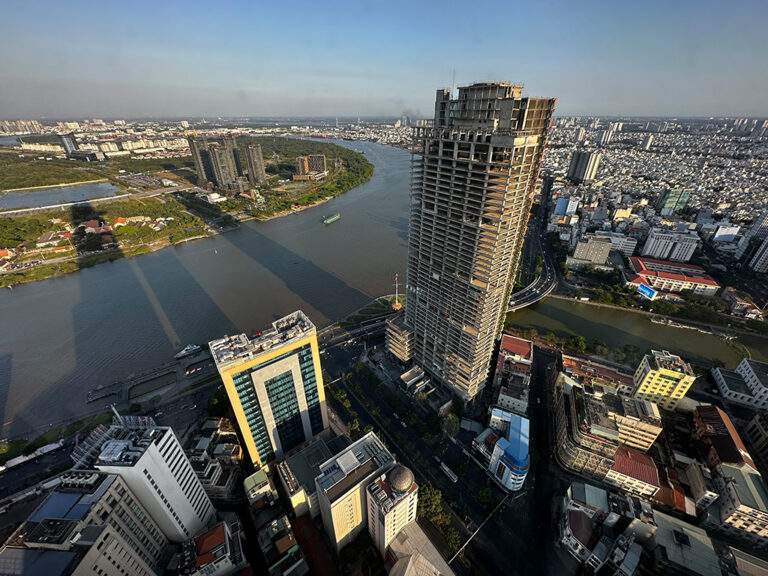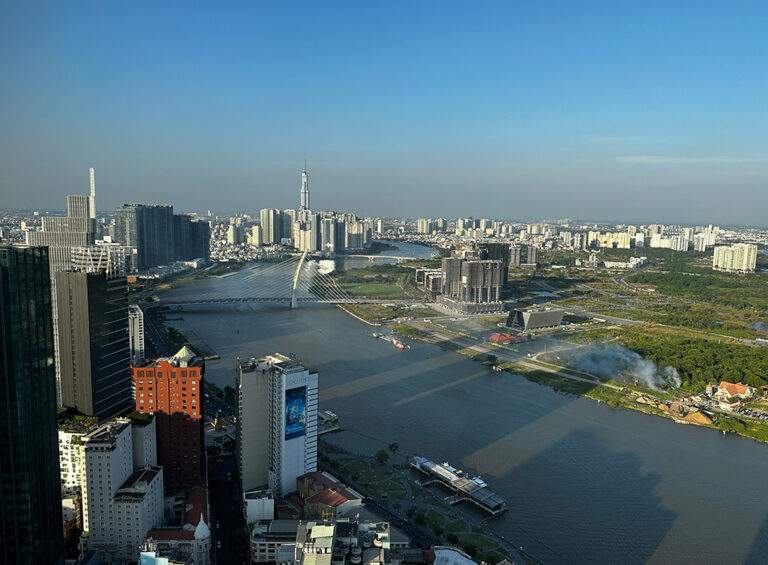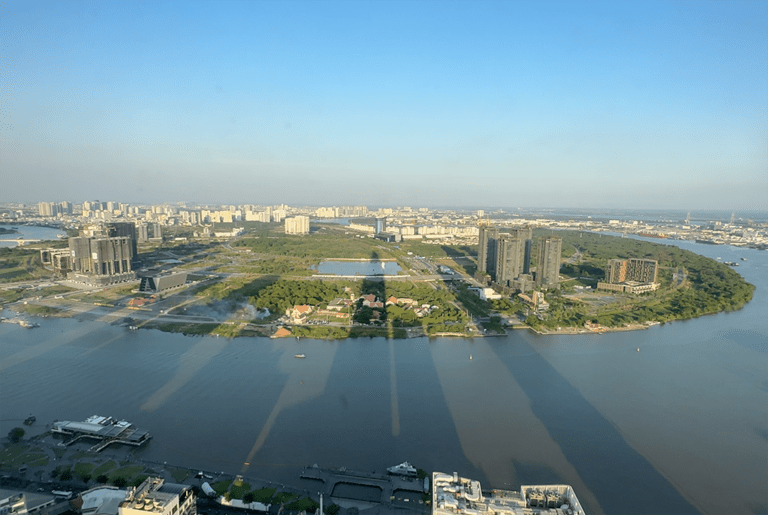 The Thien Hau Temple (Miếu Bà Thiên Hậu) is a temple in the Chợ Lớn district. It was built around 1760 by Chinese who had migrated from Guangdong in southern China.
Located on busy Nguyễn-Trãi Street, the temple was rebuilt and expanded in 1800, 1842, 1882, 1890 and 1916, with major reconstruction possibly also taking place in 1847. It is delimited from the street by a massive iron fence. In the main hall, which adjoins an inner courtyard, there are three statues of the goddess. On the roofs of the temple are arranged small porcelain figures. Whenever a major donation is made to the temple, the large bronze bell from 1830 is struck.
There are numerous markets and market halls in Saigon and most look similar. Since every time we were there hardly any people were on the road, one inevitably asks the question, who buys all this?
There are numerous stores where you can buy "designer shoes", "designer bags" and "designer clothes" that look deceptively real, especially if you ask for the "real" goods and are then usually led into secret back rooms. We don't know if the shoes are originals that have been overproduced or just fakes. But no matter what, you should be aware that many designers produce in Vietnam.
There are numerous good restaurants in Ho Chi Minh, but our clear favorite was Quan Bui Original.
Address: 19 Ngô Văn Năm, Bến Nghé, Quận 1, Thành phố Hồ Chí Minh 700000, Vietnam, practically walking distance from the hotel and passing such beautiful handmade TukTuk Bistro buses.
Ho Chim Minh City, formerly Saigon (Vietnam), a city that also never sleeps should definitely be visited and 2-3 days are easily enough. The city has something to offer at any time, but you have to be able to deal with the humidity and heat. Overall the city is quite safe despite all the traffic and if you get used to the fact that to get across the street you just have to start walking and everyone drives around you, then you can even really enjoy the time.
Ho Chi Minh, definitely worth a trip, especially if you want to continue to Singapore or Bangkok and use this as a stopover. But also as a start or end of a Vietnam round trip Ho Chi Minh City is worth a stop.
Order calendars from our photo tours?
What photo equipment for Ho Chi Minh?
Since we were on a business trip this time, the photo equipment was actually only our Iphone. But you can learn more about our equipment in general in our Photo-Shop.