Malta, is it worth a visit for just 6 days? What could a photo trip look like ?
Our travel report Malta summarizes the highlights of our photo trip and gives you valuable tips for the preparation. Here are our highlights in short form:
1.Day: Munich > Malta > Hotel: The Westin Dragonera Resort
2.Day: Valetta
3. Day: Boat trip to blue grotto > Kemmuna > Gozo > 3 Cities
4.Day: Popeye Village > Mdina
5.Day: Marsaxlokk
6.Day: Malta > Munich
What to think of when travelling to Malta
Local currency: Euro. You can use your credit card anywhere in the country for payments or cash withdrawals. Cash is more likely to be used for tips.
Vaccinations: Coming from Germany no vaccinations are required. However, the standard vaccinations are recommended, see suggestions from the Federal Foreign Office.
Luggage: Only the luggage restrictions of the airlines have to be considered. Otherwise everything is unproblematic.
Important documents beside the passport
Visa: As a German citizen you don't need a visa (!)
Driving licence: Even if Malta is in the European Union, it is advisable to have an additional international driving licence if you want to drive on the island.
Clothing: Bring light and airy clothing and don't forget your bathing shoes, as there are hardly any sandy beaches but sea urchins (!).
Detailed travel report Malta - important questions:
Is a short visit to Malta worthwhile at all?
Malta in summer is a rather ugly island that only reveals its true beauty at second glance.
Malta has a lot of culture and history to offer. Moreover, one should know that in the summer it gets hot up to 40 degrees and due to the geographical location of Malta also a high humidity can prevail.
Another problem of the island is the high number of cars, which leads to constant traffic jams, especially in the conurbations. The fact that traffic is "on the left" does not make it easier for self-drivers on the island.
Do I need a rental car on Malta?
Our recommendation is to avoid the rental car, download the eCabs app and explore the island by taxi only. This is at most as expensive as a rental car, but much less stressful. As the island measures only 28x13km, it would cost a maximum of 40,- Euro from one end to the other. From Valetta we did not pay more than 25 Euro for any tour, mostly even less than 20,- Euro (per direction).
Ecabs works exactly like Uber or MyTaxi and is the Maltese version. You can also order a taxi anywhere on the island, even in remote places and never wait longer than 10 minutes. So clearly our recommendation.
Can I explore Malta by bus?
The cheapest way to explore the island is to take the bus. The bus network on Malta is extremely well developed and it is the cheapest way to get from A to B, but each time it takes twice as long as with a taxi and the waiting time comes on top. Especially in the hot summer months "waiting" is not very pleasant.
Some holidaymakers are also enthusiastic about the rental scooters. However, we found this too stressful and also too dangerous due to the somewhat rough driving style of the Maltese. The scooters are priced between bus and taxi.
Where should I stay? Accomodation?
Basically, the answer depends on the personal purse and the interests.
A number of really good hotels can be found in St.Julian, near Valetta. All major hotel chains are represented here. We have chosen the Westin Dragonera Resort. It is – as the name says – a resort and extremely large. There are also many families with children, which is especially noticeable in the two pools. Apart from that it has several good restaurants, a great location and offers the usual Marriott standard. The hotel also has an executive lounge.
We found the location in St. Julians very pleasant, as from there, one can also do something on foot in the evenings.
What are the Highlights of Malta?
On the island there are a few highlights that are not only mentioned and visited in our travel report Malta, but really by everyone on the island. Most of them are really worth it.
A visit to the capital Valetta.
We spend our second day on the island with a visit to Valetta and take a taxi from the hotel, which costs us an outrageous 20,- Euro (eCabs would have been better, or bus, but we hadn't used that at that time).
The old town of Valetta is really beautiful and although – since Sunday – almost all shops are closed, there is a lot going on. Due to the heat we make small stops in cooled restaurants or bars. Drinks are relatively cheap with an average of less than 2,- Euro (e.g. Pepsi Maxx for 0,3ltr 1,50€).
A memory of old times are the red telephone boxes, which are still to be found in many corners and also point to the "English" time of the island.
For lunch we stop at 67 Kapitali, where we have great salads and sandwiches.
Then we continue to the Grand Master's Palace. It costs 10,- Euro per person and is disappointing except for the armoury. If you are interested in the history of Malta, like to look at armour and medieval weapons and if you don't mind a humid room without air conditioning, a visit is recommended. Everyone else should rather save their money.
Back we take the bus, which costs 3,- Euro per person and for the short distance is as fast as a taxi. By the way, Google Maps works on the island for all means of transport and gives you the bus lines and stops exactly. You practically can't get lost.
Is the Blue Grotto worth a visit?
On day 3 we rented a boat at Sun & Fun Sports. On Malta you can drive boats up to a certain PS class without a driving licence (!).
We have decided for a full day rental and a 115 hp boat. If you want to see not only the blue grotto but also the 3 cities and maybe something of Gozo, you should rent a whole day and take bathing clothes and food with you. Also think about LSF 50 and renew the protection more often. Believe us, we know what we are talking about, because the water is inexorable as a mirror and the wind doesn't let you feel anything at first.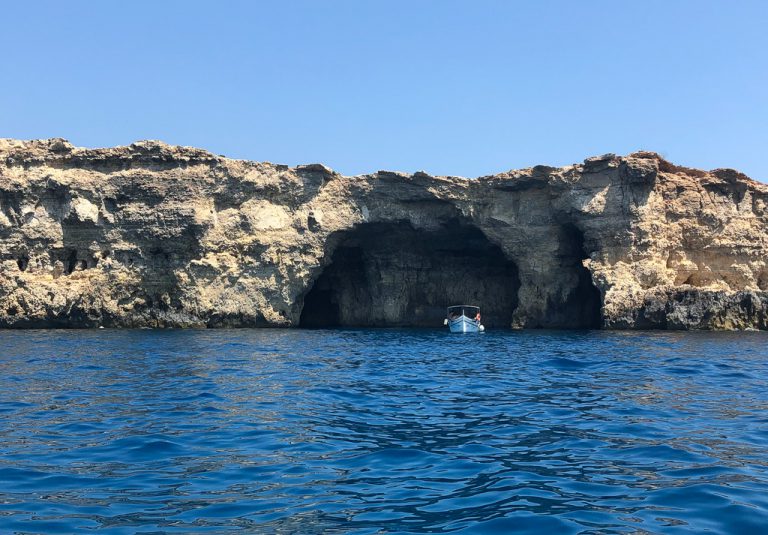 Swimming at the blue grotto. It takes about 1 hour by boat from St. Julians/ the Westin Dragonera to the blue grotto and you should go there in the morning before all the party boats arrive there. The water is crystal clear and after anchoring you can swim wonderfully. It is an unforgettable experience. Be sure to think of plenty of drinks and food. There is also a possibility to go ashore and buy something, but if you have it with you, it is easier and saves time. Also insist on a boat with a sun canopy.
On the way back you can also see the three cities and Valetta from the water side, which is once again beautiful and offers wonderful photo motives.
A little tip still, Sun and Fun has several rental stations at the surrounding hotels. We have rented from Darren, who is absolutely top. Should there be a problem, he takes care of it immediately and you feel well taken care of. In addition we can only recommend the 115PS boats. These are a bit more expensive, but with the smallest 60hp version you have to fight against the strong current on the sea and you are happy if there is a reserve.
In the evening we went to eat in the tapas restaurant of the Westin Hotel, which has a really great location on the water and very tasty food at reasonable prices. Clearly a recommendation for the evening to experience a wonderful sunset. Here you can also take some really great photos.
Is a visit to Popeye Village in Malta worthwhile?
On day 4 we wanted to visit Popeye Village, one of the most interesting photo spots on the island. The village is from the 70's and was originally built for the movie Popeye, with Robin Williams. After that it was to be demolished, but the Maltese wanted to preserve it and today it is a small amusement park. Those who want can visit it (15,- Euro entrance fee for adults) and spend the day in the bay with swimming, boating and more. Especially for families with children a great experience.
Those who only want to photograph can save the entrance fee and go directly to the viewpoint from where one has a wonderful view to the village. Definitely worth a visit.
Should one visit Mdina, the "silent" city?
From Popeye Village we took a taxi to Mdina. The "quiet" city has no traffic (only residents have a permit) and for the first time you get a really good impression of the beautiful side of Malta. Despite the heat of over 36 degrees, walking through the narrow streets is fun and one constantly discovers new and interesting things. Only the entrance for the church is a little outrageous with 10,- Euro per person. That's why we left it out.
Definitely look into the many small entrances and if necessary also run in. Especially the backyards are very interesting. Also the many restaurants are nice and invite you to stay in style.
We had lunch at the Rosmarino and can definitely recommend it. Go to the back of the restaurant, if you like it cool.
From the city wall you also have a great view into the valley below.
How do you pronounce Marsaxlokk?
It is spoken "Marsaschlog", located in the east of the island and we have saved it for day 5. With the eCabs taxi you drive about 25min due to the traffic, although it is only 13km.
The village is another photo highlight with its many colourful fishing boats and the colourful benches at the harbour. Take a taxi directly to the harbour, go for a walk and then stop at one of the bars or restaurants to enjoy delicious fish or pasta.
In the evening you can stroll through the harbour of St.Julians, with its many restaurants and shops, and let the evening fade away. Unfortunately, this part of Malta is not one of the most beautiful and is rather known for its nightlife.
Conclusion after 6 days Malta
On day 6, our departure day, it is time to take stock again.
We came without any expectations and found an island that is rather ugly in itself, which is due to the mono-building (everything looks the same, also in colour) and on which there is currently a real building boom for this small island. There are few beaches and the most beautiful bays are best reached by boat. Furthermore, the island is a single traffic jam and has far too many cars for the size of the island.
At second glance, however, there are the already mentioned highlights and they make the island appear in a different light, so that we are overall happy to have visited the island. What we noticed is the fact that Malta tries to make itself especially attractive for young people. For example, there is almost no DJ who doesn't come to the island in summer and many of the concerts are sponsored by the state and admission is free. In addition, the many language schools are mainly aimed at young people and there are plenty of language schools on the island.
We only saw Gozo from the water side. It looks exactly like the main island, but is probably a little quieter, as one only gets there with the ferry, which drives several times a day and brings tourists back and forth.
Want to order a calendar from our phototrip?
Which Photo Equipment for Malta?
The photographic equipment that we have brought to Malta is listed below. Furthermore you have the possibility to order the used photo equipment directly through our Photo-Shop and ask for further technical details. There you will also find a lot of extras.
Lenses:
Nikon 70-200mm f/4
Nikon 20mm f/1.8
Tamron 24-70mm f/2.8 G2
Backpack / Trolley:
Lowepro Flipside 400 AW II
Manfrotto MB SV-M-30BB Allegra 30