Travel Report Apulia: Highlights and tips for a 4 days photo trip
Is a visit to Apulia worth it for only 4 days? What are the highlights to discover? What must be seen? The clear answer is "YES", it's worth it!
Our travel report Apulia in Italy summarizes the best highlights and "must sees" for you to have an unforgettable short trip to Apulia.
Things to remember when traveling to Apulia
Local currency: Euro. You can use your credit card everywhere for payments or cash withdrawals. Cash is mainly needed for tips.
Vaccinations: Coming from Germany, no vaccinations are required. However, the standard vaccinations are recommended, see suggestions from the German Foreign Office. Additionally COVID-19 vaccination card.
Drone flying in Apulia, is it allowed ?
Basically, the EU drone laws apply, and you should abide by them. In most places it is therefore unproblematic to fly a drone, as long as you follow the legal rules. However, in many places, e.g. Matera, it is very crowded and you have to look for a suitable place.
Detailed travel report Apulia - important questions:
That depends on the situation. Hotel prices, or generally overnight prices are not really cheap, especially in the season, and if you value quality, you are very quickly at a level that is no longer cheap. Restaurants are different. Here, too, there are the normal differences, but good food does not have to be expensive and you can always find cheap and good cuisine.
Experience the highlights of Apulia
From Germany, there are several direct flights daily to Bari and prices are rather affordable depending on the season, since Bari as an industrial city is not really a tourist metropolis.
Do I need a rental car for Apulia
Das Hotel mit dem besten Blick über Bari
Our recommendation is definitely YES. In the cities there are also cabs, but if you really want to discover Apulia, you have to be mobile. Good and cheap rental car providers are directly at the airport and we usually rent via Check24 the all-round package. This saves a lot of hassle.
Bari is, as mentioned, an industrial city. There is a nice pedestrian zone with numerous stores and cafes, but it is not really a tourist highlight. As a first port of call, e.g. if the plane only lands in Bari in the evening, we recommend the iH Grande Alberge della Nazioni. It is a typical business hotel, the rooms are comfortable, but very small and it has a very nice restaurant with a roof terrace, where the pool is also located (which, however, is clearly too small for a hotel of this size). The staff is rather disinterested and the service leaves much to be desired by Italian standards. But the location and the view make up for it.
In Bari, historical old town meets modern character – and all this with a Mediterranean flair.
Bari is the capital of the Italian region of Puglia. Travelers arrive there by cruise ship at the port or by plane at the city's own airport, inevitably to be infected by the Mediterranean climate and casual attitude to life.
However, we really only recommend Bari for one day, if at all, as there are clearly more beautiful towns in Puglia where you can experience much more.
Our restaurant tip in Bari: Ristorante Le Terrazze del Santa Lucia.
Here you can enjoy really very good Mediterranean food and especially raw fish (a specialty in Puglia). Also the atmosphere directly on the sea is very nice.
The medieval town of Monopoli is a popular vacation resort on the Italian Adriatic Sea, only about 30min (by car) away from Bari.
Monopoli has just under 50,000 inhabitants and has been beautifully spruced up in recent years thanks to extensive restoration work. Especially the small and winding streets have done it to us. It reminds a little of Mykonos or Santorini, although here it has remained more original and the prices in the stores are still at a normal level.
In the city itself there are numerous small hotels and a lot of B&Bs. Large hotel chains, however, you look in vain.
Restauranttip: IL BRIGANTE TRATTORIA, Monopoli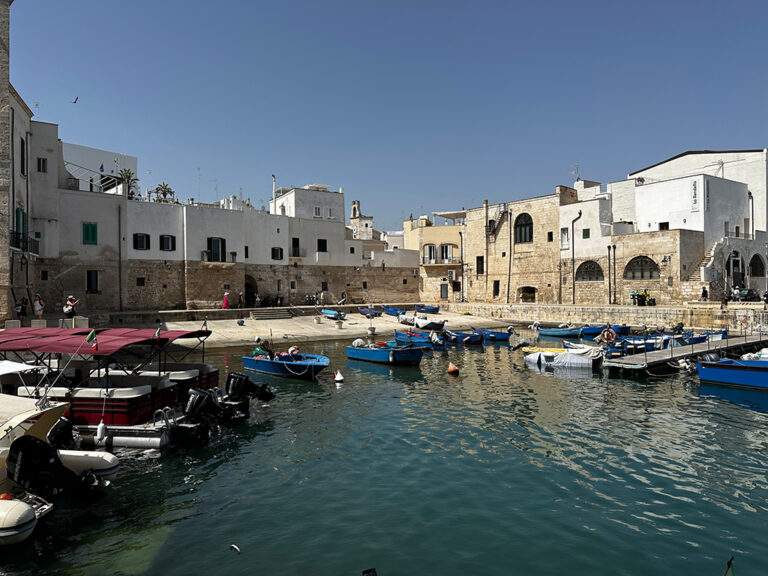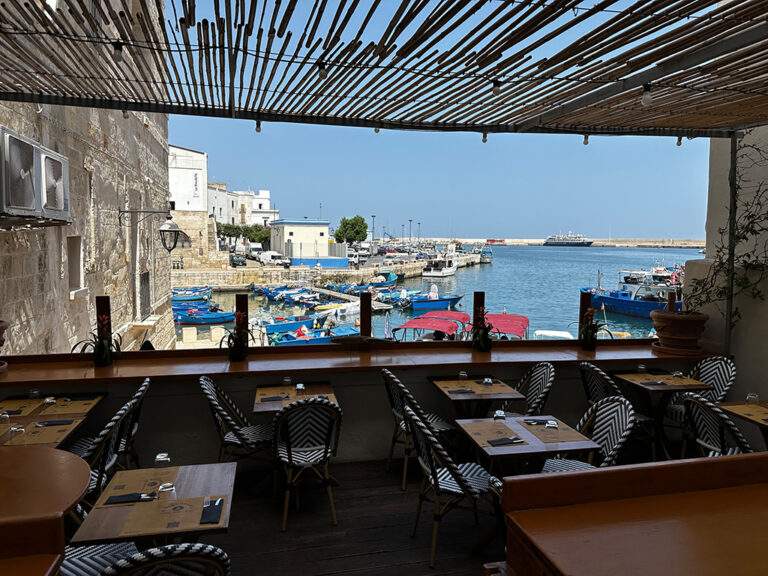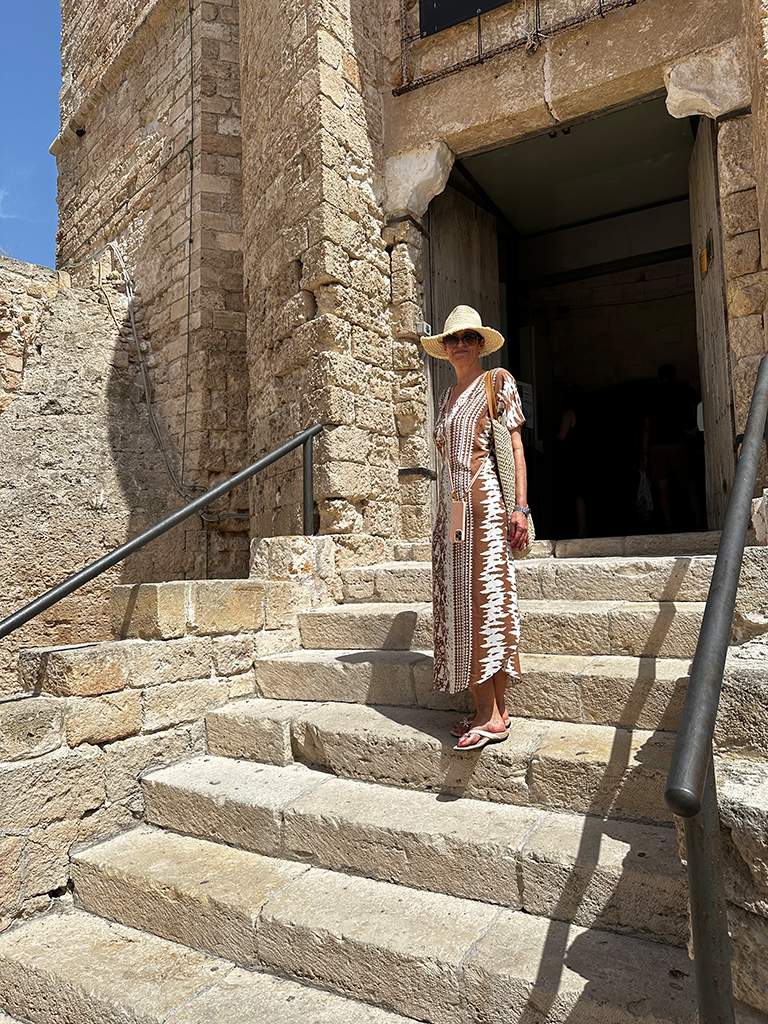 You can make Apulia as a real round trip and also change the hotel every day. The other option is to choose one hotel and drive every day. Both are good options.
We chose a small hotel near Monopoli. Since hotels on or with a beach are almost non-existent, it pays to look for a hotel with a nice pool.
We chose the Residenza il Sole and would do so again and again. It's a small boutique hotel, with beautiful gardens, lovely breakfast and a really nice little pool with lounge music playing all day without being distracting.
If we were to do the same trip again, we would just plan an overnight stay in Matera because it really saves a lot of driving and in the evening there is no stress on the return trip. With 4 nights so 3 in Monopoli and one in Matera.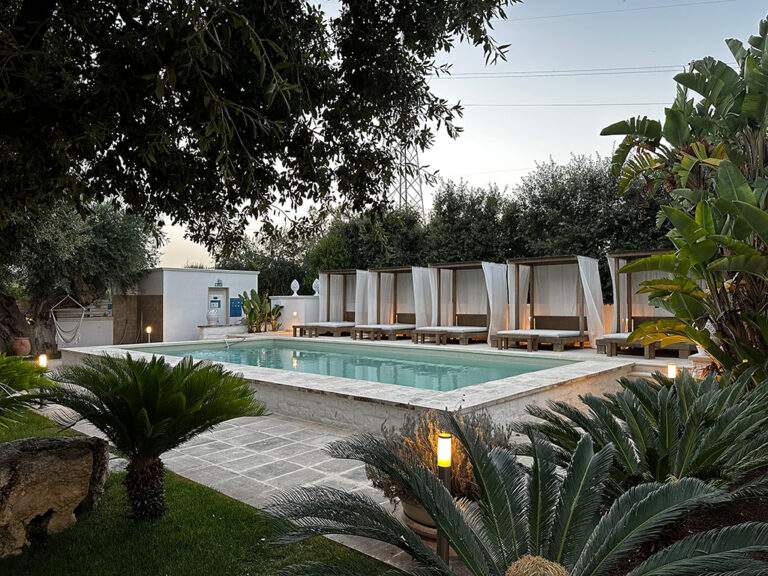 Polignano a Mare is 10 minutes by car from Monopoli or 20 minutes from Bari.
Polignano a Mare can look back on a millenary history. In the course of history the most different people and peoples have left their traces here. Even today, this small town is a favorite vacation destination for Italians and people from all corners of the world.
The view of Palignano a Mare is unforgettable for anyone who has been there. A walk through the clean little streets, often with a view of the sea, lets you share in the southern Italian life.
In the center of Polignano a Mare it is worth visiting the Chiesa Matrice, the church built as early as 1295.
A special experience is the visit to the Grotta Palazzese, which is not only the largest and most beautiful cave below the town, but also with a noble restaurant tempts visitors to a romantic dinner on the steep terrace of the rock.
Moreover, every year the cliff divers show their skills at the Red Bull Cliff Diving, when they plunge into the Adriatic Sea from the 24 meters high cliff Polignano a Mares.
At the latest since the James Bond film "No Time to Die", Matera is a household name for die-hard film fans. However, the city also looks back on a unique cultural heritage.
Matera is a city of about 60,000 inhabitants and the capital of the province of the same name.
About 50 kilometers west of the port cities of Bari and Taranto, it towers imposingly on a rocky plateau of the Murgia Materana plateau above the gorge of the Gravina river. We will come to Gravina, also a film location for James Bond, later.
The city is particularly famous for the Sassi di Matera. These are caves built in the stone, some of which were still used as homes or rock churches until the 1950s.
The sight of the ancient city does not let you get out of the amazement and we recommend the visit in the late afternoon, so you can experience Matera by day and evening. It is even best to plan an overnight stay here.
Our restaurant tip: OSTERIA LA PIGNATA and / or Osteria alla Vigna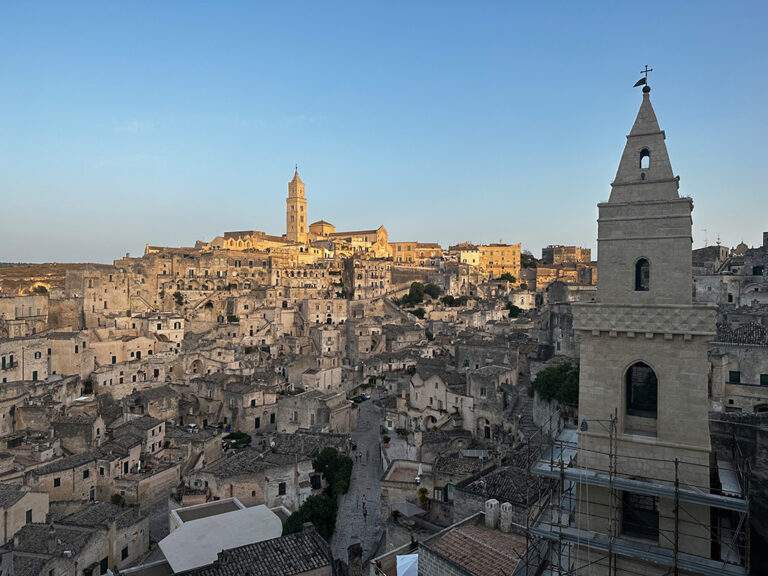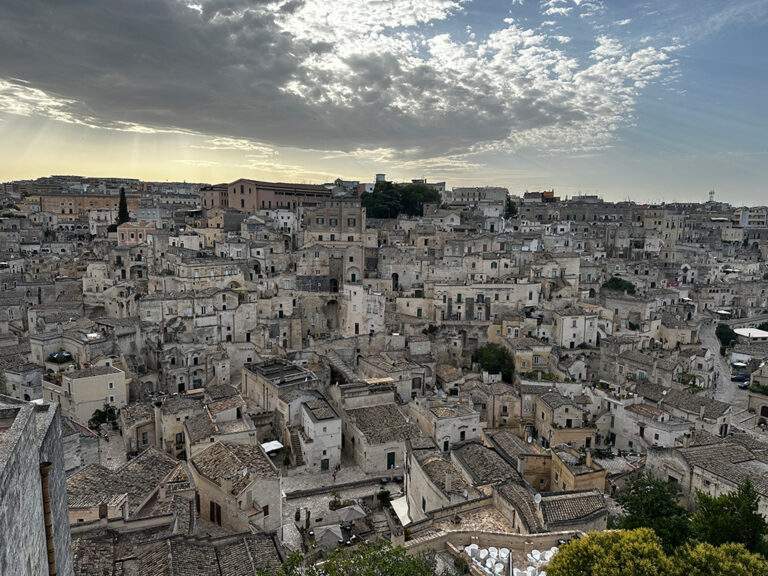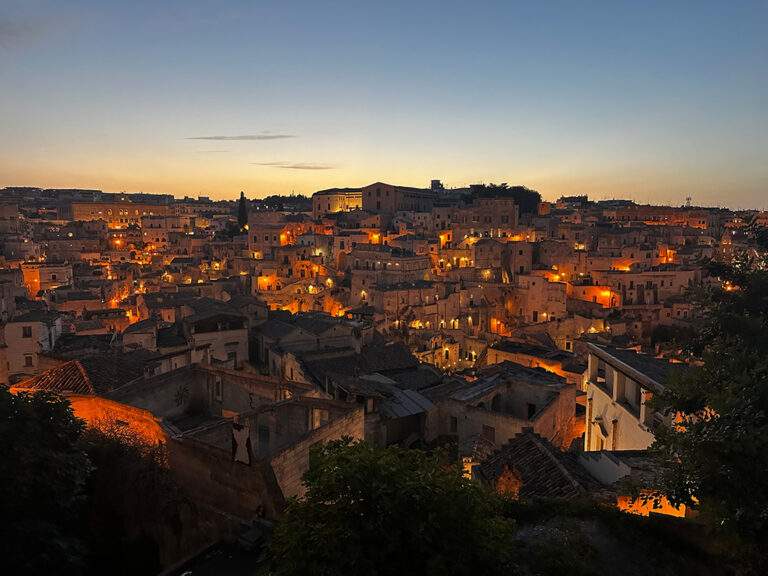 Gravina in Puglia is situated at 385m above sea level in the middle of Murgia.
Gravina has a good 40,000 inhabitants. There is a compact beautiful old town center and many small winding streets. The highlight of the town – besides the beautiful old town center – is the bridge, which also gained fame through the Jams Bond movie "no time to die" and is actually an aqueduct.
Besides an old town with winding streets and old town houses and a slope towards the gorge (the Gravina), there is also a large cathedral. A visit of 2-3h is enough for this place all times. If you are too lazy to walk, you can drive via Fontana la Stella practically right up to the bridge. Parking, however, is a matter of luck.
Alberobello (beautiful tree) appears to the visitor like a village from a fairy tale. At the sight of the cute, whitewashed trulli with their cone-shaped roofs, one could almost forget the hard life of the inhabitants of that time. But if you dare to take a look inside a trullo, you quickly realize that these were "poor people's houses".
Today, the place is a tourist magnet and the beautifully preserved and spruced up little houses with many cafes and restaurants invite the visitor to linger. You should go here in the early morning, when it is not yet so crowded and the tour buses are still on their way.
There are 1400 trulli in total and Alberobello was declared a UNESCO World Heritage Site in 1996.
The trulli dwellings in Alberobello date back to the 17th and 18th centuries. The dry-stone wall construction method stems from the fact that the houses could be quickly dismantled when inspections were announced, in order to escape the property tax levied by the king on residential houses.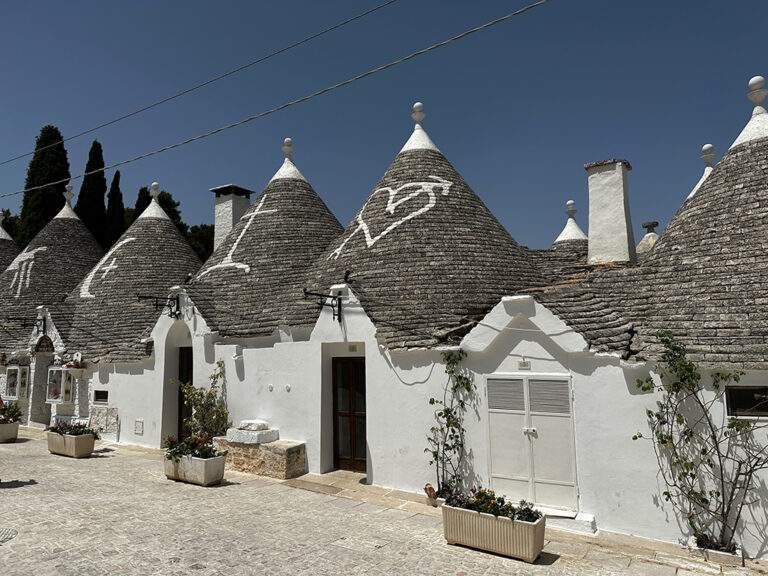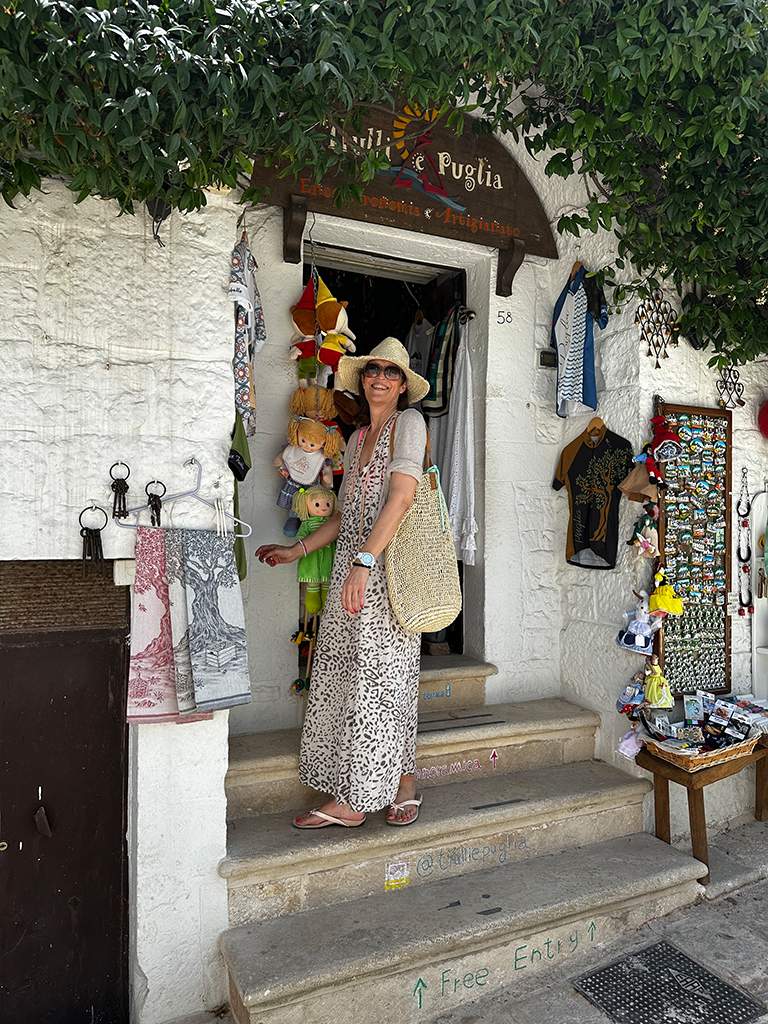 Even if you only have a little time, a visit to Puglia and its highlights is worthwhile. You can discover a lot here on a long weekend and still wonderfully switch off and relax. Of course, if you have more time, then you can do it even more quietly and discover much more. But whether short trip or longer vacation, Puglia has many highlights to discover.
Order calendars from our photo tours?
What photo equipment for Apulia?
The photo equipment that we took with us to Apulia is listed below. In addition, you have the possibility to order the used photo equipment directly via our Photo-Shop and to request further technical details. There you can also find a lot of extras.
Cameras:
DJI Mavic Mini 3 pro
Apple Iphone 14pro