Is Ibiza worth a visit? What could a 7 days photo tour look like?
Our Travel Report Ibiza summarizes the highlights of our photo tour and gives you valuable tips on how to prepare. Here are our highlights in short form:
1.Day: Munich > Ibiza Town > Santa Eulalia del Rio > Hotel: Riomar – A tribute Hotel
2.-7. Day: Cala Xuclar, Santa Gertrudis, Ibiza Stadt, Benirras, Es Vedra, Sant Antoni, Hippymarket, Ses Salines and much more
8.Day: Ibiza Town > Munich
Ibiza is so small that you can cross the island practically every day without really having to make a plan, which is why we have omitted this in our travel report Ibiza. It is best to consider whether north or south, because in Santa Eulalia you are practically in the middle.
What you should definitely think about when traveling to Ibiza
Local currency: Euro. For payments or cash withdrawals you can use your credit card everywhere in the country. Cash is more needed for tips.
Vaccinations: Coming from Germany, no vaccinations are required. However, the standard vaccinations are recommended, see suggestions from the Foreign Office. And recently, of course, COVID-19 vaccination card, if available. COVPASS app will do.
Luggage: Only observe the luggage restrictions of the airlines. Otherwise, everything unproblematic.
Important documents, next to your passport
Visa: Not needed for Germans and European (EU) citizen
Drivers License: EU drivers license is fine, all others please check.
Detailed Travel Report Ibiza - important questions:
Is Ibiza worth it for a week?
Ibiza is worth a trip. It is the little sister of Mallorca (much smaller!) and you can find here not only the world-famous DJs, but can also experience a very different Ibiza. Only the high season mid-June to early September we would definitely avoid next time.
Ibiza has many very beautiful beaches. In the summer, it reaches up to 40 degrees and the restaurants and beach bars have up to 5 weeks reservation leadtime, both for lunch and dinner. (We still wonder which people already reserve tables before their vacation, for us something incomprehensible).
There is a direct flight from Munich to Ibiza. In the summer even up to two planes a day. The flight takes about 2 hours.
Do I need a rental car on Ibiza?
Our recommendation is definitely a rental car, even if they can be sometimes very expensive. But if you want to see a lot and not lose too much time with cab or bus, there is no real alternative. Unless you want to ride a scooter or quad, which we would definitely not recommend with the dust on the island.
We recommend the Premium All Inclusive Package from Check 24, then you don't have to worry about anything.
The airport of Ibiza is very small and manageable and all car rental counters and stations are located both in the airport and outside. If you rent from Sixt and find a long line at the counter in the terminal, you can also just go directly to the parking garage and use the counter there.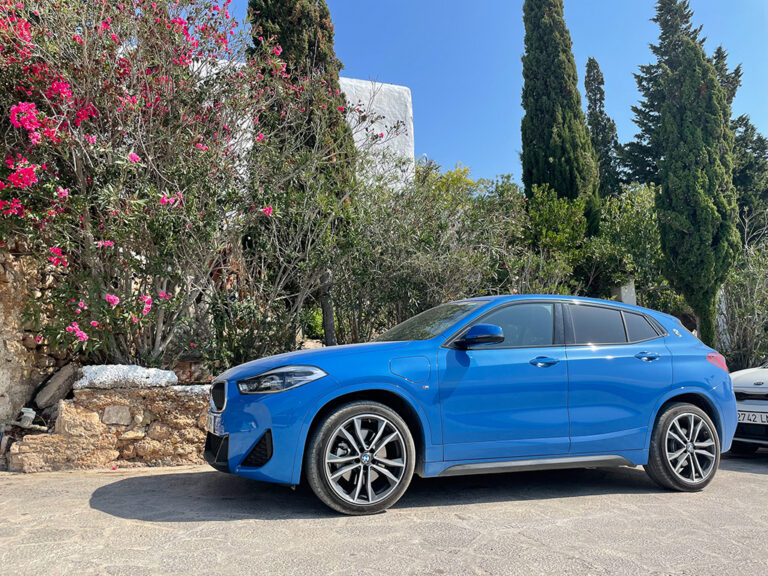 For us, the ideal starting point on Ibiza. A number of really good hotels can be found in Santa Eulalia del Rio, e.g. the W and the Riomar by Marriott. There are also a number of high quality hotels further north.
We can recommend this corner of Ibiza for those who are not necessarily looking for house and techno clubs, but rather the other Ibiza. If you prefer nightlife and party, we recommend Ibiza Town or San Antoni.
We stayed at the Riomar, a 4 star hotel with all the comforts of the Marriott Group, which was reopened in July 2021 (after renovation and takeover by Marriott). It has from our point of view an absolutely unique location. The only negative point: From here you can only enjoy sunrise, as sunset is on the other side of the island.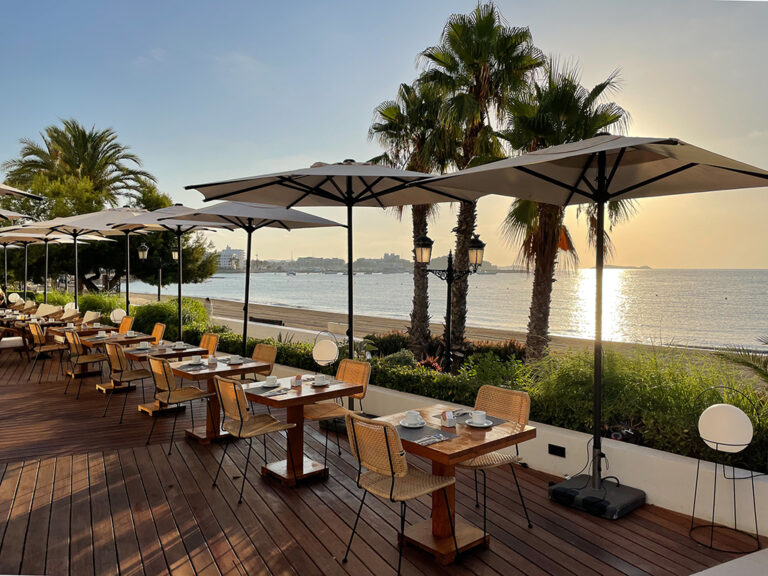 Unfortunately, there is no lounge and no suites for status members. The only choice is between sea view and mountain view. The only larger rooms (34sqm vs all others with 24sqm) have mountain view, on the second floor and are a "no go", as are almost all rooms with mountain view. Definitely book sea view. However, you get the free breakfast from Platinum status.
We found the location in Santa Eulalia very pleasant, as you can walk from there even in the evening along the beach promenade to the harbor and into town, where there are numerous delicious restaurants. For information, the "W" Hotel, also Marriott is only about 100m away as the crow flies. This is in some respects more exclusive (also newly opened in July 2021), although the furnishings are a matter of taste. From the Location it is a "tick" worse", because between the hotel and the beach is the promenade.
Restauranttips Santa Eulalia
The hotel has 1 own restaurant and this is unfortunately the "weak point" of the hotel, at least as far as dinner is concerned, although the location and ambience are unbeatable. We therefore recommend the following restaurants in Santa Eulalia, which are all less than 15 minutes walk from the hotel:
1) Rincon Thai, practically right next to the hotel (don't be put off by the sight. The best Thai on the island if you don't mind the ambiance). Our #1, since we love Thai food.
2) Pino (Italian with great service, good food and great ambiance).
3) Cafe Sidney (simple restaurant / cafe on the harbor, great view of the yachts).
4) Sa Brasa restaurant, also on the harbor. Typical fish and seafood.
Ibiza Stadt (Eivissa) another Highlight of our Travel Report Ibiza
We continue with Ibiza Town, especially the old town. This is definitely worthwhile and you should start right down at the port and then work your way up through the alleys and the city walls piece by piece. Once you've reached the top you can stop for lunch at S'Esacalinata Café, the "Steps Cafe", and watch the hustle and bustle and especially the many Instagrammers who frequent this café. The tapas plate is highly recommended.
Afterwards, you can walk through the many charming alleys back down to the harbor and once again browse through the many small stores. Who wants to escape the hustle and bustle comes here during the day, but then it is also particularly hot in the summer.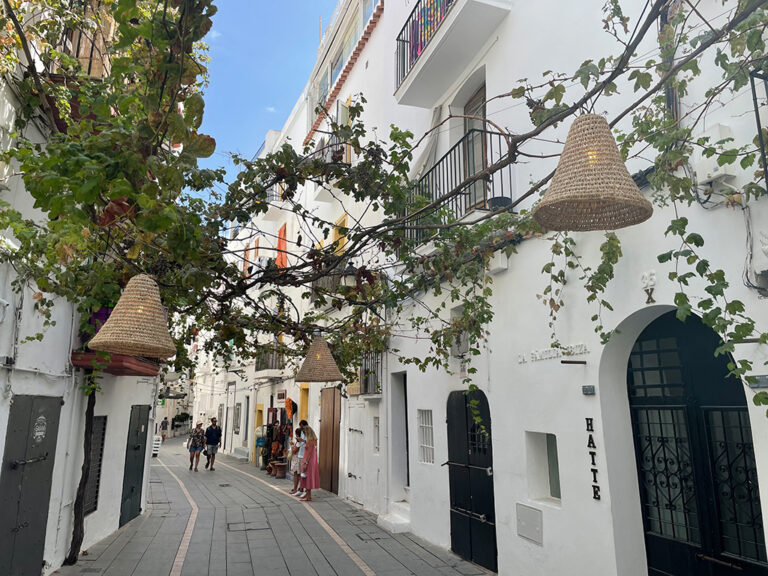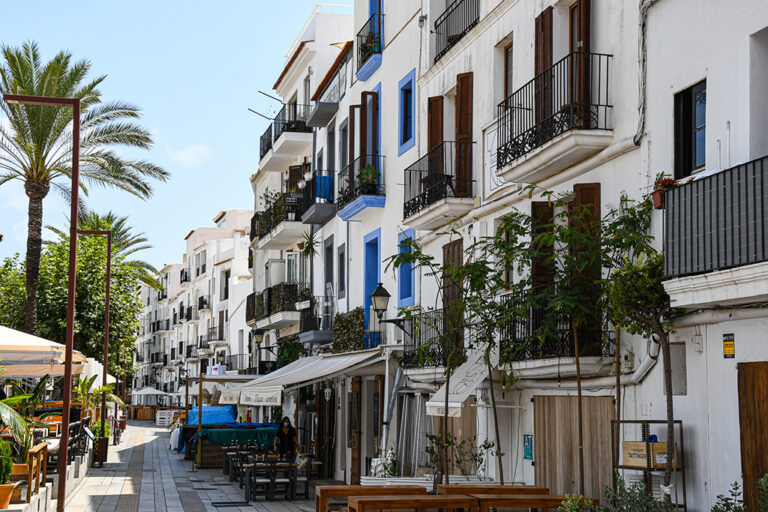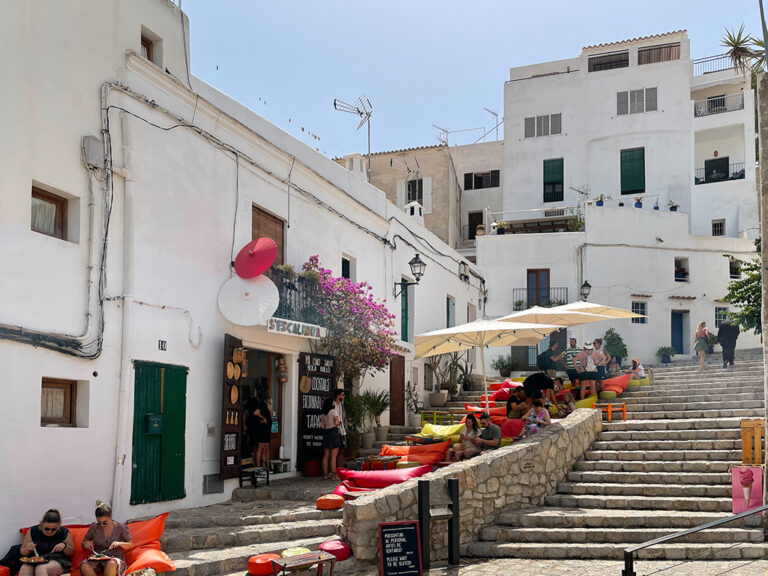 If you want a really good view of Ibiza Town, we recommend the Cappucchino restaurant in the harbor. It has the top location for photos and really high quality food, at an equally high price. But it is worth it. Those who already know the chain from Mallorca know what we mean. We recommend the large sushi platter.
The bay Xuclar, in the northeast of the island is another insider tip in our travel report Ibiza. The last 200 m go steeply downhill and are rather something for 4 × 4 vehicles. Alternatively, a rental car with full coverage without deductible. You should definitely get there early in the morning if there is still parking. The small natural beach invites you to swim and linger and for refreshment provides a small but fine restaurant directly in the bay.
Sant Antoni and #Mamboibiza
From Xuclar, in about 30 minutes, you can reach Sant Antoni, another beautiful place on the island. Sant Antoni is especially known for the Café del Mar and the Mambo. Both are the "in" places for a sunset in Ibiza. The waiting lists for both restaurants are at least five weeks in advance, for a sunset table.
Mambo has really excellent food, although not quite cheap. If you can't get a table in the evening, you can try it during the day, for lunch. The music is still good then and the view of the turquoise water compensates for the otherwise rather less beautiful looking concrete blocks directly on the beach.
In the middle of the Island we can recommend Santa Gertrudis. A small really nice village, with many small stores and cafes that invite you to stroll and rest. You do not have a view of the sea but the peace and the ambience are heavenly.
Ses Salines and Flamingos
Bird lovers will get their money's worth in Ses Salinas. Here you can observe flamingos and a variety of other bird species, but you should have a good telephoto lens (at least 300 mm) and a little patience. In summer, this part is mercilessly overcrowded and the beaches, as beautiful as they are, are not worth the visit, because if you are not there very early in the morning, you have to wait forever in the car queue to get one of the few parking spaces, which are also paid.
Benirras offers a very nice bay, with some small restaurants and on some days also a small market. Here, too, you should be there early if you still want to catch a good parking space.
Es Vedra is certainly THE highlight of Ibiza, at least in terms of nature and view. To get to the viewpoint, you have to walk about 1.5km. The parking lot has a capacity of appr. 30 cars and is already full early in the morning. The same at sunset. Fortunately, it is a come and go during the day, so parking spaces are always available, but it can still be a bit annoying. The trail is good to walk with sneakers. You should take some water with you on hot days. For information, who also wants to go up to the Torre, there are about 150 meters of extra altitude. No matter what you decide, the view compensates for everything in the end.
Hippiemarket - Las Dalias
Las Dalias is about 10min from Santa Eulalia enffernt (by car), but if market is, then you should be there very early and find out especially in the hotel, when the market opens and on which days it takes place. We tried it 2 times and were successful only the 2nd time. The first attempt we canceled after we had about 5km traffic jam in front of the market. A tip, go at least 1h before the official opening time.
Sunset Ashram and Cala Comte
Cala Comte is certainly one of the most beautiful bays in Ibiza with azure blue water and fine beach or cliffs that invite you to jump. In summer, many yachts are here during the day and until sunset and it is unfortunately also extremst full and by that we mean "unsightly" full. In the off-season it is certainly a dream, as long as the water is still warm enough to swim and the sun is shining.
Fazit of our Travel Report Ibiza
Ibiza is worth a trip and it makes sense to get to know the "other" Ibiza, away from the party scene. However, we would clearly advise against visiting the island from June to the end of August. Not only is the price level absurdly high, but everything is simply too crowded. For us Ibiza is an insider tip to relax for the off-season, outside the school vacations in spring and autumn. But then you can experience a really nice vacation.
Want to order calendars of our Phototrips?
Which Photogear for Ibiza?
The photo equipment we took to Ibiza is listed below. In addition, you have the possibility to order the used photo equipment directly via our Photo-Shop and to request further technical details. There you can also find a lot of extras.
Cameras:
Nikon D500
Apple Iphone 12 Pro
DJI Mavic Mini
Go Pro Hero 8
Lenses:
Nikon 70-200mm f/4
Nikon 18-105mm
Rucksack / Trolley:
Lowepro Pro Runner RL x450 AW II
Manfrotto MB SV-M-30BB Allegra 30