What might a 14 day photography trip through California look like?
Our travelogue California summarizes our photo trip from Los Angeles via Santa Barbara, to Palm Springs and Santa Monica. We have chosen the following route:
1. Day Munich -> Los Angeles -> Santa Monica (Le Merigot by Marriott)
2./3. Day: Santa Monica
4.DAy: Santa Barbara (Hilton Santa Barbara Beachfront Resort)​
5./6.Day: Santa Barbara
7.Day: Santa Barbara -> Palm Springs (Renaissance Hotel Palm Springs)
8.-11.Day: Palm Springs
12.Day: Palm Springs -> Santa Monica (Le Merigot by Marriott)
13.Day: Santa Monica
14.Day: Santa Monica -> Munich
Where is California located?
Where exactly are Santa Monica, Santa Barbara, Palm Springs and Los Angeles and what is the best way to get there? You can find out all this in our California travel report.
What to remember when traveling to California:
Local currency: US dollar. If possible, take small USD bills with you for tips. Money can be withdrawn without problems at any ATM. Otherwise, credit card payments work everywhere without problems.
Vaccinations: Coming from Germany no vaccinations are required. However, the standard vaccinations are recommended, see suggestions from the German Foreign Office.
Luggage: The photo equipment should definitely be taken on board, therefore pay attention to cabin luggage dimensions (!) Otherwise, any kind of suitcase or bag will do.
Clothing: Actually, nothing special applies here for the clothing, but since we wanted to "Hiken", we have taken functional clothing, as well as a rainproof jacket and solid gym and hiking shoes. In the malls it can become sensitively cool due to the air conditioning, so also think about it.
Important documents besides passport
Visa: As a German citizen you do not need a visa, but the ESTA, which should be applied for at least 72 hours before departure (!).
Driver's license: Normally the German driver's license is sufficient in the USA. If you want to be on the safe side, it is recommended that you also have an international driver's license.
Credit cards: In America you pay almost everything with a credit card and who wants to rent a car needs one anyway. All major credit cards, even American Express, are accepted almost everywhere.
Do I need a rental car for the tour? Can I drive myself?
The answer is clear: YES and why you will learn in the following travel report California. Furthermore, you should take a really comfortable rental car, because you will spend many hours and kilometers in it.
The choice is huge and the quality is the same with almost all providers. The big providers have the advantage of having more stations if you ever need help. In Santa Monica, it's best to park your car in a public garage and switch to a bike or scooter. Uber works here for both without any problems.
The rental car should be fully insured from Germany, without deductible, then you do not need to worry on the spot. One more tip: You can usually ignore parking tickets, they are not prosecuted. The situation is different for speeding. You should pay them if you don't want to have problems at the next entry. We almost always book with Check24. Price performance are hard to beat. When comparing ALWAYS pay attention to the booked category (the ACRISS code)!.
Where should you stay overnight?
In America there is a huge selection of hotels and places to stay. Hotels range from very cheap (motel) to 5-star, so there is something for every budget. It is important to keep in mind that the prices from Mon-Thu are lower than from Thu-Sun. This is especially noticeable in the big cities, where prices are often 2-3 times higher.
Detailed travel report California:
1.Day: From Munich we go directly to Los Angeles. After 11,5h flight it is done.
To the rental cars it still goes with the shuttle bus and from there then directly direction Santa Monica. Almost all rental cars of the standard category and above have Apple Car Play (don't forget the cable!) and so it works without getting lost to arrive a short time later at the hotel Le Merigot by Marriott.
Instagramm Highlights in Los Angeles
2.Day: For today, we want to visit a number of LA hotspots for Instagrammers. Los Angeles is known for its thriving art scene. New artistic murals are popping up all over the city, from Paul Smith's famous "Pink Wall" to Collette Miller's global "Angel Wings.
Melrose Avenue is an exception, with more than 6 of the famous walls within walking distance of each other. The "Melrose Avenue Walls" are perfect for anyone who wants to spice up their Instagram feed and show off one of the most Instagram-worthy places in LA.
Another art installation that has become one of the most recognizable landmarks in Los Angeles are the lanterns in front of the Los Angeles County Museum of Art, or LACMA. The museum itself probably has only a fraction of the visitors who stay by the lanterns
Santa Monica is absolutely perfect for cycling, walking or jogging
3.Day: The day begins, as it often does, with a run from the hotel to the pier, and along the beach, then across the famous "belly-legs-po-stairs" of Santa Monica and back to the hotel. Here is the route: 8.2km.
Little Venice and its romantic water canals
Breakfast at the hotel is either included for Marriott status customers or there is a 40USD discount. Since a breakfast – which is quite excellent – with tax and tip still comes to a good 80USD for 2 people, you should think twice.
After breakfast we will go by bike to Venice Beach, more precisely to "Little Venice", with its many romantic water canals and bridges.
In the evening we took a walk on the Santa Monica Pier, which officially marks the end of the famous Route 66.
Via Malibu to Santa Barbara on Route 1
4.Day: From Santa Monica, we take Route 1 via Malibu to Santa Barbara. This is certainly one of the most beautiful sections of Route 1 and definitely worth a trip.
5-6.Day: We chose the Hilton Hotel, which is ideally located (Hilton Santa Barbara Beachfront Resort). Santa Barabara is similarly tranquil, as Santa Monica, also has a kind of pedestrian zone, many good restaurants and a beautiful beach section with pier. Santa Barbara is also great for exploring by bike.
If the weather is good, you should definitely make a detour to Henry's Beach Boat House, which is located directly on the beach, in a secluded bay. During the day you have a great view of the sea and the beach and the food is very tasty. Best to make a reservation !
From Santa Barabara to Palm Springs
7.Day: We continue from Santa Barbara to Palm Springs. This is just under 3.5h drive. First it goes back on Route 1, so that you can enjoy this really beautiful road once again. After Santa Monica we take the highway directly to Palm Springs, which we reach after about 2 hours. We check into the Renaissance Palm Springs Hotel. A classic with a first-class location, since you can do everything in Palm Springs on foot from the hotel.
In the evening we go to "Thai Smile" for dinner. One of the best Thai restaurants we have been to so far. Reservations are not possible and at peak times the lines in front of the restaurant are unfortunately often long. This may also be due to the fact that stars like Pierce Brosnan go here to eat and one or the other may hope to meet them here.
Highlights in Palm Springs
8-11.Day: There is much more to discover in Palm Springs and the surrounding area than meets the eye.
Here are our highlights
Living Desert Zoo and Gardens
Yes, in Palm Springs there is a zoo and this is even quite excellent and provided with a not inconsiderable variety of species. For 8USD extra (per person) on top of the entrance fee, you can even feed giraffes. Compared to Nairobi (Kenya), where you can also do that, a really cheap offer. But there are also cheetahs, striped hyenas and of course the country's typical rattlesnakes.
For many years we tried to get to the top of Palm Springs by the Aerial Tram Way. Most of the time it was closed due to the weather and even now it took several attempts. But it is worth it. Being there early too. The tramway opens at 8am and if you are not there at 7am, you have to expect long lines. Why? Well, Palm Springs is actually in the desert, but in winter you can definitely sled and hike in the snow on the mountain. Important: Dress warmly, it can be extremely windy up there in winter!
A little tip for the gondola ride. It doesn't matter where you stand, the floor turns 360 degrees during the ride, so you can see everything.
About 45min drive away from Palm Springs like the Salton Sea.
This was created as an artificial body of water by an accident in which a dam of the Colorado River broke in 1905 and for two years the river discharged almost all of its water into the Salton depression. Because of the irregular inflow of water, the size of the lake fluctuates. However, due to heavy evaporation, the water level decreases over the years. Evaporation has also significantly increased the salinity of the water, as well as the content of fertilizers that enter the lake through cultivation of the surrounding irrigated fields. Since they can no longer flow away from there, there is a progressive destruction of the ecosystem. In the past, almost a million visitors a year came to the lake. Recreational resorts sprang up, but now they are all largely deserted, and it is precisely these geyser towns that make a visit so appealing. One should stay away from the lake itself (i.e. the water) because of the harmful algae.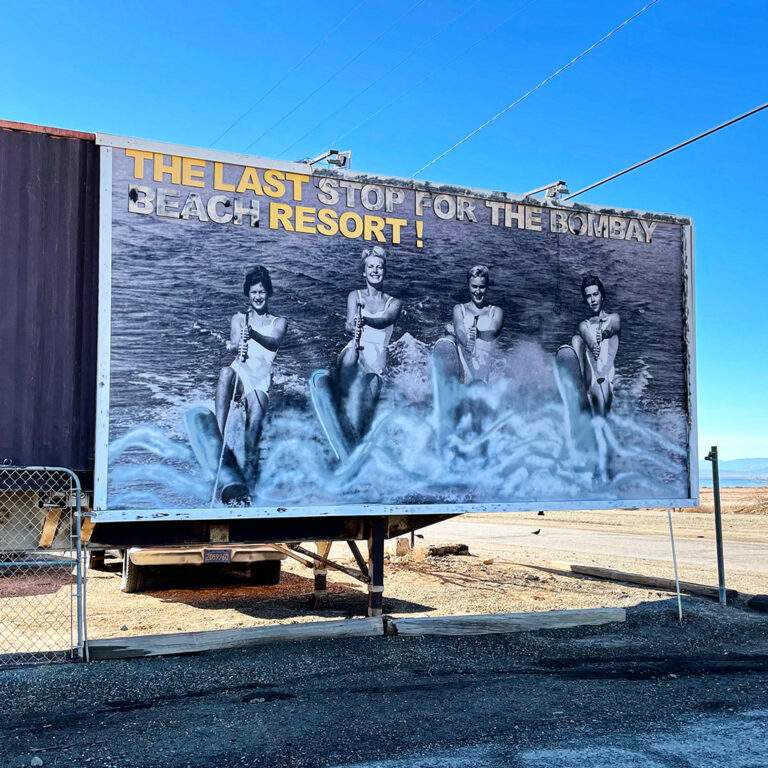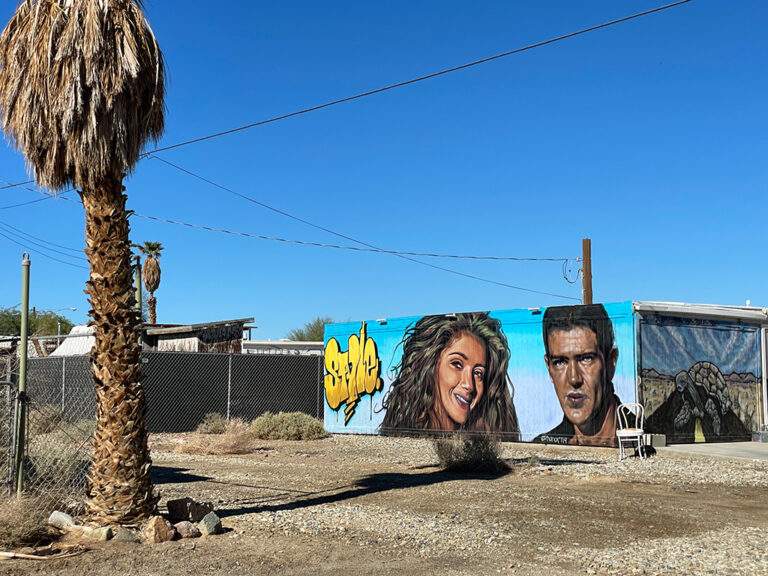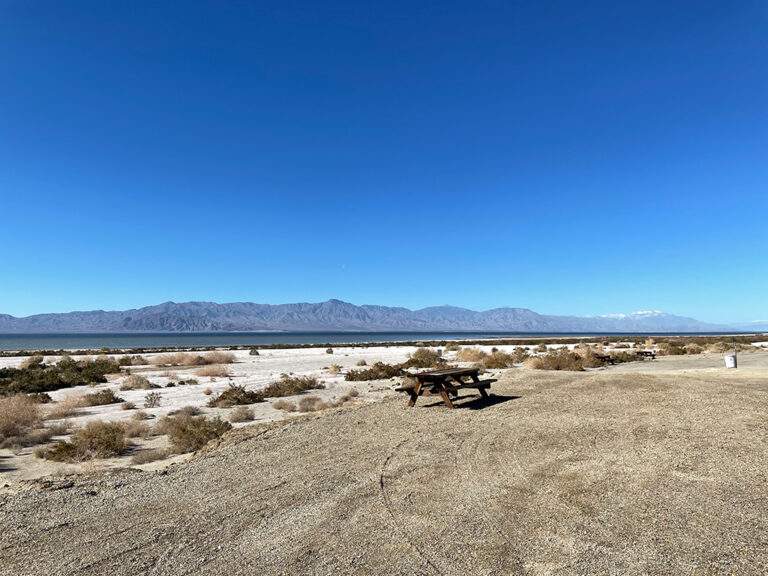 The Salton Sea can be easily "circumnavigated" by car and from there you can reach Anza Borrego State Park, with the village of Borrego Springs, in about 45 minutes. Here you will find a collection of oversized sculptures made of metal, which are just standing around in the desert and are quite fascinating. Definitely worth a visit. The approach is also spectacular, as the Anza Borrego State Park attracts adventurers on motorcycles, squads and buggies, which "crash" through the desert, which is not entirely safe.
Yes, also in Palm Springs there is the Walk on Fame, with the stars of stars on the floor and many famous names can be found here. One of the latest "stars" went to Lisa Vanderpump, one of the participants of "The Real Housewives of Beverly Hills" and multimillionaire, thanks to several restaurants in Los Angeles and Las Vegas.
Cabot's Pueblo Museum is an American historic house museum in Desert Hot Springs, California, built by Cabot Yerxa, an early pioneer in the Colorado Desert. It is a large Hopi Revival-style pueblo that contains artwork, artifacts of Native American and Alaska Native culture, and memorabilia of early settler life in the desert. The museum may also be referred to as Cabot's Old Indian Pueblo Museum, Cabot's Trading Post or Yerxa's Discovery. It can be reached in about 15min by car from Palm Springs.
Just walk through Palm Springs and you will find many interesting places and works of art, such as the oversized Marylin Monroe. it's worth it in any case
If you play golf or just want to check out another hotel in another part of Palm Springs, we recommend the Westin Rancho Mirage. A really nice located hotel, with a nice park, good restaurants and a nice pool area. Ideal for relaxing.
Elvis also had a house in Palm Springs, but for his wedding night he rented a special architect's house. Today it's privately owned, but just like many other homes of stars and starlets, you can have a good look at the house from the outside and there are also maps of the stars' homes (just like in LA in the past), so you can drive around them yourself.
From Palm Springs to Santa Monica and Malibu
12-14.Day: from Palm Springs to Santa Monica you drive with good traffic knap 2h, unless you make a stop in the Desert Hills Outlet Center near Palm Springs (about 20min drive towards LA). All major brands are represented here and unfortunately it is no longer an insider tip. But a stop is always worthwhile.
In Santa Monica, we stay at the already well-known Le Merigot by Marriott Hotel. The location is simply unbeatable. Our next excursion takes us in the direction of Malibu to the Farm Restaurant on the pier. Here you not only have a great view, but there is also quite excellent food. As always, on nice days better reserve or accept long waits.
About 5 min drive away, or 15min walk, you get to Malibu State Park, which you should definitely visit as well if you want to see how the beautiful and rich design their beach houses like this or if you just want to walk along the endless sandy beach.
If you don't want to go to Malibu and still don't want to miss out on a delicious lunch on the beach, we recommend the "Back on Cafe THE BEACH". Here, too, it is better to make a reservation. It is located directly on the beach of Santa Monica, about 3km to the right of the pier and you sit while eating with your feet in the sand (if you want that).
14.Day: Departure from Los Angeles to Munich.
All in all, another exciting trip, with many new discoveries and places not previously on the radar. Who would have thought that there is snow in Palm Springs? If you have already seen a lot in the USA and especially in California, we can only recommend this itinerary.
Do you want to buy calendar from our photo trip?
What photography equipment for California?
The photo equipment we took to California is listed below. In addition, you have the possibility to order the used photo equipment directly via our Photo-Shop and to request further technical details. There you can also find a lot of extras.
Lenses:
Nikon 70-200mm f/4
Tamron 24-70mm f/2.8 G2
Rucksack / Trolley:
Lowepro Flipside 400 AW II