How could a 10 day photo trip to Thailand look like?
Our travel report Thailand summarizes our 10 days photo trip from Bangkok via Siem Reap in Cambodia to Phuket. We have chosen the following route:
1.Day: Munich -> Bangkok (Millenium Hilton Bangkok)
2.Day: Bangkok
3.-6.Day: Bangkok -> Siem Reap (Angkor Wat) in Kambodscha
6.Day: Siem Reap -> Bangkok (Millenium Hilton Bangkok)
7.-13.Day: Bangkok -> Phuket (Angsana Laguna Phuket)
14.Day: Phuket -> Bangkok -> Munich
Where to find Thailand and Cambodia?
What you should definitely think about when travelling to Thailand:
Local currencies: Thailand = Baht, Cambodia = Riel, but USD are also accepted. In Bangkok, credit card payments work everywhere without problems, except in cabs. Therefore, you should always have enough cash, at least dollars. A good alternative for cabs is the app "Grab", which works like Uber.
Visa: As a tourist from Germany, you do not need a visa for Thailand.
Vaccinations: No vaccinations are required when coming from Germany. However, the standard vaccinations including yellow fever are recommended, and you should also follow the suggestions of the Foreign Office.
Clothing: In both countries there are very warm to hot temperatures and at certain times of the year also an extremely high air humidity to which one has to get used to first. Therefore, in any case take airy and also fast drying clothes with you. For evenings, due to the mosquitoes, have long trousers/shirts with you. Due to the air conditioners in the hotels, it is very quickly unpleasantly cool. So also plan for it. As the sun shines during the day, it is recommended to wear a headgear.
Detailed travel report Thailand
Flight from Munich to Bangkok
1st Day: From Munich we fly to Bangkok. Lufthansa flies directly from Germany. Arrived in Bangkok we take an official cab to the hotel. The "unofficial" cabs should be ignored and you should not let them talk to you. In the cab itself, make sure that the taximeter is running so that there are no discrepancies later. An alternative is to order a "Grab" cab via Grab App. Works like Uber, just as smoothly.
We check into the Millenium Hilton. It is one of the more modern luxury hotels in Bangkok. You should always keep in mind that even the really good hotels in Thailand are very cheap compared to Europe, so you get a lot for your money. An alternative to the Hilton is the much more modern Marriott Surawongse, which has an infinity pool and a rooftop bar (about the same price), but is not directly on the river. For those who do not have to pay attention to the Euro, the "The Peninsula" is the absolute must. It is only a few minutes away from the Hilton and is one of the top hotels in the world, which also has its price. Just look at both hotels n the short videos, we have also personally visited these and also already stayed there.
Bangkok's largest Buddha, Royal Palace, cruise on the Chao Praya, and good Asian food.
The first thing is a boat trip on the Chao Praya, with a visit to the largest Buddha in Bankkok. It is located in Wat Paknam Phasi Charoen, a royal temple in Phasi Charoen district. The temple is 20 stories high and was built by the Chinese during the Covid Pandemic. The tours on the Chao Prad are done in a canoe-like long boat. The tours can be easily booked on Get your Guide (see below) or on AirBnB.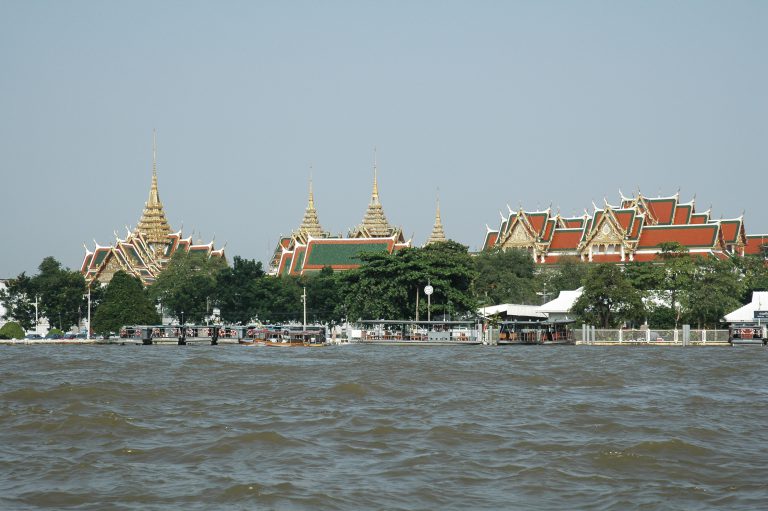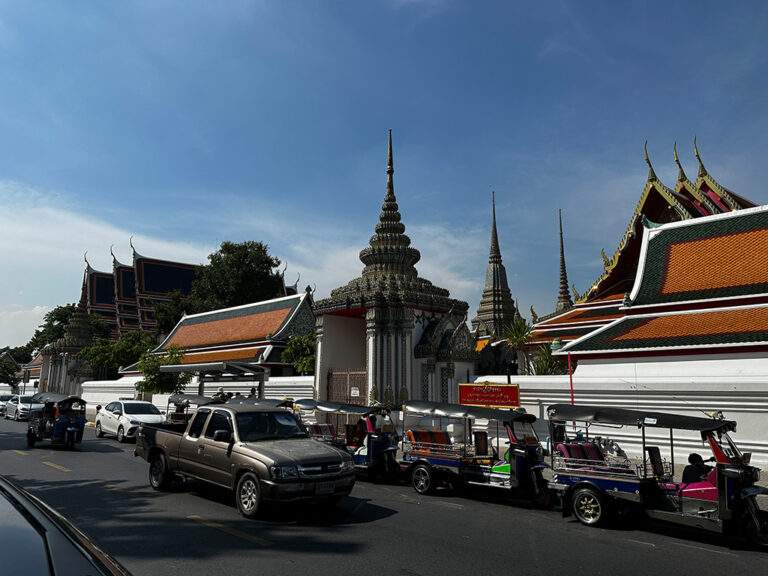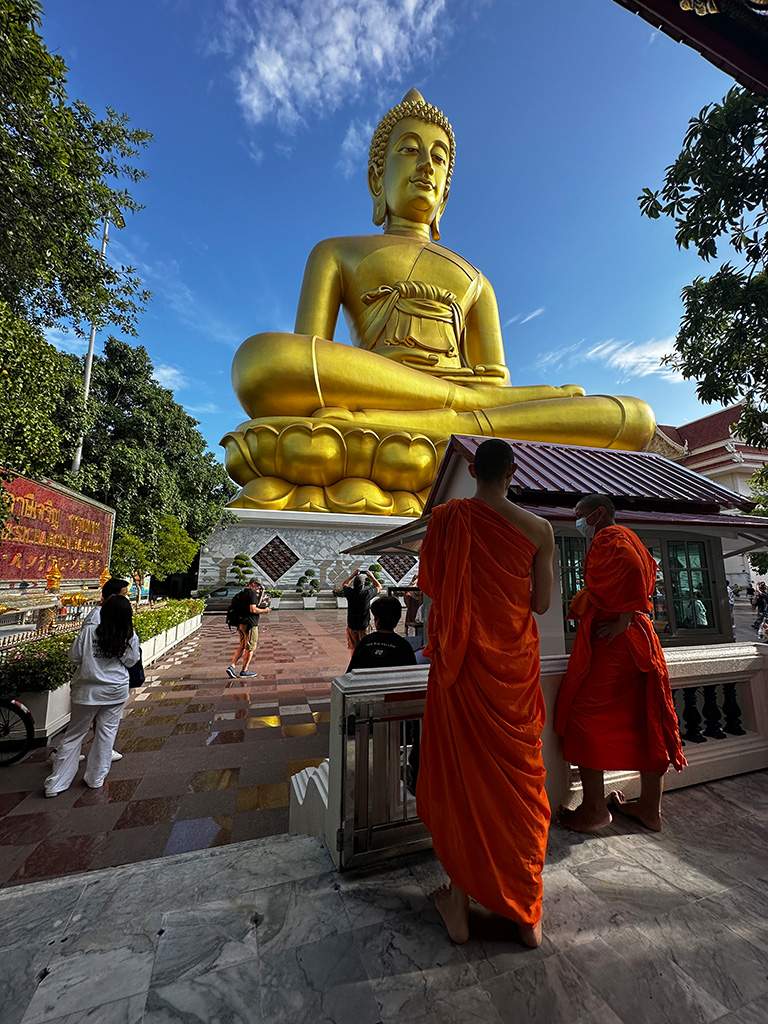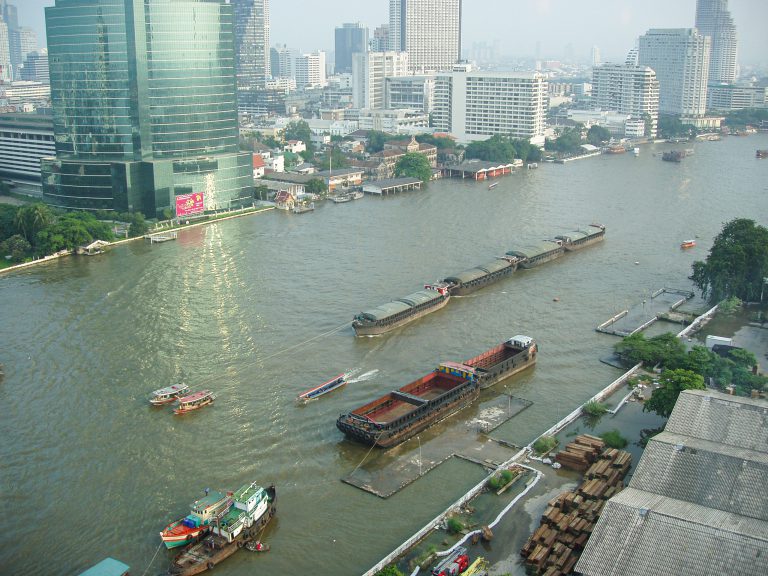 In the side arms of the river you can still discover the old Bangkok and the narrow boats (you can sit just 2 people next to each other) really come almost everywhere through.
Finally, we go to eat fried rice in the streets of Bangkok, which – even if very simple – is certainly one of the delicacies of Bangkok.
For transportation within Bangkok, we use the famous tuk tuks, but also the Grap app, which works like Uber and which you can install and set up already at home. The rides cost a few euros, usually only 2-3 euros each way.
At the sights you have to watch out, here reigns pure "rip-off" of tourists and many information is deliberately false to sell tours. So inform well beforehand and do not let yourself be chatted up. However, the Thais are very stubborn. Once no is usually not enough.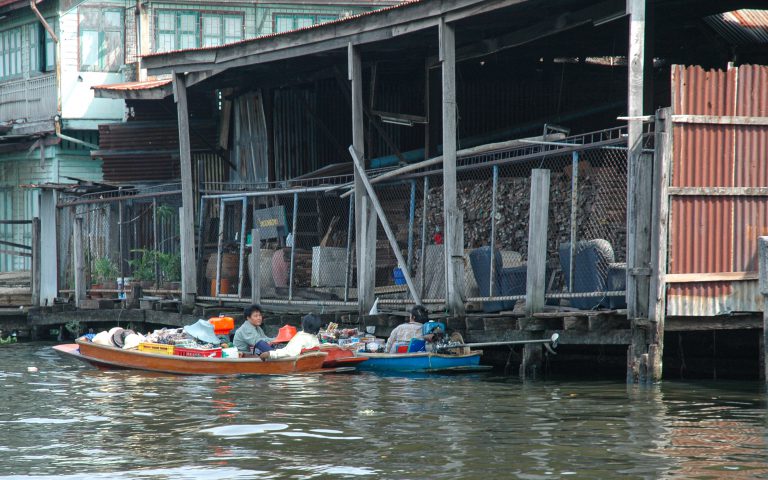 Bangkok is famous for its rooftop bars since the movie Hangover. Right in front is the Sky Bar, in the Lebua State Tower (with the golden dome) where a scene of the film was shot. It is followed by the Vertigo Rooftop Bar at Banyan Tree. Both are so popular that you can hardly get in and if you do, then the drink prices are simply outrageously high for Bangkok (from 25€ per drink upwards).
Our (still) secret tip therefore the Octave Rooftop Bar in the Marriott Surawongse. Good music, with DJ and fair prices, and a great view over the city.
Floating Markets and lying Buddha Wat Pho
Day 2: We take a cab to the floating markets. You can also do by boat, but so it goes schnellt. Here, above all, a lot of local cuisine is offered, but also a lot of odds and ends. For souvenir hunters but rather nothing, there are other and better markets.
From the floating markets you can take a cab to the reclining Buddha, a real high light. The entrance is a few euros and you can also enter it in short pants, all other temples require long pants and shoulders covered. You can buy light pants and shirts on every corner in front of the temples. A real business for the Thais.
Shopping in Siam Center, Thai Food in Salathip and Levels Night Club
There are several shopping centers in Bangkok and the guidebooks always recommend Siam Square. We found this rather disappointing. Much better is the Siam Center, which is located directly between the Hilton and the Peninsula Hotel and can compete with any shopping center in Europe. You can also eat there in one of the many restaurants.
In the evening for dinner we recommend the Salathip Thai Restaurant in the Shangri La hotel. Certainly a bit more expensive than the many small street restaurants, but the location on the river, the atmosphere and the fact that you can get there by boat are all worth the price.
One of the best night clubs in Bangkok is currently Levels. The club is directly adjacent to the ALoft Hotel and offers an indoor and outdoor area with different music. The drinks are OK, the music varies throughout the evening, so there is something for everyone and the atmosphere is great.
Flight from Bangkok to Cambodia
Day 3-6: We have booked the tour to Angkor Wat (approach to Siem Reap) via DERtour You can book here directly from/to Bangkok. Early in the morning we are picked up by a driver at the hotel and half an hour later we are at Suvarnabhumi Airport. Please see also our seperate Travel Report Cambodia.
From Siem Reap to Bangkok
6th Day: We fly back from Siem Reap to Bangkok.
Phuket, Thailands Holidayarea
Day 7-14: Thai Airways flies several times a day from Bangkok to Phuket and prices are affordable even in the season. Phuket is certainly famous and notorious for its nightlife, but it has much more to offer than that. We stayed at the Hotel Angsana Laguna Phuket, which is located at Bang Tao Beach, a very beautiful beach section. There is also no sex tourism here and you can spend a few quiet, relaxing days with good food and an excellent hotel complex.
The Beach and James Bond Island
But Phuket also has very nice destinations, some of which are unfortunately closed due to overcrowding. "The Beach" (Phi Phi Island) from the movie of the same name with Leonardo the Caprio is one of them as well as "James Bond Island", where some famous Bond movie scenes (the man with the golden gun) were shot in the 70s. Excursions can be made f.i. book here. Excursions to James Bond Island direct by boat. click here.
Floating Villages and Fishfarming
Besides the famous beaches and islands, discover the original Thailand. This is also possible without any problems. For this purpose many excursions are offered.

For example, discover the Floating Villages, which still live from fish and shrimp farming. Really interesting to see how people live and work "on the water".
This tour is especially suitable for those who would like to combine a cultural highlight (Cambodia) with a great beach and adventure holiday (Phuket). Those who like it can also spend a few more days in the exciting metropolis of Bangkok, where you can enjoy a sundowner at one of the many rooftop bars in the evening. A really good combination trip, which we can only recommend.
Which photo equipment for Thailand?
The photo equipment we took with us to Thailand is listed below. Furthermore you have the possibility to order the photo equipment via our Photo-Shop or to request further technical details. There you will also find a lot of extras.