Travel Report Masai Mara (Kenya)
What could a 7 day photo trip to Masai Mara in Kenya look like?
Our travel report Masai Mara summarizes our 7 day photo trip from Nairobi to Masai Mara and back.
1.Day: Amboseli  -> Nairobi (EKA Hotel)
2.-6.Day: Nairobi – > Masai Mara (Matira Bush Camp)
7.Day: Nairobi (Sankara Hotel) – Munich
Where is Masai Mara located in Kenya?
What to remember when traveling to Masai Mara in Kenya:
Local currencies: Kenyan shillings, but almost everywhere USD are gladly taken. Also, credit card payment works everywhere without problems and in almost any currency, including Euro.
Visa: For Kenya an eVisa is necessary. This can be ordered relatively uncomplicated via the website. Attention: the visa is valid for 90 days from the day of issue – NOT the day of entry. With the entry it has a validity of 90 days. So you should definitely apply for it less than 3 months before entry. Click here for the Visa. The visa currently costs 50 USD and it takes about 48h until it is issued.
Vaccinations: Coming from Germany, no vaccinations are required except COVID-19 – not even yellow fever. However, the standard vaccinations are recommended, so follow the suggestions of the Foreign Office. Malaria prophylaxis applies to the whole of Kenya, i.e. here everyone must weigh up for themselves whether or not.
Helpful: A small pocket knife and a strong flashlight with spare batteries are often very useful. The cell phone flashlight is also useful, but often does not shine far enough.
Clothing: In the lodges in Africa you can usually have your clothes washed for free or for a small extra charge. I.e. you can save a lot of luggage. Best is to choose muted colors and preferably functional clothing, as it can be very cool in the morning and warm to hot during the day.
Detailed Travel Report Masai Mara
The drive from Amboseli back to Nairobi is again over a good 4.5h and we are clear, the next time we fly this route, because it saves you almost a day and it gets the butt much better. (See also travelogue Amboseli).
Drive from Amboseli National Park to EKA Hotel
Day 1: After 4,5h drive we arrive again at the already known EKA Hotel in Nairobi, where we are already looking forward to the best cheeseburger in the world (but maybe it is just hunger). We continue the next morning with Safarilink from Wilson Airport, which is about 15min away from the hotel and has the charm of a small provincial airport.
Flight from Nairobi to the Masai Mara takes about 30-40min, from Wilson Airport.
Day 2-7:
The night is short as we have booked the first flight to the Masai Mara. We are picked up at 06:15 from the EKA Hotel and at 07:30 our plane takes off from Wilson Airport. Since we have some excess baggage due to the photo backpack, we have to pay a surcharge, which the travel agency has taken over in our case. It is about 4 USD per kilo and we had about 10kg too much. This is controlled very strictly.
Boarding is as always uncomplicated and we fly with a 12-seater, single-engine plane. The flight to the Masai Mara makes a stopover after about 30 minutes, which gives us the luck to fly very low on the 10 minute flight and to have a look at the Masai Mara from above. Ol Kiombo Airstrip is a typical gravel runway, which has here more than regular operation.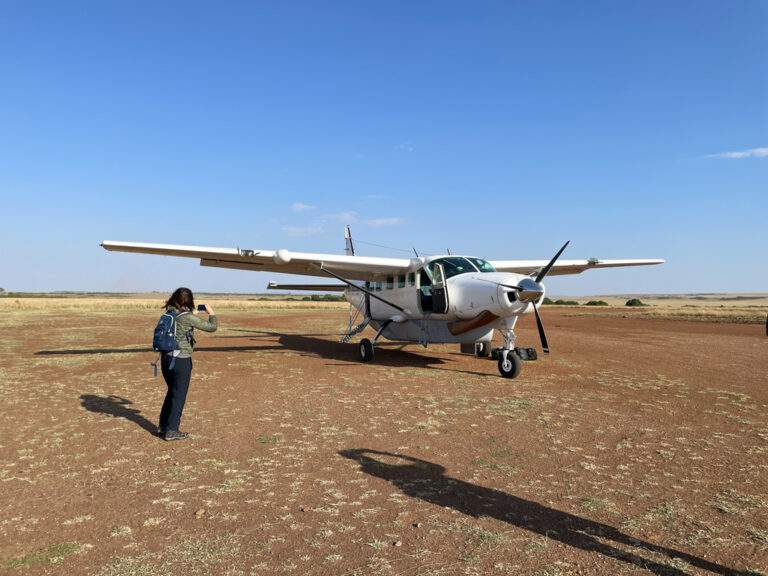 We are picked up by Antony Tira from Matira Bush Camp. Antony and Ihave been friends for a long time through Facebook and have specially chosen him and the camp of Monika Braun, because they also have a vehicle especially for photographers, which we have booked for the safaris. 
It is a very special Africa trip this time, because my brother is with us and for him it is the first time in Africa and therefore also the first time in the Masai Mara.
Since we landed early we go directly on the first game drive and get a good first impression how different the Mara is to Amboseli. Everything is green and the herds of animals are closer together. 
Around 1pm we arrive at Matira Bush Camp. The camp is a jewel in the Mara and here you have pure Africa feeling from the first second.
The camp has a small bar tent and a larger one for taking meals. Safari vehicles are all Land Cruisers in good condition, ours even specially converted for the needs of photographers.
There are Premium and Comfort tents, the main difference being that one (Premium) is on a wooden platform slightly elevated and the comfort tents are directly on the ground. Both are perfectly OK.
The tents are equipped with everything you need and most importantly very very clean!
A bathroom with shower is in a separate area of the tent and while you shower you can see the sky.
Matira Bush Camp Masai Mara
Power supply is available from 5 am to 9 am and in the evening from 4 pm to 11 pm, which is quite sufficient. If that is not enough, you can also "charge up" in between at the food tent in front.
The food in the camp is very good. There is always a vegetarian choice. Drinks are paid extra, water is free.
There is also a laundry service for a fee and in the evening hot water bottles are put in the bed, because it can be very chilly. Washing costs a few cents per article of clothing.

Lunch is served individually between 12 and 2 pm. Breakfast is also available by arrangement, we always took ours on the trip to see as much as possible and it is also an experience.
The Rekero Lion pride in Masai Mara
The afternoon game drive starts at 4pm. Our highlight is the Rekero lion pride, which has 3 approx. 3 month old cubs and with which we spend the rest of the day. A unique experience and thanks to Antony with spectacular shots.
Then we go to the camp, where dinner is served in 3 courses from 7 pm. The "sundowner" we had taken in the form of a bottle of white wine and enjoyed with the lions.
Days start at Matira Bush Camp at 05:15 and departure is at 05:45. In August it can get very fresh (!), this should be considered when choosing clothes.
Even before sunrise we experience the first highlights, such as a hyena chasing a young wildebeest and shortly after we meet a female cheetah with her 4 cubs. We also experience 2 times a hunting attempt, but both times the antelopes are faster.
"I believe I can fly", während der Jagd ist der Gepard teilweise komplett in der Luft
The density of predatory cats in the park, especially lions, is high and yet you often have to look for them for a long time, especially for the leopards. All the nicer when you finally find them.
The Great Migration in the Masai Mara
Most people who come to the Masai Mara between July and September want to see the "Great Migration", the big animal migration that takes place every year and for which we also came.
Highlight is of course the crossing of the Mara River, which is full of crocodiles and other dangers. As beautiful as it is in principle, it is not necessarily for everyone when the wildebeests or zebras are killed by the crocodiles or other predators.
But as the Masai say, it is the "Circle of Life" and the animals just want to survive and eating and being eaten is part of it.
The end of life and the beginning are close together, because due to the abundant food supply, the lions, for example, are in a mating mood at this time and so you can watch the "act" again and again and see how affectionate these big cats can be with each other after all.
Elephants, hyenas and more in the Masai Mara
In the Masai Mara the animal abundance is high and so there is constantly the opportunity for really unique photo motives. Only here, as in Amboseli, you have to be careful not to have the other cars in the picture, because here too the number of vehicles is much too high.
After 4 nights and 5 days we return – again by plane – to Nairobi. It is hard to say goodbye to Matira Bush Camp, because the friendliness and warmth of the staff is unique and you feel more like you are with a family than in a safari camp.
Marriott Sankara Hotel in Nairobi
Back in Nairobi, this time we stay at the Sankara Hotel, which according to our driver is one of the best hotels in Nairobi. We booked it because it belongs to the Marriott Group and we didn't want to stay at the EKA Hotel for the third time.
The Sankara Hotel is absolutely top notch, but also a different price range than the EKA. For Marriott members there is a lounge and the possibility for late check out. We were even allowed to keep the room until 7pm on the last day, which meant we could then drive to the airport quite relaxed (our departure was at 11pm).
The Sankara has an excellent breakfast (buffet) that leaves nothing to be desired. Staff is courteous and well trained and the hotel has extremely high security, which you notice at the entrance. The rooms are large and well equipped. From the pool terrace on the roof you also have a good view of the colorful hustle and bustle of the city
Directly on the outskirts of Nairobi, adjacent to the National Park, is the famous Sheldrick Wildlife Trust for elephant orphans. We have "adopted" an elephant orphan and the little "Esoit" we wanted to see now of course. There used to be 2 viewing times, one for everyone and one for "adopters" only. Since Covid there is no longer the latter and the tours are booked up for months. Thanks to a personal connection and a lot of luck we still got tickets for the last day and it was a "magical" moment to see and even touch the little elephant.
Even if you have a ticket, you should be there early. It gets very crowded there. There are about 100 people who are allowed to see the elephants for an hour. The elephants are divided into 2 groups and are led in each case about 30 min to the visitors, who stand behind a barrier.
Giraffe Manor is also a highlight for those who want to have a very exclusive breakfast with giraffes and want to spend about 1500€/night in a double room (and are willing to book about 2 years in advance). For all others our tip is to go to the Giraffe Center which belongs to the Giraffe Manor. There you can feed griaffes for 15€ and get very close to them. For us completely sufficient and also a nice experience.
Out of Africa and Karen Blixen
Most people know the movie Out of  Africa with Robert Redford and Meryl Streep. Few know that this film is based on the novel by Karen Blixen and that you can visit her (and the film's) house in Nairobi. Today it is a museum and well worth a visit. The Sheldrick Wildlife Center, the Giraffe Center and the Karen Blixen Museum can all be done in one day. It takes about 5-6 hours, including arrival and departure and it is nice to do this as a conclusion of the trip.
The Masai Mara is a photographers dream. The abundance of animals is magnificent and the constantly changing landscapes and unique sunrises and sunsets are unique. This is exactly what "Africa" is for many and one can understand it.
However, it must be pointed out exactly for this reason that it is very very crowded in the high season and similarly, as already in Amboseli, a vehicle limit per day in the Masai Mara would be desirable.
A good guide is important !
Sometimes you feel sorry for the animals, which are sometimes chased by up to 50 vehicles, and we find the private reserves a bit more "animal-friendly".
But guides like Antony Tira make the difference, even if they are an exception. He knows the rules and "spares" the animals by neither carrying them nor following them closely. He "guesses" where the animals are going and waits there. However, very few do this, which is a pity.
What photo equipment for Masai Mara?
The photo equipment we took to Masai Mara in Kenya is listed below. In addition, you have the possibility to order the used photo equipment directly via our Photo-Store and to request further technical details. There you can also find a lot of extras.
Cameras:
Z7ii (Nikon)
D850 (Nikon) mit Batteriegriff
Iphone 12pro
Lenses:
200-400mm f/4 (Nikon)
24-70 f/2.8 (Tamron)
70-200mm f/4 (Nikon)
FTZii Adapter