How could a 7 day photo trip to Crete look like
Our travel report Crete summarizes our 7-day photo trip to Crete, the largest Greek island in the Mediterranean.
What you should definitely think of when you travel to Crete:
Local currencies: Euro. Credit card payment everywhere without problems. Nevertheless, you should always have a little cash with you.
Vaccinations: No vaccinations are required for Greece coming from Germany. However, the standard vaccinations are recommended.
Clothing: Crete has the usual temperatures of the Mediterranean. In summer the average is over 25 degrees, in winter around 15 degrees. Depending on the season, it can also get cool in the evening. You should be prepared for this.
Good, sturdy shoes (hiking boots are always good) are a must if you want to go hiking on the island. Otherwise, just wear clothes according to your taste. Also a good sunscreen. The sun on Crete is strong, even when it is cloudy.
The general regulations and also an app about the topic drone flying in Greece can be found here (Link).
From own experience the following. If the drone does not go further than 50m from you in any direction, it is possible to fly without permission, otherwise  you need a permission. The DJI map shows large parts of Crete as "Fly Zones", only around the airport with 8km distance is a NoGo. Best thing is to find some nice Fly Spots outside the towns and far away from the airport and make sure you are alone. Then it is actually no problem if you "fly" beyond the 50m. The Greeks here are very relaxed and rather curious. But remember that this is not a "free ticket". If you want to be sure, get the permit.
Detailled Travel Report Crete
Flight Munich to Heraklion (Iraklion = HER)
1.Day: The journey from Munich to Heraklion is easy by direct flight and takes about 2:40h. Since Crete is a really big island (5h travel time from east to west) a rental car is recommended. If you want to see both the east and the west, you should consider booking 2 hotels, one in the east, one in the west.
Rental Car and Hotel on Crete
We have chosen the east of Crete (Elounda Bay). There are some really nice hotels here and both Elounda and Agios Nikolaos are 2 very nice places with inviting cafes and restaurants as well as many possibilities for shopping. We booked our rental car through CHECK24 and this time with Greenmotion. The provider is good, but due to its low prices also completely overcrowded. There was a 30m queue at the counter and it took about 45min to get our turn, while at the other car rental counters, the well-known provider, nobody queued up.
We had booked a Polo and got a Toyota Yaris – almost new. Apple Car Play or even just a display in the car you look in vain. Simplest equipment, except the AC.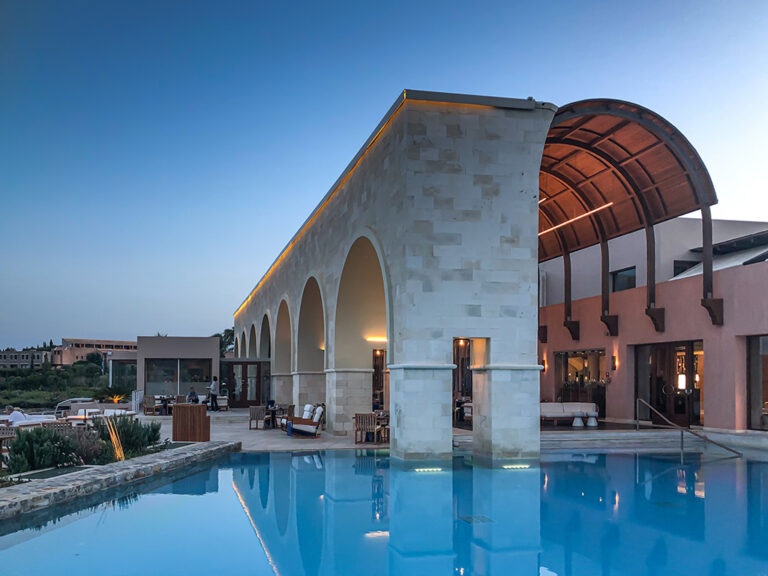 Our hotel is the Blue Palace, which belongs to the Marriott Group. Due to the special Corona situation the prices are clearly too high, but the hotel is still absolutely recommendable if you like a resort. For us it is a little too big and spacious, but apart from that there is really nothing to complain about. Travel time from the airport to the resort is about 1h. One of the highlights of Crete, the island of Spinalonga (a former leper colony) is directly opposite.
2.Day: The sun rises directly over Spinalonga and has a very interesting light for photographers in October.
Today we want to explore Agios Nikolaos and on the way also Elounda. Both places invite you to stroll around, but Elounda only shows its real beauty in the evening when the restaurants shine brightly.
Agios Nikolaos is with almost 15,000 inhabitants also very manageable and nice.
One of the photo highlights in Agios Nikolaos, besides the town itself, are the Kingfisher from October to May. That's right, on Crete there are kingfishers and that at the former lake, which today has an access to the sea. Since there are many small fish in the pond, the kingfishers living here have a small paradise. This is interesting because they actually fish exclusively in fresh water.
After lunch in one of the restaurants on the lake we had a little look around and then spent the rest of the day in the hotel on the beach and in the sea. For dinner we went to "Olive", an Italian-Greek restaurant in Elounda, with reasonable prices and very delicious food.
Vai Beach and Itanos Beach
3.Day: Even though it is well over 30 degrees we want to visit Vai, the largest natural palm grove in Europe. It is only 92 km but the navigation system shows more than 2 hours. Unfortunately the navigation system is correct. After spending the first few kilometers on a well constructed road, after about 40 km we head into the mountains and one serpentine road follows the next.
A little over 2h later you reach Vai and are – at least we – disappointed. What should be the highlight here? The beach is beautiful, but nothing special. Few available restaurants are good and reasonably priced (we had lunch at Palm Beach Vai) and there is a viewpoint but nothing special. The palm grove itself, which is certainly impressive, has been closed to tourists since a few years.
But the bay of Itanos right next door was great, which is still completely natural, almost deserted and has crystal clear water. To swim there was fantastic.
Monstery Toplou and Tourloti village
On the way back we visited the monastery of Toplou. 4,- Euro entrance fee is ok for culturally and historically enthusiastic people. Nice and rustic is the small café, where you can relax very well. The parking lot next to the church is also very suitable to let the drone fly.
Later we stopped at the village Tourloti. That was a real highlight. A quaint Greek village that is really worth a visit. It is very small, but has a huge church and otherwise a lot of old people, grocery stores and above all a lot of peace and quiet. We found it really nice and were a little annoyed with ourselves that it was already very late in the afternoon and it was already starting to get dark when we arrived there.
After a good 10h we were back in Elounda, of which we spent 4,5h in the car. So you should consider this "trip" very carefully.
4.Day
: Today is the day for loafing. Apart from a few underwater shots and a flight with the drone to the island Spinalonga we are not doing anything. In the evening we go back to Eloundra, where we have dinner at
Vritomartes
. Highly recommended. Everything fresh and very tasty and the waiters extremely friendly. If you come here in the afternoon, you might be lucky to see a sea turtle, which is also a regular guest here. There are already numerous videos on
YouTube
.
5.Day: Today the palace of Knossos is on the program. A good hour drive from Elounda. The route is long and unfortunately rather monotonous. Knosso is located right next to Heraklion and is normally visited by thousands of crusaders as one of the main destinations of the island. But not at Covid-19 times. Everything is rather empty. Unfortunately not all areas are accessible. Historians and hobby archaeologists will have hours of fun here. With 40 degrees we could only stay for about 2 hours.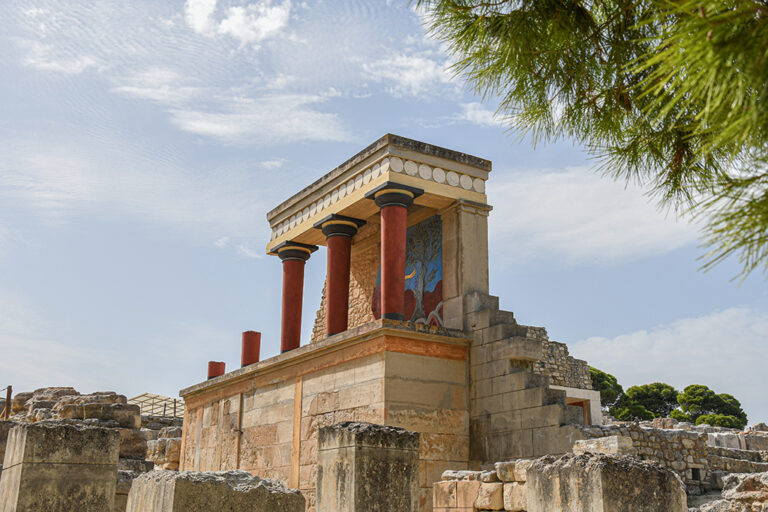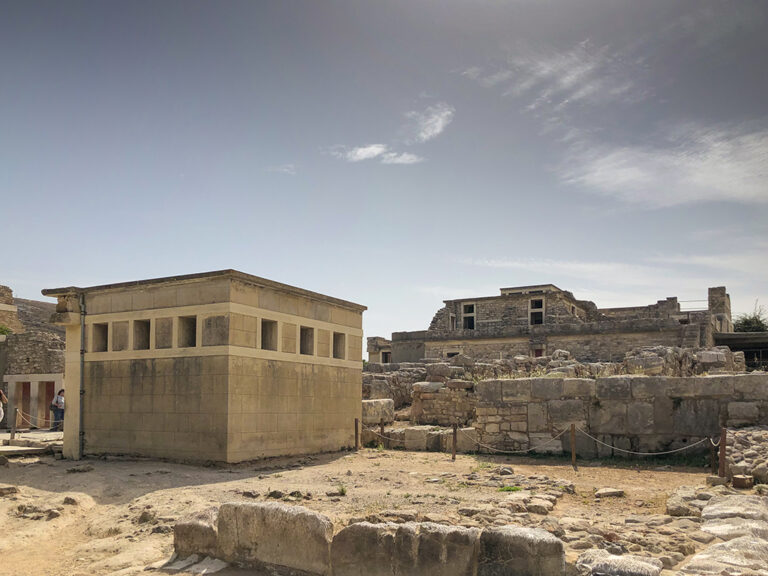 After that we went straight back to Elounda and on to Plaka, the starting point for trips to Spinalonga. By the way, if you want to photograph Spinalonga at night and in full light, you can only do so outside the season on Fridays to Sundays. On all other days, the light stays off.
The owner of the Taverna Gorgona in Plaka kindly invites us in and since it feels like lunchtime we gladly accept. This place is beautiful, the view is great and the Greek food is very tasty. A very clear recommendation.
In Plaka you can also fly relaxed with a drone. You should go a bit aside and make sure that there are not too many people around you. But basically everybody is more curious and interested than annoyed.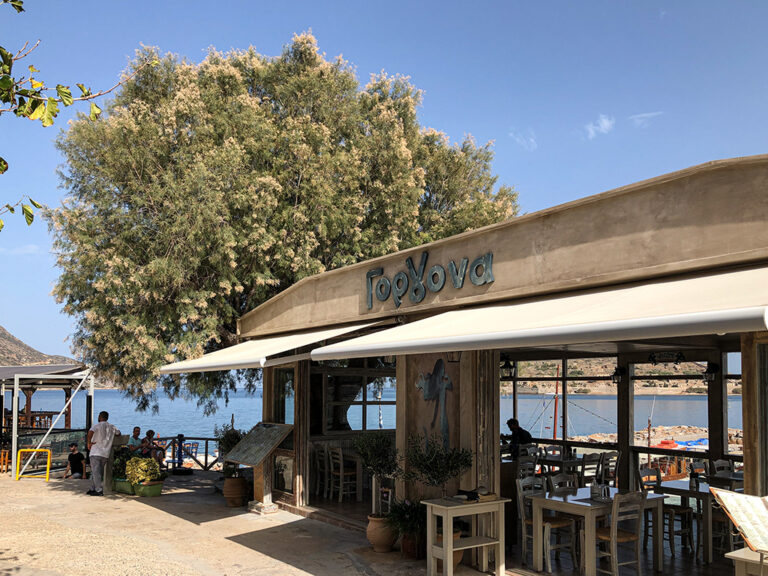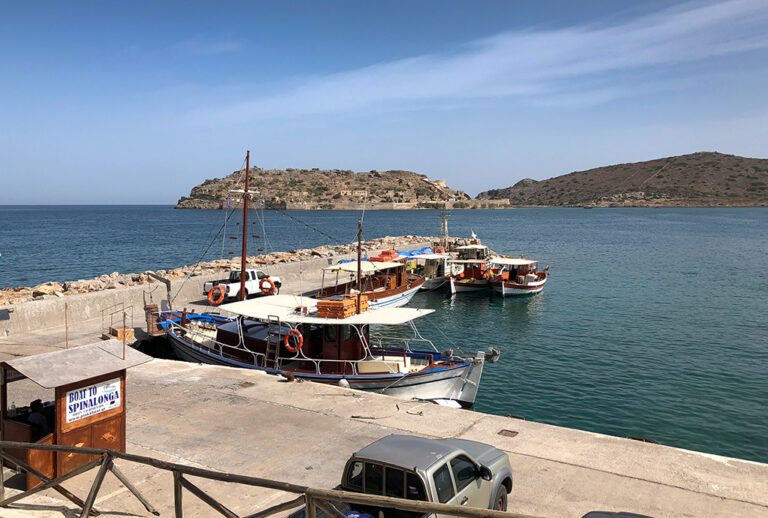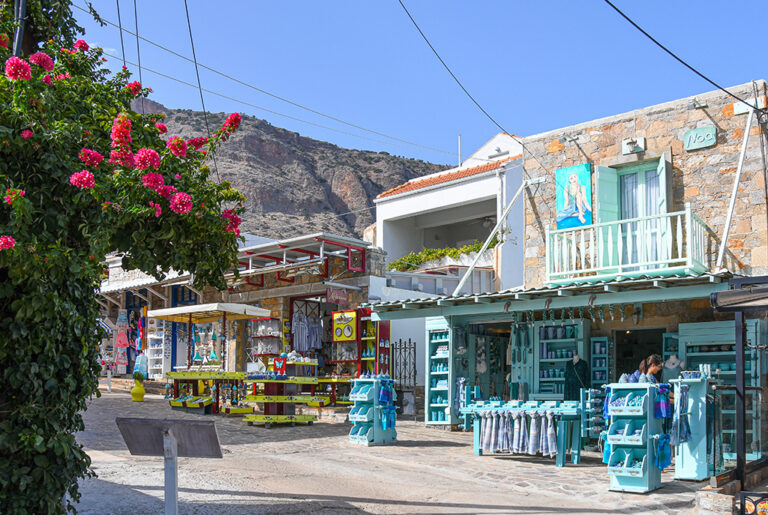 6.Day: Some friends of ours arrived on the island today. Unfortunately they have booked a hotel in the very west of the island and we realize much too late that this makes a meeting practically impossible, unless you want to sit in the car for 6h or more. We had met them during our Australia Tour 2019 and by chance, we ended up in Crete at the same time. With a heavy heart we had to realize that the distances on Crete are simply too long for a spontaneous reunion.
We try to take advantage of the last sunny day on the island and visit only Spinalonga, the former leprosy island and last leprosy colony in Europe (until 1962). It is directly opposite the hotel. The crossing from Plaka (also possible from Elounda or Agios Nikolaos) costs 10,-€ per person, which is very expensive for a 10min crossing and the entrance fee is another 8,-€ per person. But it is an experience not to be missed. The boats leave every 30min.
Apart from a few tourist groups, the island is empty. Especially here it is difficult to get used to the sight of "masks". This group had just arrived and it was a fitting picture for the time.
7.Day: Today rain is forecasted. Crete has saved this until our last day. For this reason a few words about the hotel. The Blue Palace belongs to the Marriott Group and is a resort hotel. It is accordingly large. During our stay it was only 60% occupied, because of Covid-19 and 100% we would not like to experience it. Service, food, cleanliness and friendliness of the staff are almost perfect.
The price policy of the hotel, on the other hand, does not work at all. Before we booked, the prices for the identical room fluctuated from one day to the next, sometimes by a factor of 3, and when you have just booked at the highest price, you already feel a bit ripped off. Even as a Marriott status member you should not expect any special treatment. Your status is noted and that's it. No upgrade, no goodies, nothing. Rather disappointing for an otherwise really great hotel.
Our recommendation for the rooms is the category with private pool. These are well located, fresh water (the other pools on the beach are sea water pools) and you can really enjoy your own pool in the morning or even swim at night.
Towards evening we walked to Plaka. Apart from the day trippers to Spinalonga, the village only comes to life in the evening, which is probably due to the good restaurants. We happened to eat at Taverna Giorgios (Jiovanni's) and can highly recommend it. If you look at the pictures with the "stars", who are said to have eaten here already, it seems to be a real insider tip.
8.Day: Departure day. The day begins with a beautiful sunrise and a picturesque sky. Time for a conclusion.
The east of Crete is ideal for a week's vacation. There are some interesting destinations and above all good food, excellent accommodation and nice people. Also which concerns motives for photographers, the east of Crete offers some. Who wants to explore however the whole island, which should consider the route before and book then several accommodations. This is certainly the better option considering the road conditions and distances.
In summary, we find 7 days absolutely sufficient if you limit yourself to a certain part of the island. For all of Crete it is too short.
Order calendars from our photo trips?
What photographic equipment for Crete?
The photo equipment we took with us to Crete is listed below. You also have the possibility to order the used photo equipment directly from our Photo-Shop and to ask for further technical details. There you can also find a lot of extras.
Cameras:
D500 (Nikon)
Go Pro Hero 8
DJI Mavic Mini
Iphone X
Lenses:
24-70mm (Tamron)
70-200mm (Nikon)
Filterset