Travel Report Santa Monica
Discover our Highlights in Santa Monica
HOTELS:
In Santa Monica, as in the rest of America, there is a huge selection of hotels and places to stay. Hotels range from very cheap (motel) to 5-star, so there is something for every budget. It is important to have in mind that prices are lower from Mon-Thu than from Thu-Sun. Our recommendations:
Le Merigot by Marriott,, top location, only separated from the beach by a small street. Belongs to the Marriott Group and offers all the amenities of a 5-star hotel, which also has its price, which for Santa Monica is still in the mid price range for a 5 Star hotel
Breakfast at the hotel is either included for Marriott status customers or there is a 40USD discount. Since a – quite excellent – breakfast with taxes and tip still amounts to a good 80USD for 2 people, you should think twice.
Alternatively, the Loews (see Picture, left side), which is practically right next door (about the same price) or the Shutters on the beach, much more expensive (see picture below the Loews).
Also recommended, but not directly on the beach, are the Fairmont (see pictures of hotel and pool) or the Courtyard by Marriott (mid-range).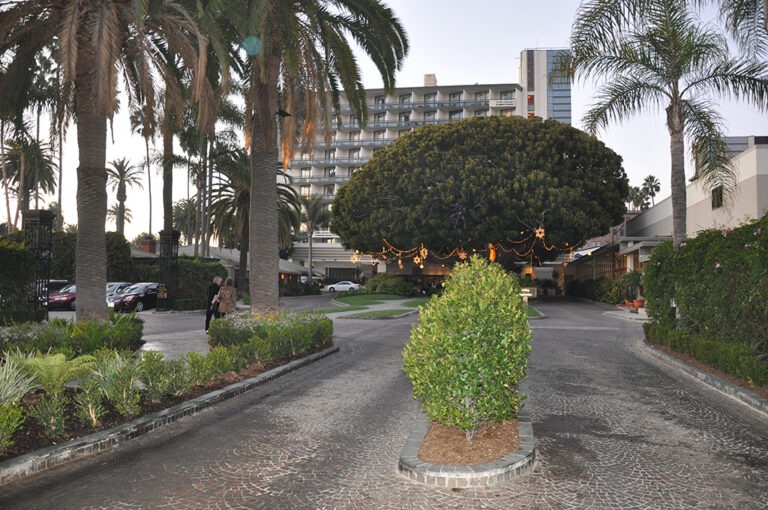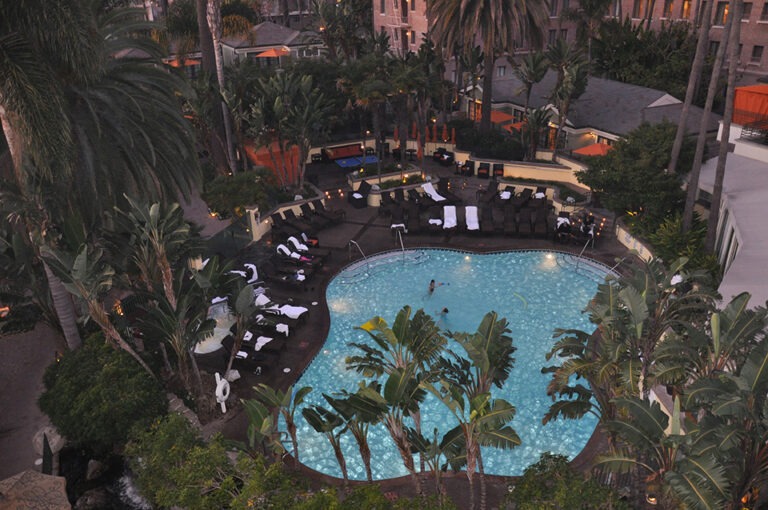 RESTAURANTS:
BOA Steakhouse. It belongs to the same chain as SDK and here you can eat as a meat lover steak in all variations and it is extremely tasty. The restaurant is definitely not for vegetarians and it is very high priced. Pre-ordering a table a must.
California Pizza Kitchen, Wilshire Boulevard. Typical chain, but very nice service. Not just pizza on offer, always a table available and almost always open. Price/performance is right.
Lotus Asian Cuisine and Bar, Formerly a PF Chang. also Wilshire Boulevard and very tasty Asian food at reasonable prices.
Sushi Hanashi, 1928 Lincoln Blvd, don't be put off by the exterior. small, cozy real Japanese place with top sushi and reasonable prices.
Shutters on the beach. During the day the quietest and best view of the beach and the hustle and bustle. The restaurant belongs to the hotel and has excellent cuisine, but you can tell by the price.
Mao's Kitchen in Venice. Best during the day. good Chinese cuisine in a nice ambience with fair prices.
For delicious lunch on the beach we still recommend the Back on Cafe THE BEACH. Here, too, it is better to make a reservation. It is located directly on the beach of Santa Monica, about 3 km to the right of the pier and you sit while eating with your feet in the sand (if you want). A nice trip from the hotel by bike.
Where is Santa Monica and how could a California round trip including Santa Monica look like
Santa Monica is an excellent start and end point for a round trip through California. Here you can find an example of how a round trip with 14 days can look like, where you don't spend the whole time in the car. We start in Santa Monica, from where you can also visit Los Angeles. Then on to Santa Barbara. From there to Palm Springs and the Anza Borrego State Park and back to Santa Monica. a very relaxed tour.
Round trip proposal:
1.Day: Munich -> Los Angeles -> Santa Monica (Le Merigot by Marriott)
2./3. Day: Santa Monica
4.Day: Santa Barbara (Hilton Santa Barbara Beachfront Resort)​
5./6.Day: Santa Barbara
7.Day: Santa Barbara -> Palm Springs (Renaissance Hotel Palm Springs)
8.-11.Day: Palm Springs
12.Day: Palm Springs -> Santa Monica (Le Merigot by Marriott)
13.Day: Santa Monica
14.Day: Santa Monica -> Munich
What to remember when traveling to Santa Monica:
Local currency: US dollar. If possible, take small USD bills with you for tips. Money can be withdrawn without problems at any ATM. Otherwise, credit card payments work everywhere without problems.
Vaccinations: Coming from Germany no vaccinations are required. However, the standard vaccinations are recommended, see suggestions from the Foreign Office.
Luggage: The photo equipment should definitely be taken on board, therefore pay attention to cabin luggage dimensions (!) Otherwise any kind of suitcase or bag will do.
Clothing: California is quite similar to the German climate, although it is always a few degrees warmer than in Germany and at least on the coast the thermometer rarely falls below 12 degrees Celsius. In the evening and in winter it can be fresh and windy, you should be prepared for that.
Visa: As a German citizen you do not need a visa, but the ESTA, which should be applied for at least 72 hours before departure (!).
Driver's license: Normally, the German driver's license is sufficient in the USA. If you want to be on the safe side, it is recommended that you also have an international driver's license.
Credit cards:
In America you pay almost everything with a credit card and who wants to rent a car needs one anyway.
Do I need a rental car for Santa Monica? Can I drive myself?
If you really just want to stay in Santa Monica, which very few do, then you don't need a car. Most stores and restaurants are within walking distance and for everything else there is Uber. But since most people don't want to stay only in Santa Monica, but also want to visit Los Angeles, we definitely recommend a rental car.
The choice is huge and the quality is the same with almost all providers. The big providers have the advantage that they have more stations in case you need help. In Santa Monica, it's best to park the car in a public garage and switch to a bike or scooter. Uber works here for both with no problems.
We almost always book with Check24. The price/performance ratio is hard to beat. When comparing ALWAYS pay attention to the booked category (the ACRISS code)!
Santa Monica is ideal for biking, walking or jogging
Santa Monica is ideal for biking, walking or jogging
From the Marriott Le Merigot Hotel, you can spend the day relaxing with a run on the beach, whether you are walking or jogging. You are definitely never alone.
Here's a suggestion for a good 8km loop, which includes the famous Santa Monica stairs, where many a star and starlet has trained for their figure (they really are killer).
Little Venice and its romantic water canals
At the Marriott Hotel you can rent bikes for free. If you don't want to or can't do that, you can just go down to the beach and rent a bike at one of the many stalls. 2h costs about 20 USD per bike. Afterwards, you can take a wonderful tour along the beach to Venice, visit the famous Muscle Beach and continue from there to Little Venice, which owes its reputation to the many water channels.
Whether day or night, the Santa Monica Pier is one of Santa Monica's unmissable highlights. Just walk through to the end and let yourself drift. The pier is also the official end of the famous Route 66.
Excursions and activities
A very worthwhile excursion is the one to the Getty Museum and the Getty Villa. This is only possible with reservation and advance ticket purchase online. The villa is huge, full of art and a real highlight. To get there, take Route 1 in the direction of Malibu from Santa Monica.
From Santa Monica to Malibu
From Santa Monica one drives with good traffic scarcely 25min. Here live the rich and beautiful from Hollywood and many rich people from Los Angeles have their beach houses.
On the way to Malibu you should make a stop at the Farm Restaurant at the pier. Here you not only have a great view, but there is also quite excellent food. As always, on nice days, better make reservations or face long waits. The lobster roll is an absolute highlight!
About a 5 minute drive or 15 minute walk away is Malibu State Park, which is a must visit if you want to see how the rich and famous design their beach houses, or if you just want to walk on the endless sandy beach.
Right next to Malibu State Park is the Malibu Country Mart. More and more stores and restaurants have sprung up here over the years, and you can eat delicious burgers or sandwiches at the playground in the middle during the day. Not luxurious but always in good company of Hollywood celebrities.
The largest Indian temple in California
The Malibu Hindu Temple is a Hindu temple built in the traditional South Indian style and dedicated to the worship of the Hindu god Venkateswara. It is located in the Santa Monica Mountains, in the town of Calabasas near Malibu, California. The approach is very beautiful and leads through the green backcountry of Malibu. Parking is not a problem except during festival times and the temple is open to everyone.
Built in 1981, the temple is owned and operated by the Hindu Temple Society of Southern California. It is one of the largest Hindu temples in the Western Hemisphere. The priests stand and live on the temple grounds.
The Lion Feuchtwanger House - Villa Aurora - in Santa Monica
Lion Feuchtwanger was a German writer who fled to America from the Nazis and in 1943 bought the Villa Aurora, built in 1927, and moved in. Berthold Brecht, Thomas Mann and Charlie Chaplin were among the permanent visitors and they saw themselves as a kind of foreign resistance against the Nazi regime (which was expressed, among other things, by throwing darts at a picture of Adolf Hitler).
The villa is now an artist residency open to German fellows. Up to 16 working fellowships are awarded annually to artists in the fields of visual arts, composition, film and literature.
The villa still houses over 30,000 of Feuchtwanger's books and the architecture and technology of the house was extremely advanced for the time.
Anyone who can should visit the house. It is not easy to get an appointment, nor to find the estate. In principle, the visit is free for German citizens, but it is not exactly made easy.
The King C.Gillette Ranch
Gillette – for the best in men. the razor blades have made Gillette rich. What few know is that his ranch-like estate is located just outside Santa Monica.
The 588-acre King Gillette Ranch is one of the most beautiful sites in the Santa Monica Mountains, designed in the 1920s by Wallace Neff, architect of California's Golden Age, for razor blade magnate King C. Gillette. Admission is free and there is a small museum.
A historic Moment: 2.Januery 2013
The last space shuttle still in service flies its last lap of honor over Santa Monica on the back of a converted 747, after which it lands in Los Angeles and is taken to a museum. We were lucky to be there exactly on this day. A truly historic moment.
Santa Monica is always worth a trip and an excellent starting point for any kind of California round trip. No matter if you want to drive the famous Route 1 from Los Angeles (actually Santa Monica) to San Francisco or if you want to do a round trip including Las Vegas. Actually, there is no way around Santa Monica, you could also call it the most beautiful part of Los Angeles and should plan a stop here in any case. It is worth it.
Order calendars online from our tours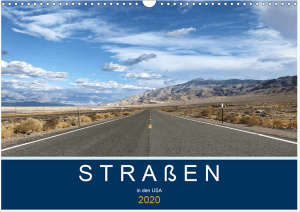 as of  18,90€, Sizes A2-A5
What photography equipment should you take for Santa Monica?
The photo equipment we took to Santa Monica is listed below. In addition, you have the possibility to order the used photo equipment directly via our Photo-Shop and to request further technical details. There you can also find a lot of extras.
Lenses:
Nikon 70-200mm f/4
Tamron 24-70mm f/2.8 G2
Rucksack / Trolley:
Lowepro Flipside 400 AW II