Travel Report Mauritius and South Africa (Oct 2018)
15 days phototrip to Mauritius and South Africa, our itinerary:
Our Travel Report Mauritius and South Africa should support your travel planning in case you want to combine Beach and Safari in one trip in 2 of the most amazing locations in the world.
What you should think about prior departure to Mauritius and Southafrica:
Local currencies: Mauritius = "Mauritian rupee", but US dollars are widely accepted. If possible, take small USD bills for tip, which is expected in USD. Johannesburg = ZAR (South African Rand), but here too USD is welcome in the lodges. Otherwise, credit card payment works smoothly everywhere.
Vaccinations: Coming from Germany are no vaccinations – even yellow fever not – prescribed. However, the standard vaccinations are recommended, see suggestions Foreign Office. Malaria prophylaxis applies only to South Africa, here everyone has to weigh whether or not.
Luggage: When traveling in Africa by light aircraft, you should pay attention to "soft" luggage (such as sports bags) and the weight limit (which is often not taken very seriously). The photo equipment should definitely be taken on board, so pay attention to cabin luggage (!) For info, for the LH status card holder, Air Mauritius does not belong to the Star Alliance and even if it is a code share with South African and a ticket booked through SA, the Status customer privileges not (!)
Visa: Can be bought at arrival at the airport
Helpful: A small pocket knife and a strong flashlight with spare batteries are often very useful. The cell phone flashlight does it too, but often does not shine far enough.
Clothing: What do we have to take with us? This time a not unimportant question, since Mauritius (beach holiday) will be completely different, then South Africa (Safari). For South Africa, the packing went fast. As always onion-based functional clothing and sturdy shoes, although this time we decided at hip 37 degrees during the day for slightly less warm things. For Mauritius a mix of swimwear, shorts and T-shirts. In the end, everything went well with the Nike sports bags already known from the last tour. Weight: 15kg (per bag). In the lodges in Africa you can usually wash your clothes for free or for a small additional charge. You get them either the clothes back on the  same day or the next. That saves a lot of luggage and weight.
Detailed Travel Report Mauritisu and South Africa, Highlights and Phototipps:
Day 1: Like last time our flight route is Munich-Paris-Zurich-Johannesburg and this time we wanted to make sure that our luggage sees it that way too. At noon we started and immediately our plane was one hour delayed. We did not think it was bad, as it ment 1 hour less in the dreadful LH basement lounge in Paris. This time we also had movies loaded on our ipads, so that the remaining 3h wait until the onward flight quickly passed. From my window seat on the plane to Zurich, I could directly watch the luggage loading and finally, on the third car, came our bags. So at least to Zurich, the luggage would make it too. In Zurich it goes back into the lounge and at 10:25 pm boarding starts to Johannesburg.
Day 2: The flight with Swiss was great but after 10h we were glad to be out of the plane. In Johannesburg we first had to get our luggage and put the immigration behind us, only to check it in directly after again and leave officially from South Africa. A bit exhausting. 4 hours later we flew on to Mauritius with Air Mauritius.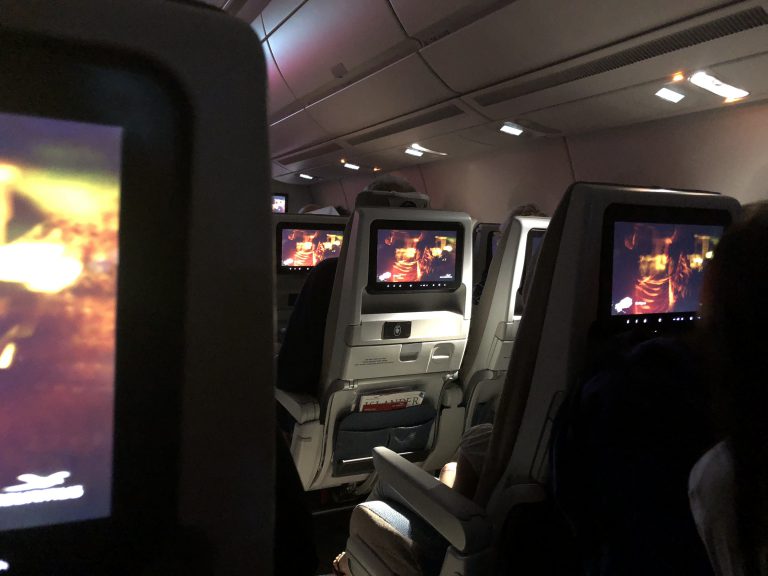 Info for frequent flyers: Air Mauritius is not at all interested if you bought the ticket as a code share with South African and simply ignors all Star Alliance benefits (eg access to the lounge) and no Miles & More miles are given. But ok, many will say "luxury problem". As a photographer with carry-on luggage, however, you quickly see it differently. It was very annoying, especially since we should pay for the photo backpack as hand luggage, which could only be avoided by brief "repacking" in the handbag of my wife (they actually weigh the 8 kilos, which is a problem with a photo backpack quickly). On time at 1:35pm we went on to Mauritius, where we landed at 7:35pm (2h time difference) after 4h flight. The entry takes unfortunately almost 45min and another 30min to get the luggage. Fortunately, our driver has already been waiting and we finally arrive at the hotel at 10:20pm, a bit tired (in total more than 24 hours total travel time). Tip: book transfer in advance. There are hardly any taxis on the island and public transport is not that great. There was no dinner at the hotel at that that time, but they served a cold plate in the room. Top service and certainly one of the reasons to choose the St. Regis Le Morne, apart from a room upgrade to a suite. The day could not end better.

Day 3: We have not closed the curtains in the room and so we woke up at 07:00am by the first daylight.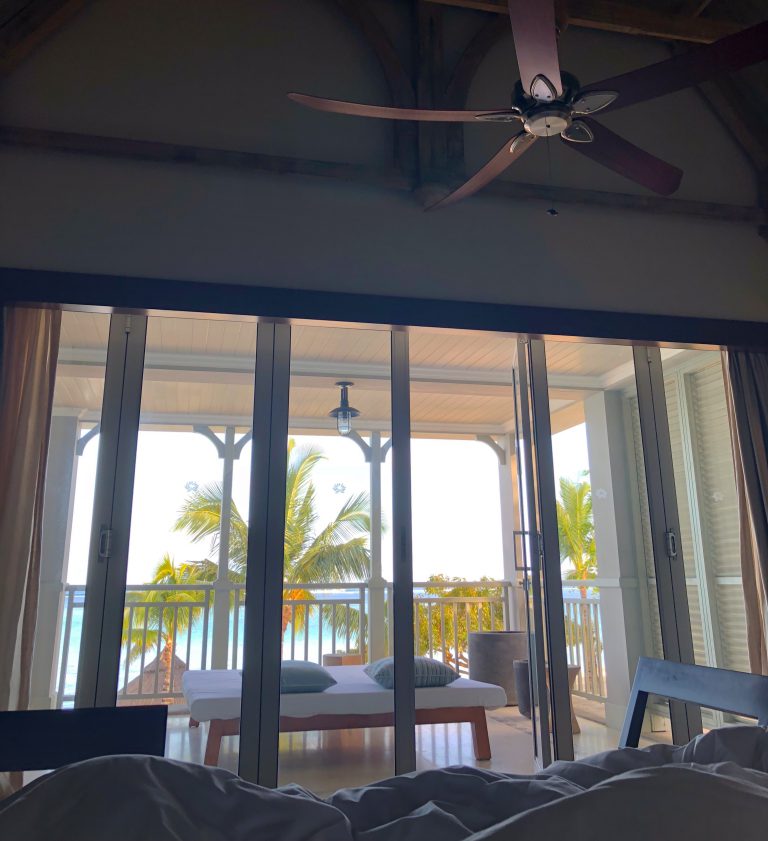 Direct sea view, which is only about 15m from our balcony. The sea is as smooth as a mirror and nobody is on their feet yet.
The deserted sandy beach and a few birds, nothing else. We enjoy a cup of coffee on the balcony. Then we go for breakfast, which takes place in a pavilion directly by the sea. We spend the rest of the day planning our island tour for the day after tomorrow and lazing around on the beach / pool. With a coffee on the balcony came a few feathered friends over (well, the raisin muffin has certainly helped) and so I am balt to get some nice shots the 70-300 Tele. Unfortunately you notice that the Nikon 70-300mm is no longer up to date, specifically when you use the latest high end cameras, which is why it soon will go for sale "into the bay".
In the evening we go for a sundowner to the beach, where we experience a really spectacular sunset, which lets us quickly forget the 25, – Euro for a beer and a wine (glass, not bottle!).
Day 4: As on the day before we get up at 07:00am and enjoy the peace on the beach from the balcony. No cloud in the sky and already very warm. A light wind provides a little cooling. We take a beach walk on the seemingly endless white sandy beach and quickly learn that bathing shoes would be beneficial.
The beach Le Morne is certainly one of the most beautiful on the island, but as it is with almost all sandy beaches they are made of crumbled coral and shells, so it is not as soft as you might think and there are still many shell and coral pieces that are still on the decay and are sharp-edged. Sea urchins are also found on the beach, in the sand and in the water. (Tip: take swimming shoes from home!).
After lunch we make ourselves comfortable by the pool and sleep a little.
At 5:30pm we find ourselves at the usual place (beach bar) for the sundowner. While we enjoy the sunset, three drones are buzzing above our heads and at about 200 meters from the beach, humpback whales roam. You can see how they clap with the tail fins on the water. A nice and quiet day comes to an end and the mosquitoes see it that way too and begin to approach us (tip: do not forget mosquito repellent!).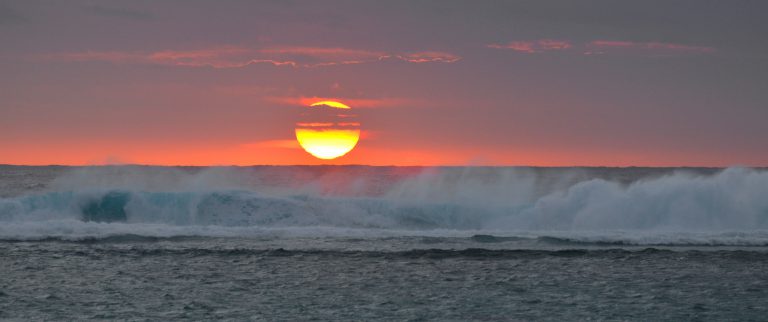 Day 5: The weather is different today. The sea is churned and the waves on the reef break up to 5m high. Further it looks like tropical rain. First, we drive to an extinct volcanic crater at about 600m altitude. Once there, you quickly realize that you are on a "Touritour". Buses and cars jostle on the car park. We stretch our legs a bit and then it goes on. Next, we go to a tax-free shop for clothing and then on to a miniature boat manufacturer. Both of these things are also touristic things, but in the factory one could watch how the boats are made. That was nice to look at. Next are  the Indian temples. These are also very different than expected. Rather kitschy, colorful and modern. Everything looks like plastic.
But our guide Devendra – himself Indian – assures us that it's "real" and that over half a million pilgrims come there once a year. Unfortunately, it rains (we are literally in the rainforest) and so you can not really enjoy it.
Next up is our daily highlight. Ziplining on the 1.5km long route. But it's raining and fog is rising, so we decide to skip that and go for "real" Mauritian Style food. On the way, we see a monkey, strategically placed on the Temple Street, getting its food from the pilgrims.
The restaurant, which our guide recommends, once again is more of a tourist shop, if we look at the very German prices. But it is delicious and the rain has stopped too. We continue to the 7 Colored Hills. On the way there, we visit the highest waterfalls of the island. Nothing spectacular, really, until I ask myself "what's flying there". It looked like birds, but somehow too big. The puzzle solution: fruit bats.
And that was one of these moments when I was angry with myself to have left the 150-600 telezoom in the hotel room and that I only had the optically weak Nikon 70-300mm with me. If somebody wants to drive to the 7 colored hills and take a picture of fruit bats, be sure to pack something bigger.
The 7 Colored Hills are volcanic soils that glow in the sunlight of the afternoon in all colors, nice, but nothing more.

One more tip: the giant tortoises that I have been looking forward to photographically are more of a letdown, since they are in a free-range enclosure – as in the zoo – and you can not get close enough. Meanwhile, the weather is at least better and after a last stop with a panoramic view, we are back at 4:30pm at the hotel. Somehow it was a nice day at the end and at least thanks to our guide we learned a lot about the island and its history. Among other things, that the island has only been inhabited for over 400 years and the "aborigines" (creoles) all descend from slaves, who were originally deported to the island by the Dutch and the French. The weather in Le Morne is great again and so we enjoy the sunset from our balcony. In the evening we enjoy the "Mauritian Style Buffet" which unfortunately is so delicious, that we completely overeating and are in bed at 8:30pm.
Day 6: A beautiful morning and we enjoy the coffee on our "2nd bed" on the balcony. The Minas and Bul Buls are already waiting for their breakfast and we enjoy the clear morning air. It's a little paradise here. Absolute peace and a dream view.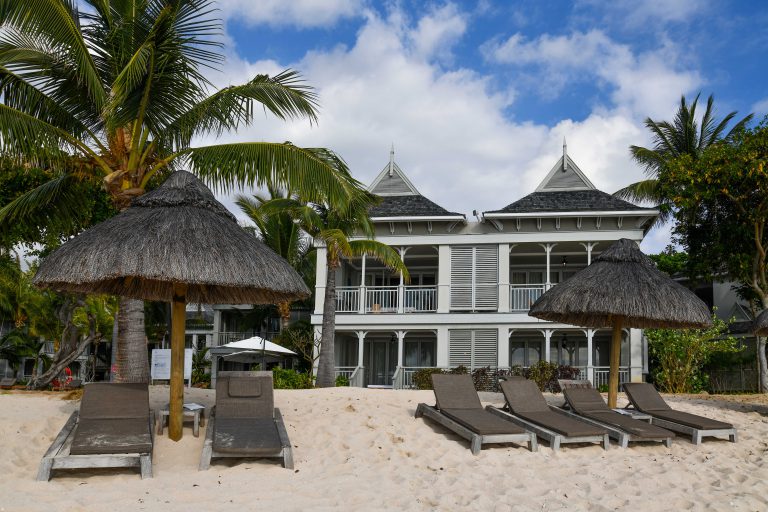 The rest of the day we spend lazing until sunset, a little sport and the fantastic view of the sea. At sunset we go back to the beach bar and enjoy another spectacular sunset.
From there we go directly to dinner in the Boathouse. At this point, please note that – if you choose Le Morne – you should definitely book full board, as there are no restaurants or anything nearby the hotels and taxis to the next, but not exactly nearby village, are rather scarce. With full board you are well equipped. The food is absolutely top class and you can choose from 4 different restaurants every day. Those who have a Marriott status (at least Gold) or booked a Suite can also enjoy breakfast a la carte in the Boathouse, right on the beach overlooking the ocean and a serene dream.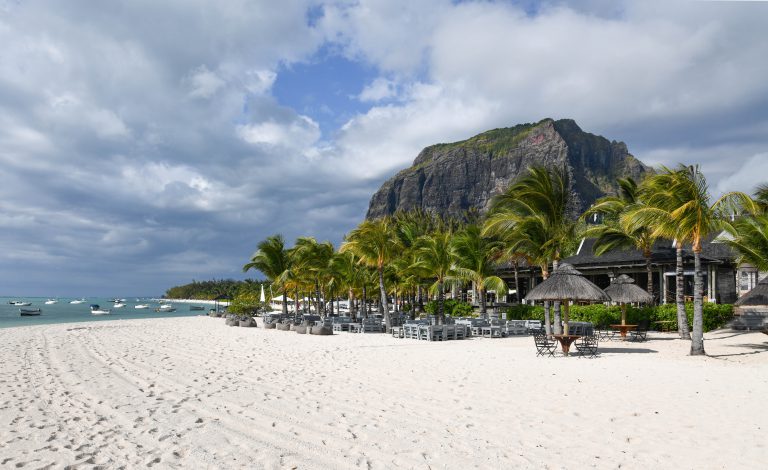 Day 7: After breakfast we walk – out of interest – to the neighboring hotel, the LUX Le Morne. Also a very well-kept and beautiful facility. The pools are amazing and the grounds are great. The sand on the beach is a bit more fine sand than in front of the St.Regis. However, we did not like the rooms – at least what you see from the outside, since everything is very dark and they are not directly at the beach, like the St. Regis rooms. But it is still nice and and you cn not do anything wrong with this hotel. After our walk we have to recover from all the leisure stress and lay down on the beach for lounging. That's one of the things that works really well here anytime. At 5:30pm, it's time for the "Sunset Ritual". You can not get enough of that because it's different every day.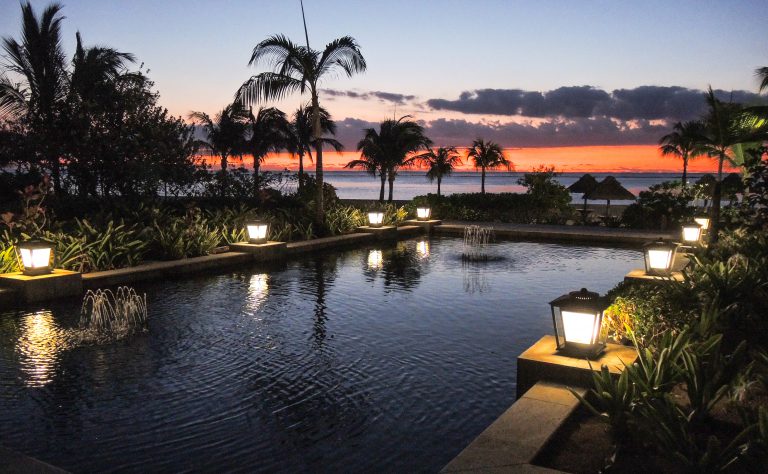 Day 8: We observe the whale watching boats. 12 of them are chasing after the humpback whales. For me that borders more on animal cruelty, because unlike in other countries there seems to be no "protective distance" to the animals and the small high motorized boats chase after the whales. All this was very nice to watch with the binoculars and we are glad that we did not book such a tour. After breakfast, we walk a bit along the dream beach and just enjoy the day. It is hard to believe but "hanging out" in paradise can be very fulfilling and somehow time just flies by. Commute between pool, deck and beach, lunch with sea view, sunbed, pool and "boom" it is 5pm and time to get ready for the sundowner. On the last evening there is a delicious fish buffet with freshly caught fish, oysters, sashimi and and and. Fantastically delicious and of course we eat more than we should, like almost every day in paradise.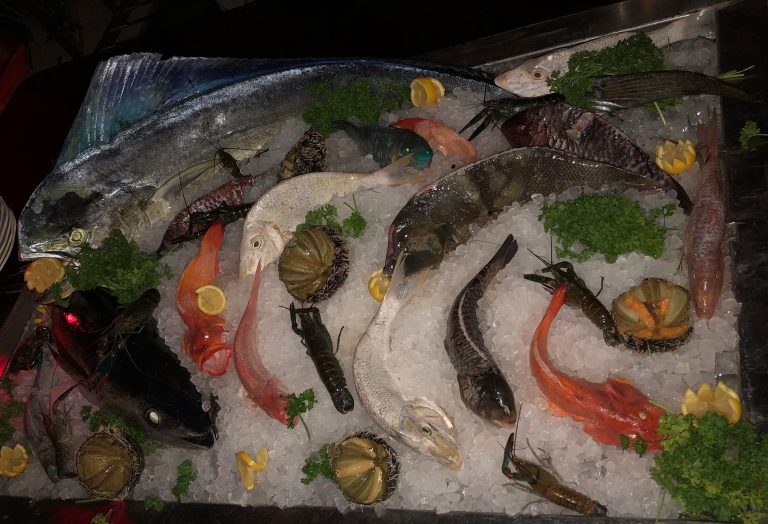 Day 9: The sky is blue when we get up, but it is much more humid, as on the days before and slowly the sky is clouding. That makes our departure much easier today. But we still have a few hours before we picked up from paradise. Our St. Regis "Grand Suite" – thanks agan to the hotel – was pure luxury and an absolute dream on 175sqm with direct sea views. You just do not want to leave. The hotel deserves every one of its stars and there was absolutely nothing to complain about. This hotel has clearly made it to the top of all hotels we have ever visited. The transfer to the airport shows the beauty of Mauritius for a last time. At the check-in we have to discuss "hand luggage weight" again (max 8kg) and so the camera equipment has to be divided again to 2 people. I still wonder how others deal with this, because a camera backpack often weighs more than 8kg. The return flight of 4.5h is quickly over and immigration and baggage pick up in Johannesburg work in record time. We spend the night at the Protea OR Tambo Hotel, just over 1.5km from the airport. Absolutely OK for one night, but you realize that you were driven out of paradise when you look out the window the next morning. The better option for the 1 night overnight stay would have been the Protea Airport Lodge, as you could walk there from the airport.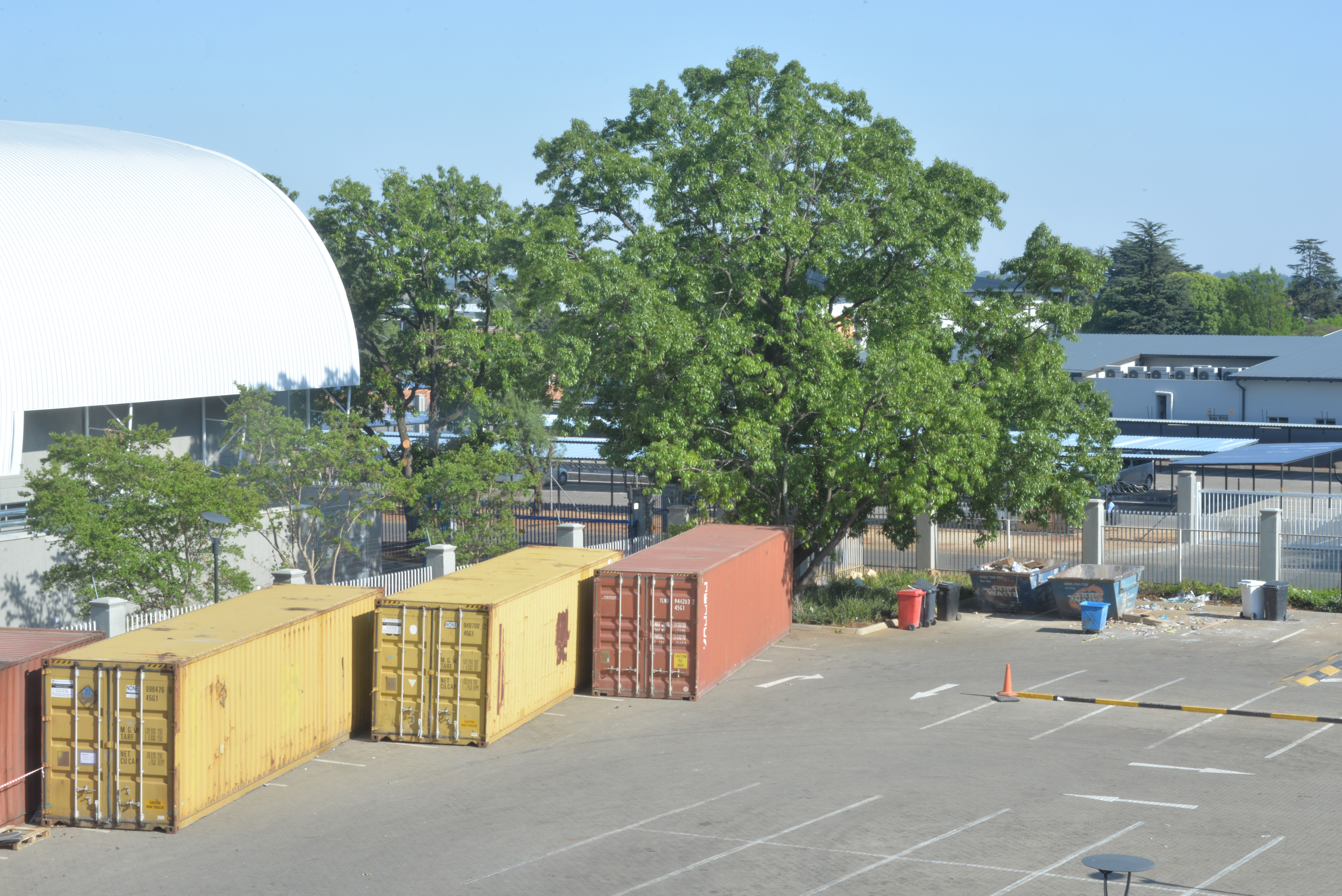 Day 10: We use the hotel shuttle to the airport. At the airport again discussion on hand luggage. Slowly we are a bit annoyed, but in the end everything is fine. The flight to Hoedspruit takes only 35 minutes, the airport is snugly small and the luggage is delivered by a tractor with a trailer. Outside, all transfers to the lodges are waiting for the guest and we finally arrive at our Makanyi Guest Lodge at around 3:30pm. A dream that we can barely enjoy on arrival.
Briefly we clear the formalities and the first game drive is ready to start.
It is colder than expected, but a great drive in a great reserve.
The highlight is a lepard with prey after sunset, which is chaised up a tree by two hyenas. Spectacular!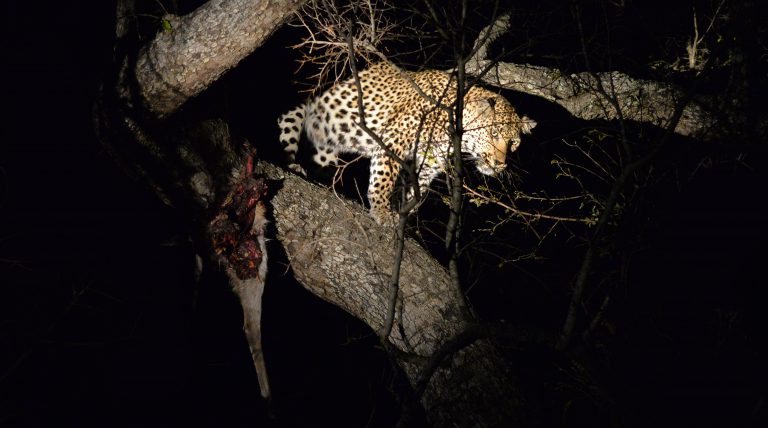 Back at the lodge there is a fantastic dinner on the terasse and then we fall into bed. Note: we had expected significantly more mosquitoes at this time of the year, but there was almost none and the few could be kept at distance by Anti Brumm / Autan.
Day 11: Very normal for safari camps, wake-up takes place very early at 5: 30am. At 06:00am the first Gamedrive starts. The sky is overcast and it rains lightly as we go to the cars. We did not expect that at all, as it was still 37 degrees 2 days earlier according to the weather app. During the ride, the rain stops and we see our first Black Rhino, very rare and a good start into the day. Then we see a large herd of elephants, antelopes, wildebeest and much more. During a coffee break we have a very nice encounter with an elephant. We just got out of the safari car and drank coffee when this little specimen approached through the bushes.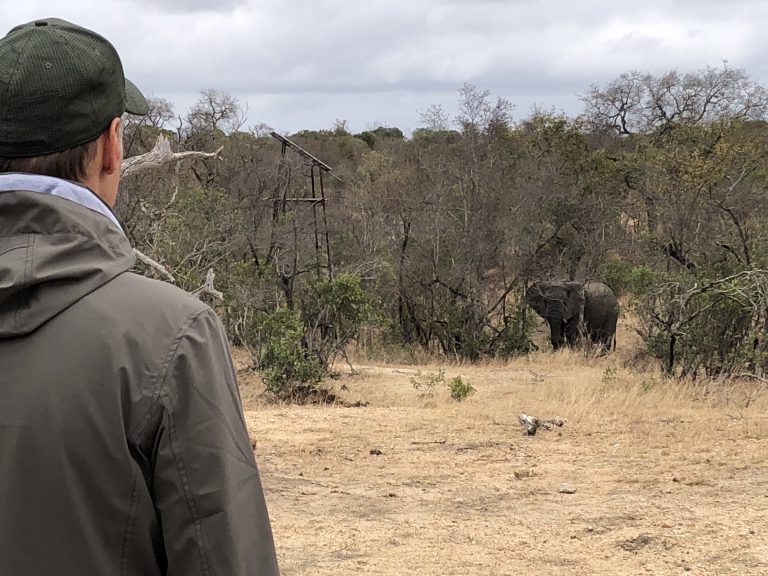 At 09:00am we are back at the Makanyi Guest Lodge, which we see now for the first time in daylight. Beautiful. The clouds break open and the azure blue sky becomes visible.
After breakfast, I sit on the veranda of our house and enjoy the view of the passing animals (Impalas, Kudus, Giraffes, Warthogs, Zebras, Wildebeest, just to name a few). At 1pm we enjoy lunch. You definitely can not starve here. Shortly before 4pm we start off to the afternoon Gamedrive. Our borrowed lenses had arrived. The Nikon 200-400 VR II and the Nikon 200-500. I was interested in the comparison to my Tamron 150-600 G1. It was not about the professional comparisons, of which one finds enough in the net, but about the handling and how they feel in comparison to the Tamron.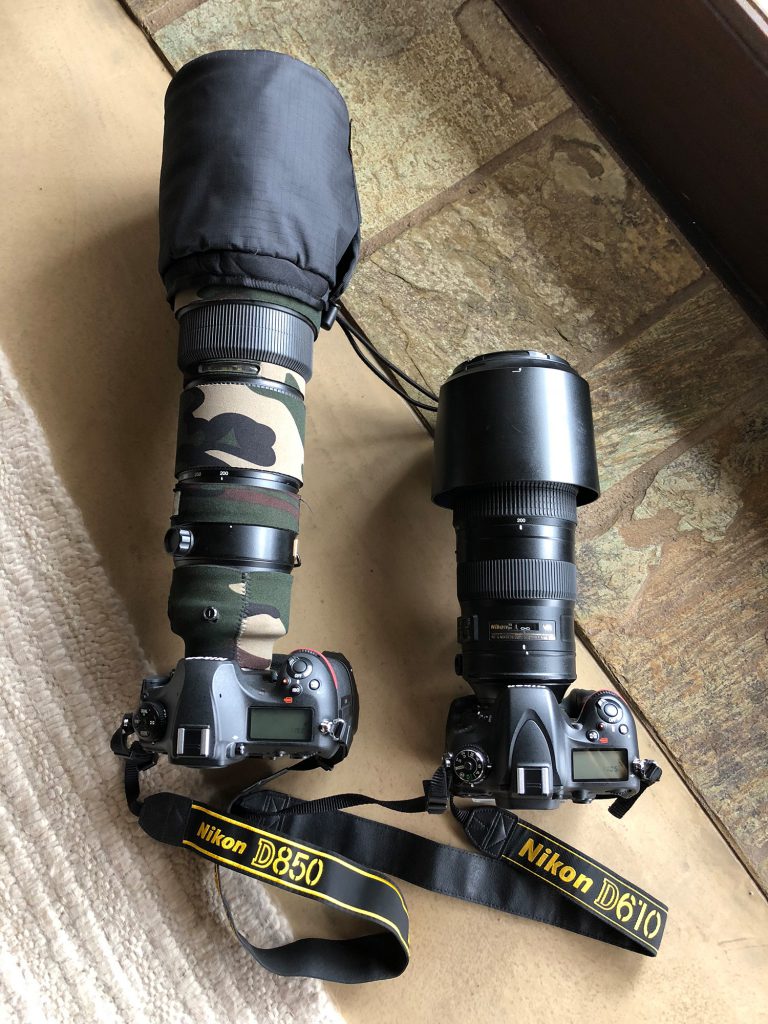 The Nikon 200-400 VR II is a real heavyweight (over 3kg) and you drag around a lot. Carry it around all day, no chance. But in the safari car a very different number and the one who has the necessary budget a 100% recommendation. Fast focus, super sharp, great contrast and built like a tank. I have never had so much fun with a lens. The Nikon 200-500 is also good, but just another league, not only pricewise. At the same time, it is equal to the Tamron 150-600 G1 except for the zoom range. Ordinary quality, but not for eternity. Significantly lighter than the 200-400 (just over 2kg, that's rather something to carry the whole day) and also with quick, precise focus. What bothers me personally – compared to the Tamron 150-600 G1 – is that the focus ring sits, so to speak, at the end of the lens, where one likes to hold on to freehand photography and then always has the risk to adjust the focus. In addition, the zoom path of the Nikon is much longer than that of the Tamron. Since it is heavier and priced above the Tamron, there would be no real reason for me to change, except if necessary, the continuous light intensity of f5.6. It is also a top lens, which I, after many photos taken with it, I can recommend to everyone. Nikon and Tamron are a give and take in this price range. It is more a question of taste. We borrowed our lenses from Africa Photographic Services in South Africa. The delivery to the lodge and billing by credit card worked great. First class service ! All top !
Day 12-14: The safari days basically all run according to the same pattern. 05:30am wake up, 06:00am the first Game Drive, with breakfast coffee. Here is the – invented by our ranger Nico – Kakao-Amarula coffee – as a highlight to mention. Then at 09:30am breakfast, 1pm lunch, 3:30pm High Tea and at 4pm departure for the evening game drive.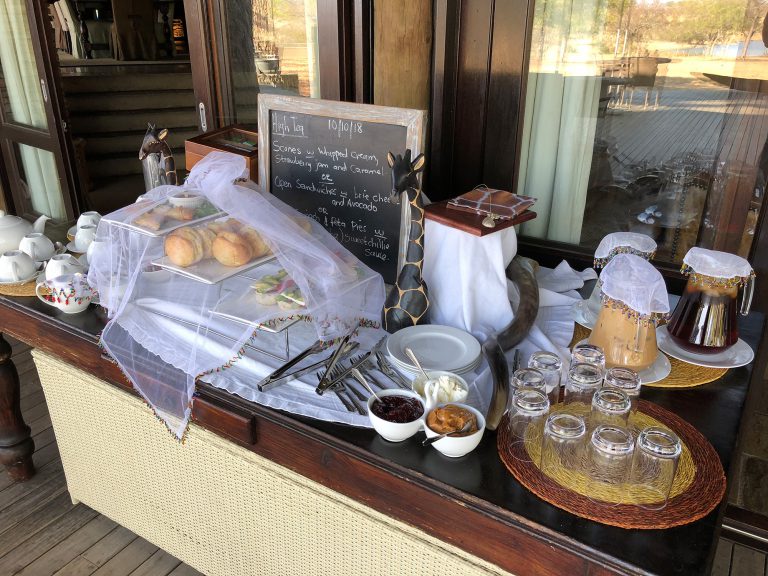 Back in the lodge around 7pm and then directly to the bar for the exchange of the day with the other guests. In good lodges, the menu is personally presented by the "Chef", including wine recommendation (at Makanyi a highlight) and after dinner, it is usually time to go directly to bed. The logistics are individual for each lodge, but actually it only differs from the times and whether there are snacks in between, which is often the case with good lodges. The time between game drives is at your disposal, you can do sports, sleep, relax or whatever. Of course, as a photographer you also use the time to take pictures around the lodge, because there is "wildlife" too.
At this point, I come back to the lenses again. During the day and with enough light, Tamron's results are only marginally worse than the Nikon 200-400. Most hobby photographers would not really notice the difference, as they only show up in crop and in things like contrast. Quite different, however, in poorer light conditions, especially early in the morning or at dusk, which are usually the times of animal watching when being on safari. Here, the Nikon 200-400 VR II with its aperture f4 clearly shows its true strength. Through the monstrous front lens comes so much light that the AF always hits, even if you feel like it's already dark. ISO rarely has to be set higher than 3200, where at Tamron it is more like 4000-5000 (of course, it is also a f6.3 aperture at 400 + mm).
I have to say, when I had to hand back the lens after 2 days and switched back to the Tamron 150-600, it felt like an "amputation". Especially when we had watched a pack of lions in the evening and I missed some nice shots, as I was still using the ISO settings of the Nikon 200-400 VR II. In addition, the first "see through" suddenly felt like the lens cap was still on, so much darker it was. The Nikon 200-500 also has a slight advantage over the Tamron, with the fixed aperture of f5.6. The desire to own the "Dicke Berta", as we nicknamed the Nikon 200-400 VR II, is unfortunately aroused now. Definitely I would rent it for Safari again. At this point another tip. For the Timbavati Reserve, a 400mm lens is long enough, as there are only a few situations where you can fully use this range, unless you are a "birder". The same applies to most Private Game Reserves (for example, Sabi Sabi, Madikwe or Marataba), because you can drive "offroad" and get very close to all animals. That's why you should think carefully before going on safar. What area will you be traveling to and then plan your lenses carefully. As I said for "Birding" 500mm are actually a minimum, each "extra" helps. The Nikon 200-500 or the Tamron 150-600 are the first choice when budget matters. For those who can and want to afford it, the Nikon 200-400 VR II or the new Nikon 180-400, which even has a built-in teleconverter, significantly increases the fun factor while drastically reducing your account balance. Following are a few pictures that I have "shot" with the Nikon 200-400 VR II (more pictures can be found at Flickr, see link below):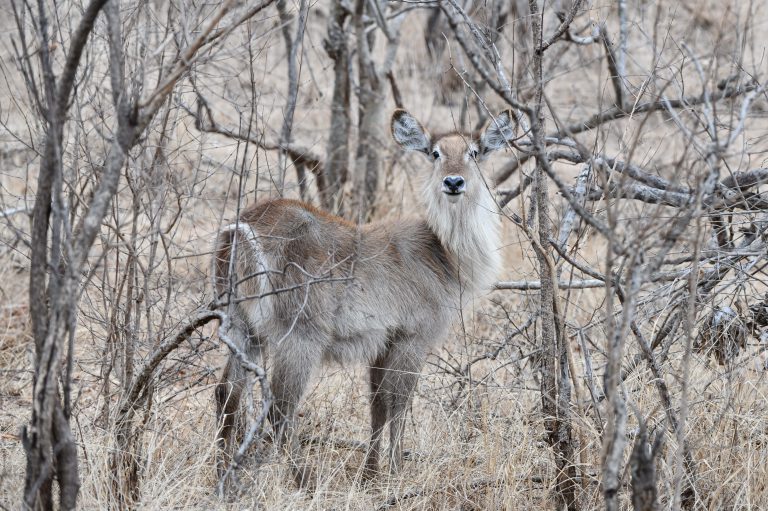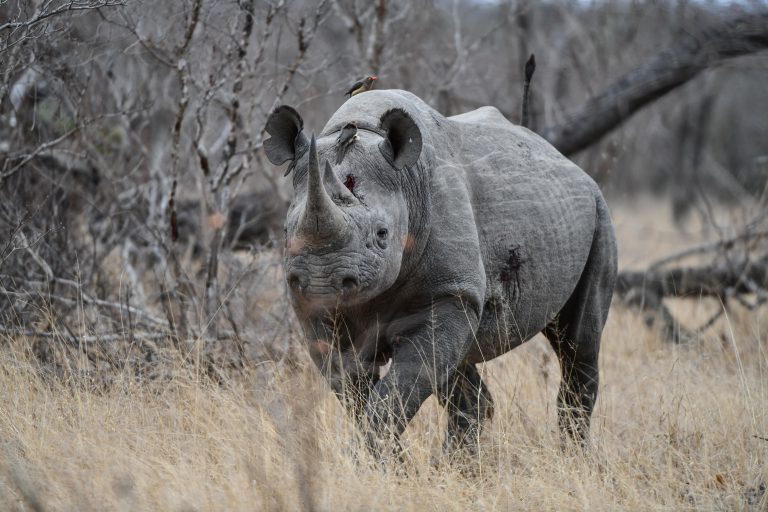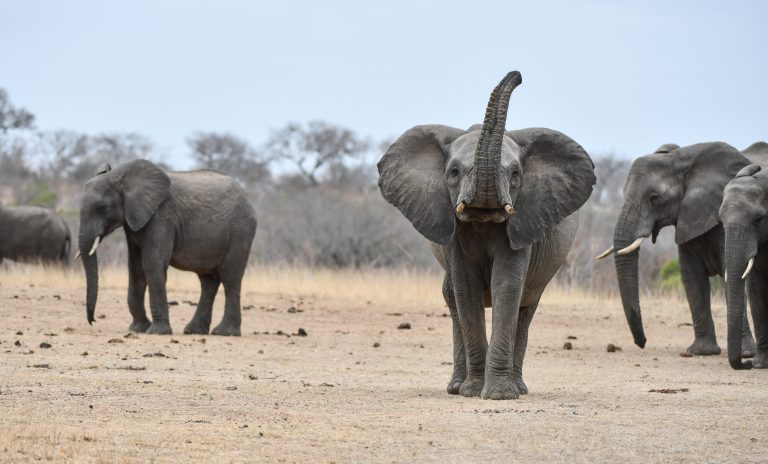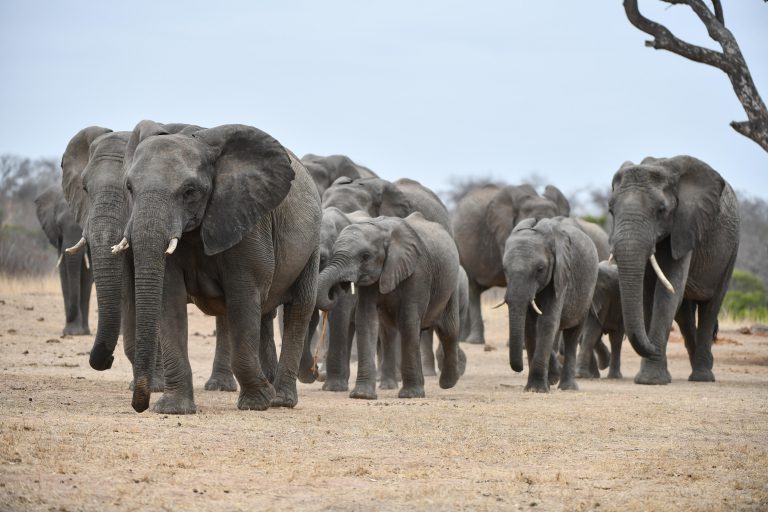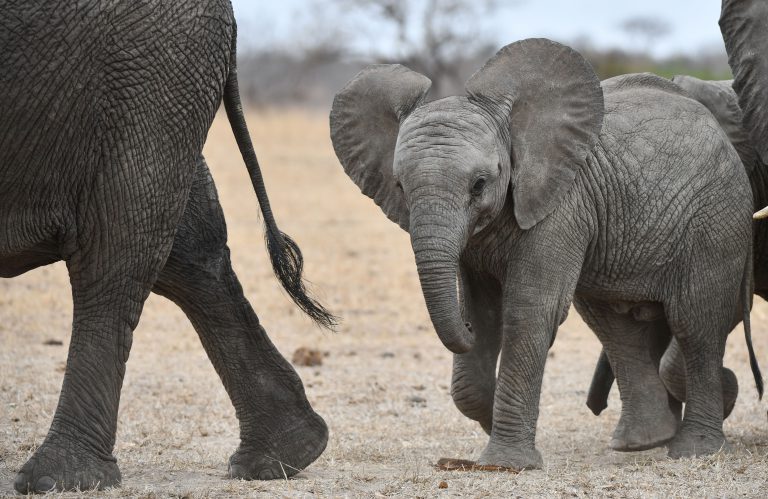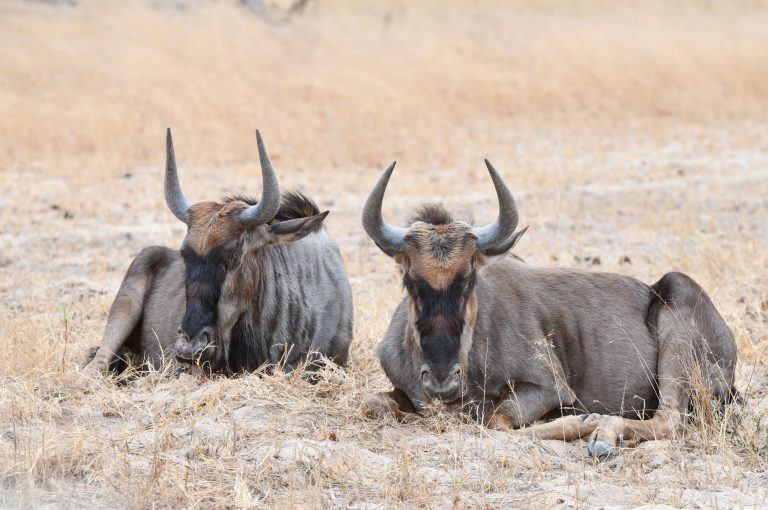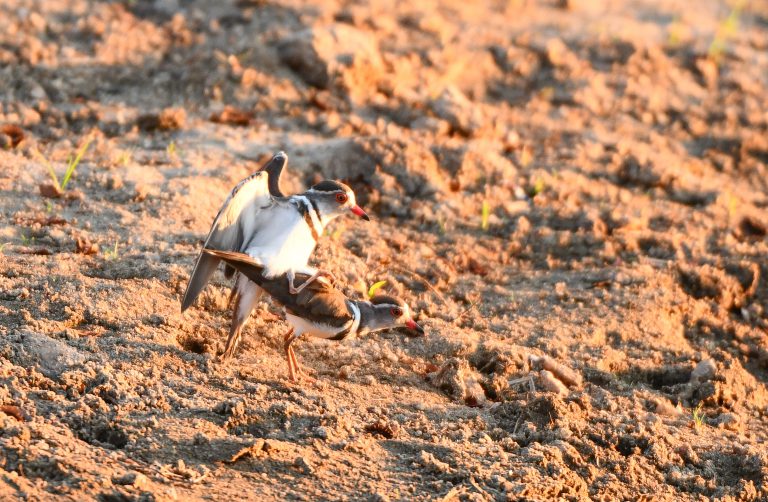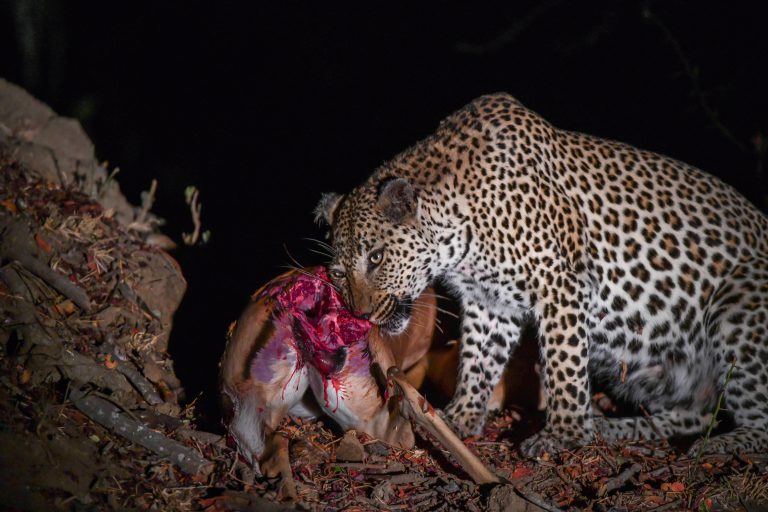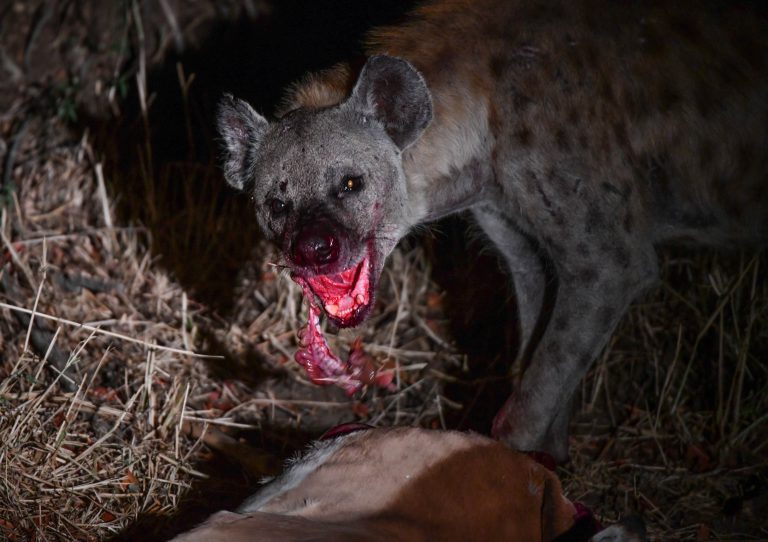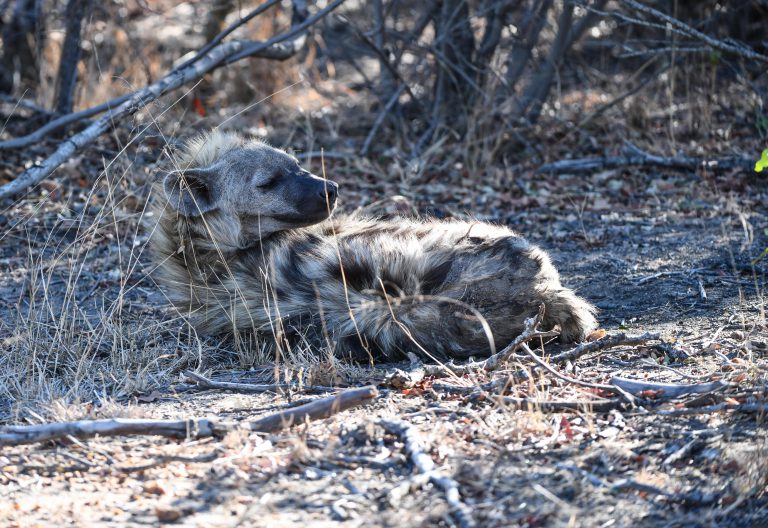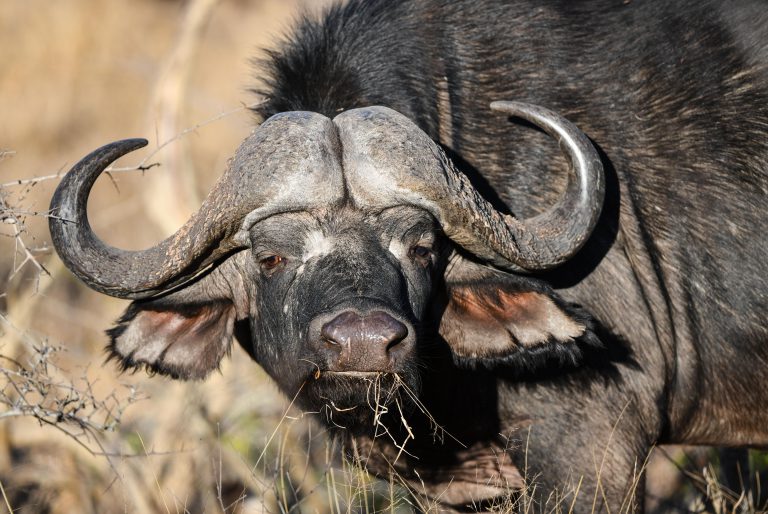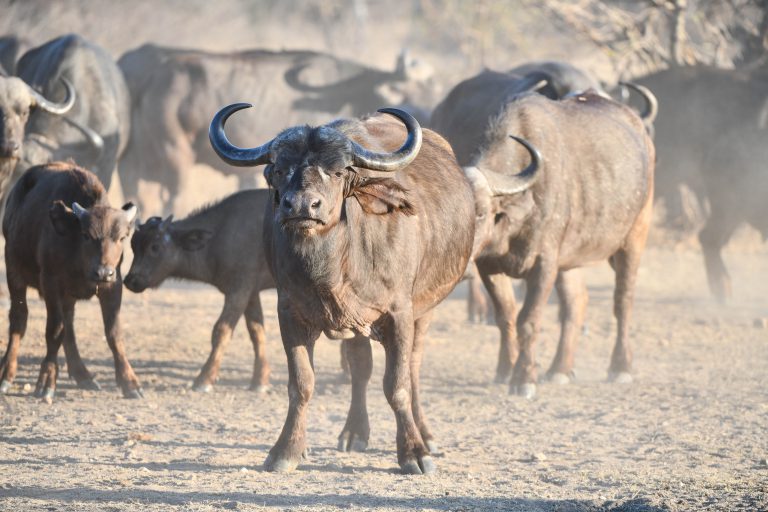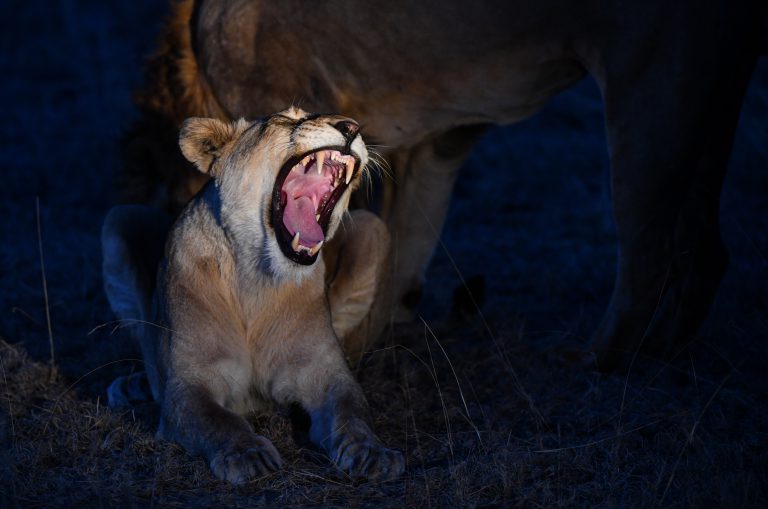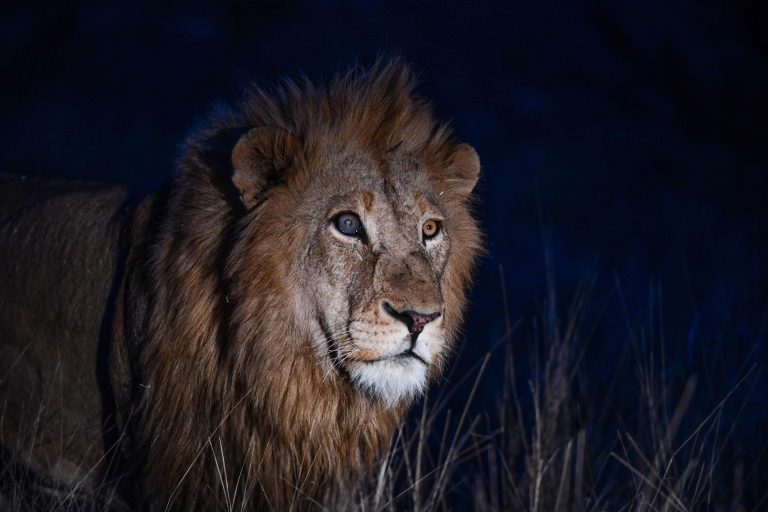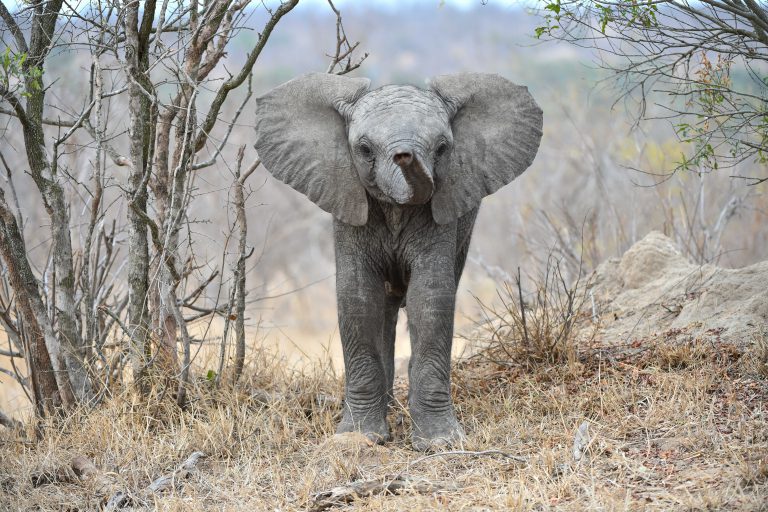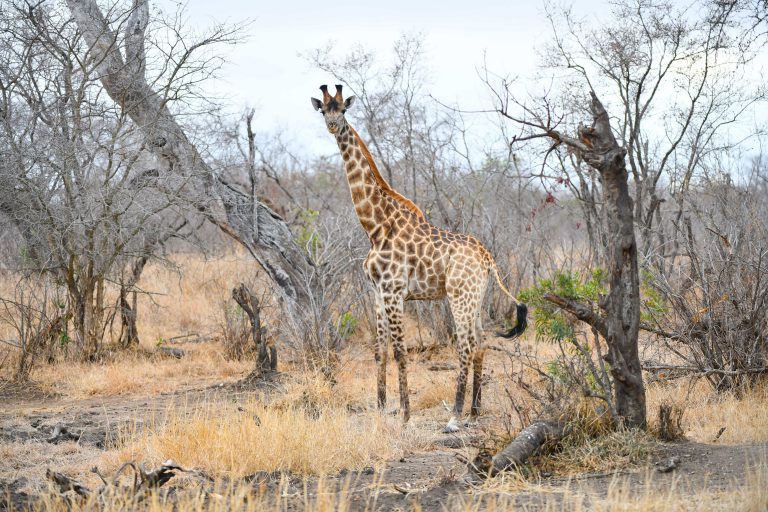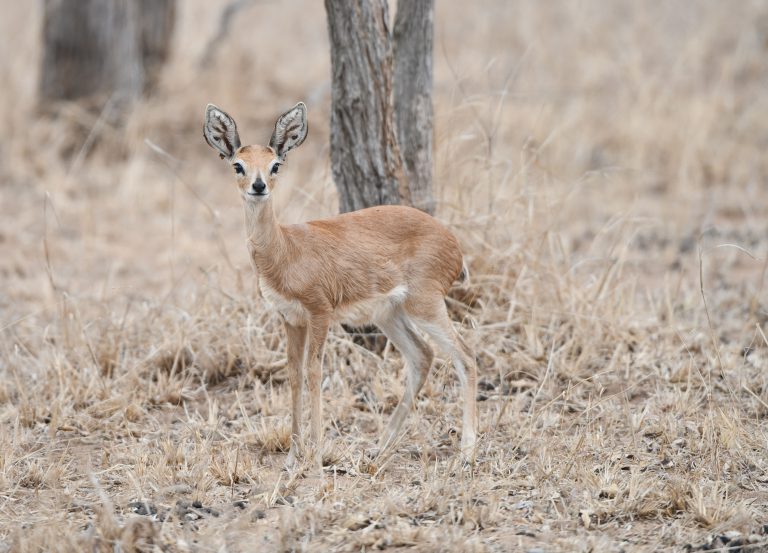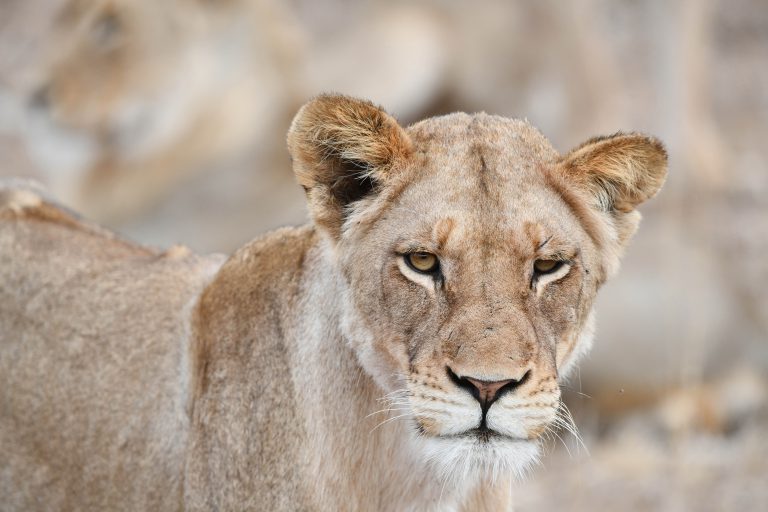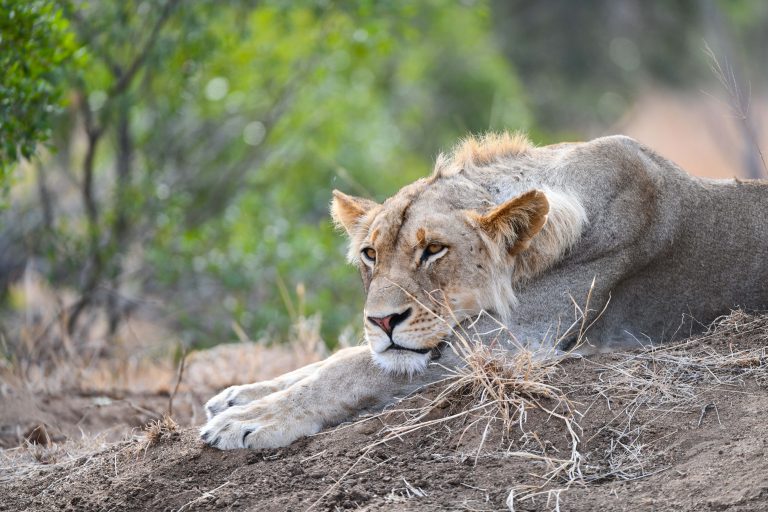 All pictures are directly from the ".jpg" out of the camera and only here and there a little Crop, or slight sharpness tweak with Lightroom. Otherwise unchanged. I think you can see very well that the Nikon 200-400mm VR II really delivers extremely vivid images. The following pictures are taken with the Tamron 150-600mm (G1) and personally I find the difference especially in the contrast noticeable and subtleties come out less well, as soon as the light goes.
Day 15: One last game drive with really spectacular impressions, e.g. a huge herd of elephants at the waterhole. These pictures were taken with the Tamron 150-600mm G1.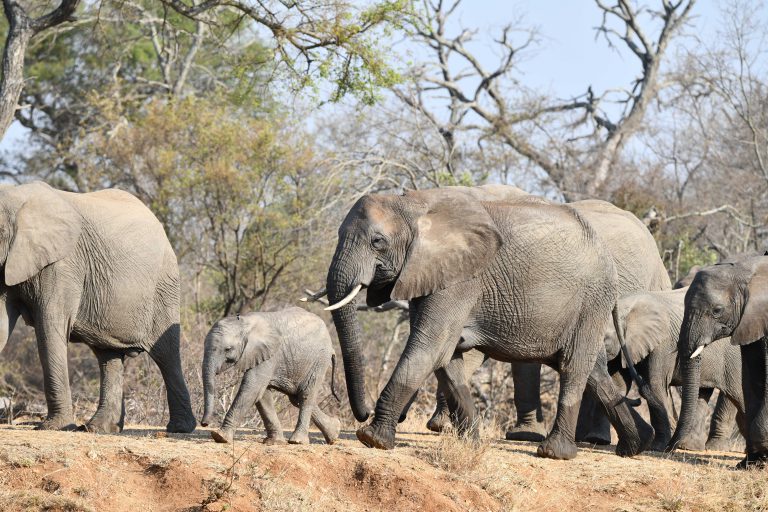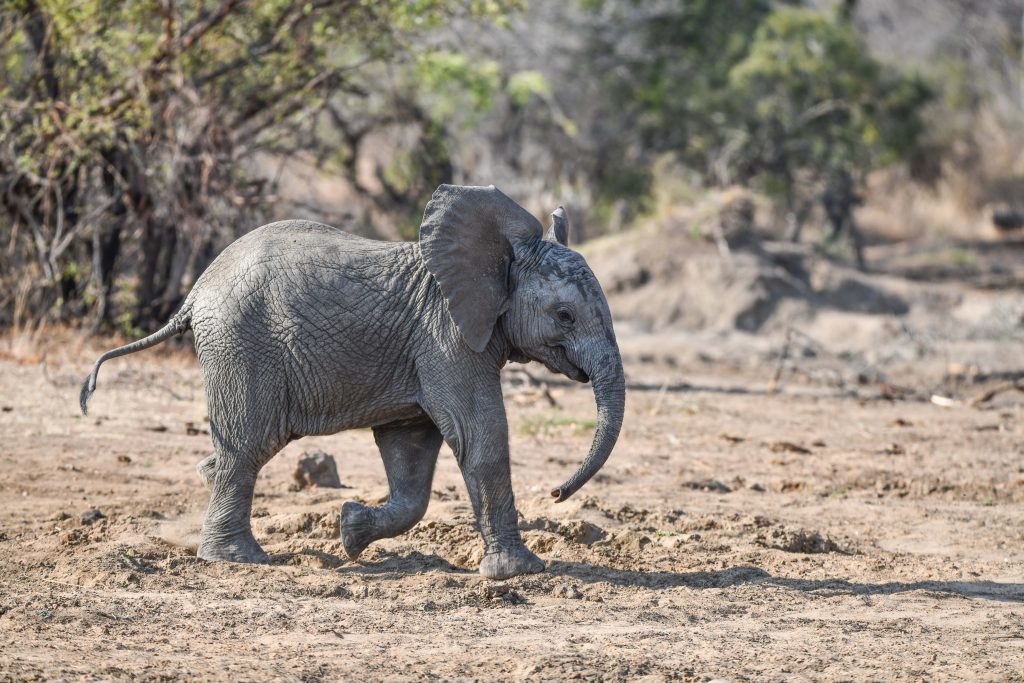 Then it's time to say goodbye, which is really hard. Makanyi in Timbavati was a sensational experience with incredibly attentive staff, the friendliness and service are hard to beat. Thank you!
The return flight from Hoedspruit to Johannesburg is reminiscent of the early days of flying and we have rarely taken off so relaxed. At 7:25pm our return flight to Germany starts and wonderful 2 weeks come to an end. But we'll be back, that's already certain. Sometime….
A few more tips on the selection of lodges. We always rely on the travel agency AST when it comes to South Africa, Botswana or Namibia. The travel agency has a local employee (the enchanting Mrs. Csar), who knows most of the lodges and is always on hand to help and advise. Some things you may ask before booking: how big is the game area belonging to the lodge, do they use a tracker and a ranger per vehicle, which is the maximum number of guests per vehicle and if necessary, if the lodge has specialized in photographers (Makanyi, for example is, because every ranger at the same time is a photographer – at least as a hobby and you can borrow equipment, you could even photography classes). Also you do not have to constantly explain the guide why the light is better from the "back". Also important, although not easy to find out is the wildlife density and whether private vehicles are allowed to drive in the area, which is usually not the case in the Private Game Reserves, which is why these are "quieter" but also significantly more expensive.
For the safari novice, all these points are less important, because it is always exciting, when you see wild animals for the first time really wild. This tension does not diminish with increasing experience, but you get more demanding as far as good game drives and lodges are concerned. Therefore another tip. Good lodges are not cheap, but it makes a huge difference, if you have 4-6 people or 10 people sitting in the car. Good lodges are organized in a way that there are never more than 2 vehicles per sighting on site, leaving enough space for the animals and time for guests to observe. In addition, the guides are top trained You never have the feeling that you are being processed. To our experiences one should stay max. 4 nights in a lodge, since you have discovered the area after 3 days. Of course something new can happen on day 4 and 5 too, it's wildlife, but for yourself it's just more exciting to discover new things elsewhere and usually most of the other guests are there for a maximum of 3 nights too, so the lodges have adjusted their programs accordingly.
Many lodges, especially those that focus on ambitious photographers have started installing so-called "hides" (observation stations at ground level) near their waterholes. For the ambitious photographer this is perfect (see my pictures of Mashatu in Botswana). More and more lodges in South Africa are installing these now, see e.g. also Tuningi in Madikwe, which opened a very luxurious hide in 2018, which can be reached directly from the lodge via a tunnel. Especially for the times between the game drives, these offer great opportunities to experience the animals from a different perspective.
Many lodges, especially those that discovered semi pro photographers as an interesting target, are installing so-called "hides" near their waterholes. For the ambitious photographer this is the top (see my pictures of Mashatu in Botswana). More and more lodges in South Africa are installing these now, see e.g. also Tuningi in Madikwe, which opened a very luxurious hide in 2018, which can be reached directly from the lodge. Another one is Ulusaba in Sabi Sands. Especially for the times between the game drives, are the great opportunities to experience the animals from a different perspective.
Which Photoequipment for Mauritius and South Africa?
The photographic equipment that we brought to Mauritius and South Africa can be found below. In addition, you have the opportunity to order the used photographic equipment directly through our photo shop and to request further technical details. There are also a lot of extras.
All together 15kg "Cabinluggage" in Lowepro Runner 450 Backpack.