Travel Report Kruger Park (South Africa)
What could a 15 day photo trip to Kruger Park South Africa and its Private Game Reserves look like?
Our travel report Kruger Park South Africa summarizes our 15 days photo trip from Skukuza to Hoedspruit, through the Private Game Reserves Sabi Sands, Timbavati, Balule and Ngala. We have chosen the following route:
1.Day: Munich -> Frankfurt -> Johannesburg -> Skukuza im Kruger NP (Protea Hotel Kruger Park by Marriott)
2.-5.Day: Sabi Sands Private Game Reserve (Inyati Safari Lodge)
5.-8.Day: Timbavati (Rockfig Safari Lodge)
8.-12.Day: Balule Game Reserve (Pondoro Safari Lodge)
12.-15.Day: Ngala Game Reserve (&beyond Ngala Safari Lodge)
15.Day: Hoedspruit -> Johannesburg -> Frankfurt -> Munich
Where is Kruger Park located in South Africa?
What to remember when traveling to Kruger Park South Africa:
Local currencies: South Africa = ZAR (South African Rand), but even here USD are gladly taken in the lodges. On the other hand, credit card payments work everywhere without problems.
Vaccinations: Coming from Germany, no vaccinations are required except COVID-19 – not even yellow fever. However, the standard vaccinations are recommended, so follow suggestions from the Foreign Office. Malaria prophylaxis is valid for the Kruger Park South Africa, i.e. here everyone must weigh for itself whether or not.
Helpful: A small pocket knife and a strong flashlight with spare batteries are often very useful. The cell phone flashlight does it in a pinch, but often does not shine far enough.
Clothing: In the lodges in Africa you can usually have your clothes washed for free or for a small extra charge. I.e. you can save a lot of luggage. In any case, choose muted colors and preferably functional clothing, as it can be very cool in the morning and warm to hot during the day.
Detailed Travel Report Kruger Park South Africa
Traveling in times of COVID promotes a whole new dimension of stress levels. You have to be prepared for many flight cancellations and enormous waiting times at the airports.
In South Africa, you can forget the LH lounges (operated by South African) directly (South African is bankrupt and flies only in SA itself). It is best to go directly to one of the pay lounges if you have to wait for the onward flight within South Africa. These have showers, food and drinks and for 25€ per person is fair for a day ticket.
Drive from Skukuza to Protea Hotel by Marriott at Kruger Park Eastgate
Day 1: Within South Africa, it is currently best to fly with Airlink. This is an independent subsidiary of SA but not a Star Alliance, so you have to give up your privileges as a Star Alliance status customer.
Airlink flies with an Embraer from JNB to Skukuza (Kruger Park Airport) and a normal hand luggage suitcase or photo suitcase, like the one from Tenba or Lowepro, you just get under the front seat. Attention, do not book an emergency exit!
When landing in Skukuza are currently about 110 Rand per person (about 6€) due, because you land in the Kruger Park and thus must pay the Parkfee.
The flight itself takes a short 40min and still there is a snack and a drink on board. Thank you AirLink, Lufthansa should take an example.
Skukuza is a mini airport, but very modern and almost like a small hotel lobby. Everything is practically in one hall. You pick up your luggage outside, the rental car counters (there are only Avis and Budget) are inside.
It's a half hour drive to the hotel. It is located directly behind the Paul Kruger Gate. But you can also – like us – drive a loop, then it is 60-90min extra and you have the chance to see some more animals in the park.
The hotel is a real recommendation. You should insist on a room in the new wing or book one there directly. Breakfast and dinner are included in the price and really very good. The rooms are large and comfortable, even for a longer stay.
Inyati Safari Lodge in Sabi Sands Private Game Reserve, which borders Kruger Park South Africa
Day 2-5: We drive to Inyati Safari Lodge in the Sabi Sands Reserve. From Kruger Gate, the drive is just under an hour. The cell phone GPS is helpful as the signpost coming from Kruger Gate is not visible.
Inyati is a very traditional and beautifully situated lodge, directly at a river, which still has water even in winter.
We get the family chalet no 3. Actually we don't need the 2 extra beds, but the room size is great and the location is better than all other rooms, because you don't have to be accompanied to the room in the evening.
On arrival we have lunch, high tea is at 3pm and 3:30pm we leave for the evening game drive. Our driver is named Omega and our tracker is Joel. Both are super nice.
Dinner is in good weather in the boma, which is large and cozy. Everything is nicely decorated and the food is excellent.
At 5:30 in the morning is wake up and from 6 o'clock there is coffee and small snacks. At 06:30 we leave for the morning game drive.
Inyati shares the Game Territory with 7 other lodges, including Dulini, Lepard Hills, Ulusaba and Savanna. On site, e.g. when a leopard is sighted, a maximum of 3 vehicles are allowed. If a "photographer group" has booked, like us, this group always gets priority. All others then take turns.
We have not experienced this so far. Also, the photographer's vehicle is always in the best spot for photos and we have to regularly urge Omega – our driver – to position our vehicle better.
Animal sightings Inyati Safari Lodge in Sabi Sands and Kruger Park South Africa
The animal sightings are really good in the area. We see leopards and lions several times and also otherwise we see a lot. However, felt not as much as in other years at this time. The weather is also different, it is rather overcast and humid. Climate change is also happening here.
Our conclusion for Inyati:
The lodge is very well maintained, but not quite modern anymore. However, it gives you the feeling of being in Africa from the first moment. The staff is more than courteous and always trying, even if we miss the cherished little things like the wet eucalyptus towels after each game drive. The food is excellent and is served buffet style in the mornings and evenings. Lunch is usually omitted as breakfast is brunch and a snack is served at 3pm before the game drive.
Rockfig Safari Lodge in Timbavati Private Game Reserve at Kruger Park South Africa
Day 5-8: We drive a good 180km north to the Timbavati Game Reserve at Kruger Park South Africa. Our accommodation is Rockfig Safari Lodge.
Rockfig is a small and exclusive lodge with only 6 suites and max 16 guests. The safari cars are occupied with max 4 guests (!) they use Land Rovers and Land Cruisers – which is very rare. Rockfig Safari Lodge is rather modern, offers all the luxury you could wish for and has an infinity pool. Since all suites are in the "protected" area you can move around freely at night and don't have to be escorted to your room. We had Martin as driver and Isac as tracker. Both very experienced. Martin is also the manager of the lodge.
Breakfast is served daily at a site near the lodge and this is right after the Morning Game Drive. A great experience.
The Timbavati Game Reserve is pleasant in every respect. It is much less "crowded" than Sabi Sands, the roads are easy to drive, which makes the drives more pleasant and the sightings are overall very good, even though we didn't see any cheetahs this time.
The lodge is absolutely Spirze and, along with Makanyi (see other Mauritius and South Africa trip report), is definitely one of our favorite lodges. The intimacy and closeness makes you feel like you are with a family and that makes it very enjoyable.
During the morning and evening trips, care is taken to make stops for coffee and sundowners in beautiful places.
The food is of a very high standard and different every day. Sometimes buffet, sometimes seated and you sit either with the other guests or alone, just as you like. At the boma in the evening the safari experiences are exchanged.
Overall, 5 out of 5 stars and a big thank you to Martin and the entire team for an unforgettable stay.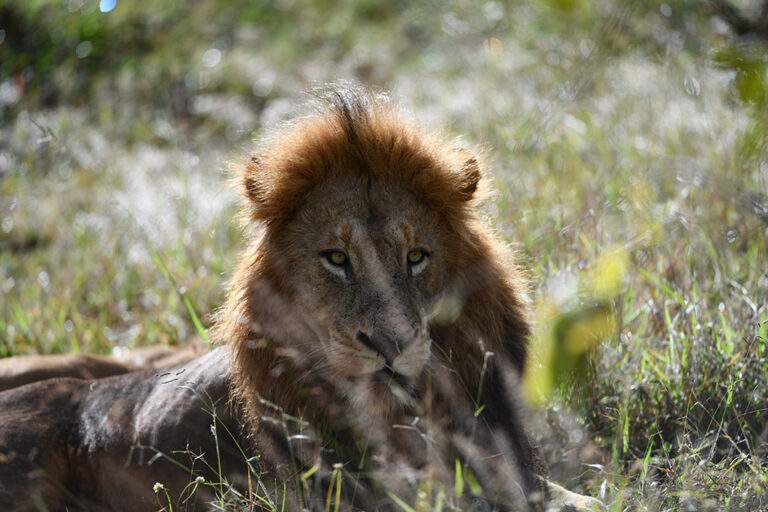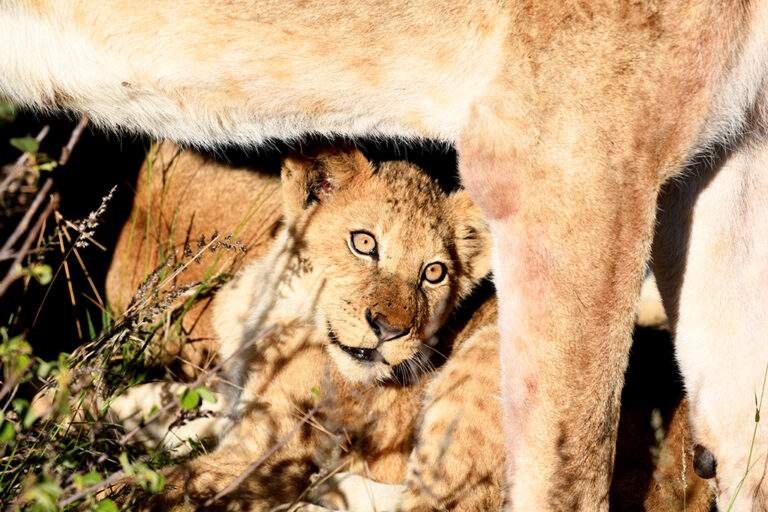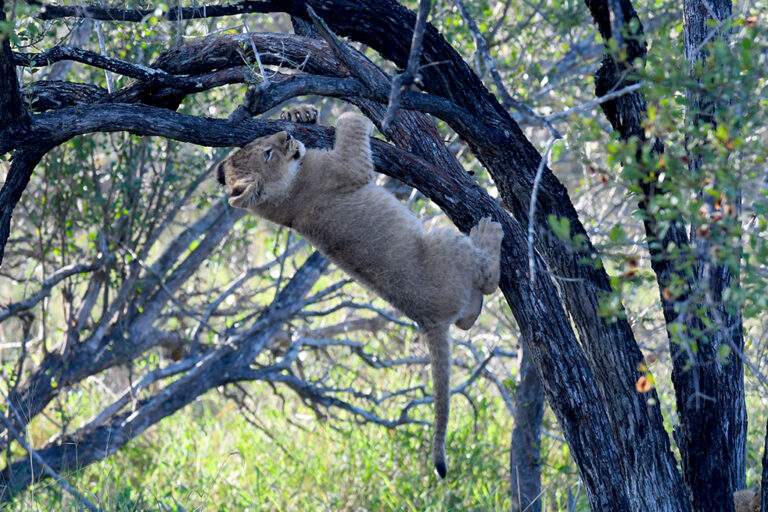 Pondoro in Balule Wildlife Reserve at Kruger Park South Africa
Day 8-12: In the Balule Wildlife Reserve we chose the Pondoro Game Lodge. The reserve is located north of Timbavati and the journey takes about 2 hours. Balule is still little known and little developed, although over 30 years old. The entrance gate is so inconspicuous that one could drive past it quickly. On a mogul road, which demands a lot from our SUV, we reach the lodge after about 16km, which is located directly on the Oliphant River. We have booked the Watersuite and find this, next to the Earth and Tree best. The Watersuite has the best bathroom and the best view of the river, but the furnishings are rather cool.
In the lodge you can move freely during the day, in the evening only guided.
The suites are very large and spacious and you also have a Jacuzzi on the terrace. Also the interior, like the whole lodge is colonial African and you immediately have the feeling of being on safari.
The main lodge has a viewing deck where meals are taken, a library and bar lounge, a pool area and also a spa area. The lodge is about 25 years old but in very good shape and the food is also very good. However, not quite the level of Rockfig Lodge.
The safari drives are done with Land Cruisers and with max 6 people per vehicle. Unfortunately, the cars themselves are no longer the most modern and on the very bumpy and rocky roads you notice the not so good damping. But our guide Sam and the tracker Dun are very experienced and do their best.
The game viewing itself is very good and the area nicely varied.
Overall a great situated lodge, with lots of privacy, very good food, friendly staff and great game drives, where a lot of effort is made to give the guests an exclusive safari experience. The spa treatments are also good and priced OK.
&BEYOND Ngala Safari Lodge at Kruger Park South Africa
Day 12-15: Today we head to the exclusive Ngala Game Reserve, which borders Timbavati and Kruger Park. This reserve is exclusively for guests of &Beyond Ngala Safari Lodge (where we booked) and the even more exclusive &Beyond Ngala Tented Camp. The drive from Orpen Gate takes about 45min. The lodge offers accommodation for 44-50 guests, which is clearly too big for us.
For guests with a lot of safari experience the lodge is something only because of the possibility to see the only free living white lions, otherwise rather not. The rooms too much hotel, no view, dark, the neighbors can look in. Food is good but well below the level of all other lodges visited. The staff is very accommodating.
The guides are very particular and the trackers jump in the car at every sighting, which is sold as "&beyond standard" but we have never experienced it that way. This means that you often miss the opportunity to take good photos at the sightings.
For safari newcomers, one can easily recommend &beyond Ngala safari lodge, they explain every stick and stone and are very concerned about the welfare of guests. The roads are on the level of a road and you literally glide along. Ngala Safari Lodge itself is getting on in years. Well maintained with flaws (stains and holes in the towels and in the rooms clear signs of wear). Overall significantly over rated for the price and if it wasn't for the elephants and white lions it would definitely not be a recommendation.
Also, the fact that Ngala fills up its also aging Land Cruisers with up to 9 people does not necessarily speak for the &Beyond Group.
We had promised ourselves a lot from &beyond, but in the end it was unfortunately the worst of all lodges, if you subtract the white lions, the first-class pool deck and the elephants coming there to drink.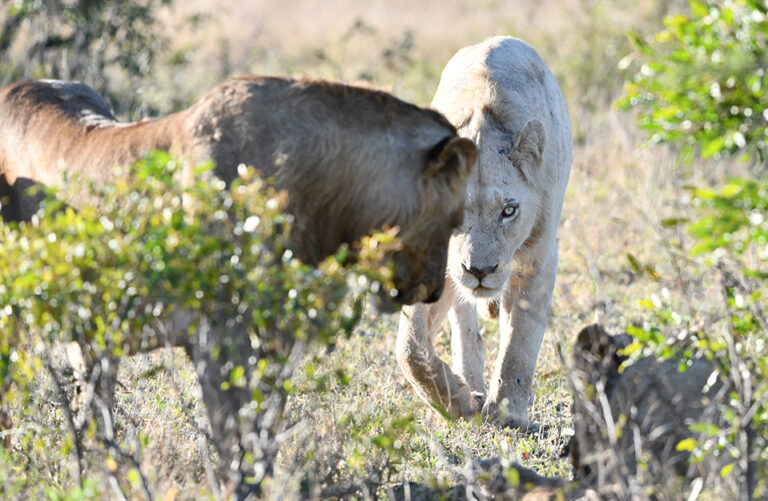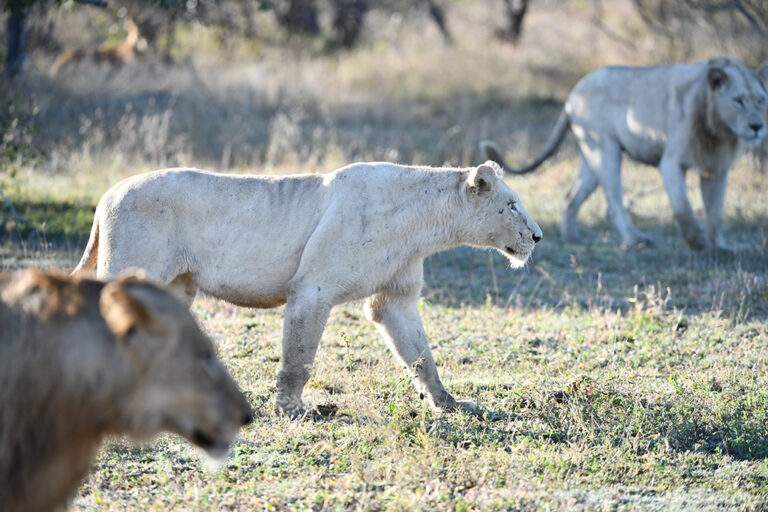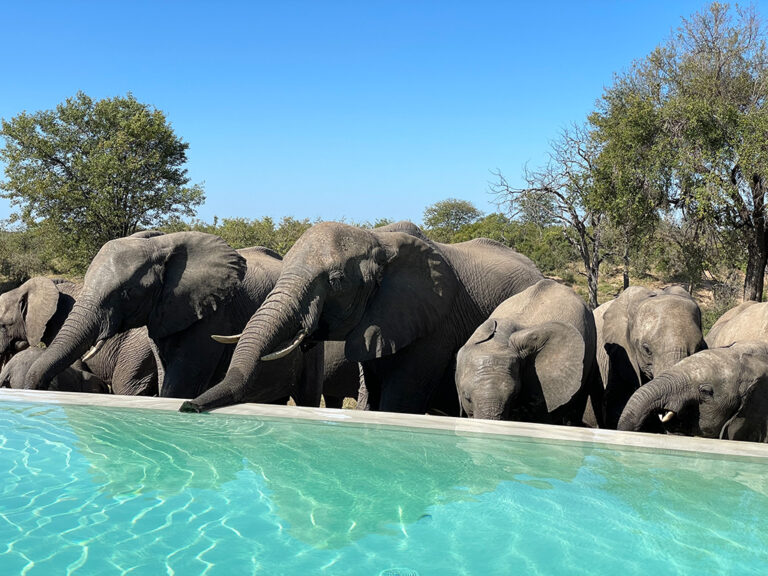 This tour is especially suitable for those who like to drive themselves and are looking for the variety between safari and landscape, and want to combine activity and relaxation.
We would do this tour exactly the same again but book the much more exclusive &beyond tented camp in Ngala, because less people and in the hope of better food and a higher standard and also just to see the white lions.
Order calendar from our photo trip?
What photo equipment for South Africa?
The photo equipment we took to South Africa is listed below. In addition, you have the possibility to order your photo equipment directly via our Photo-Store and to request further technical details. There you can also find a lot of extras.
Cameras:
Z7ii (Nikon)
D850 (Nikon) mit Batteriegriff
Iphone 12pro
Lenses:
200-400mm f/4 (Nikon)
24-70 f/2.8 (Tamron)
70-200mm f/4 (Nikon)
FTZii Adapter